George Michael's boyfriend denies tweets about history of self-harm
George Michael's Australian boyfriend has denied sending tweets speculating about the cause of the pop superstar's death
George Michael's Australian boyfriend has denied sending tweets speculating about the cause of the pop superstar's death, claiming that his Twitter account was hacked.
A recent series of messages appearing on Fadi Fawaz's now-closed account made reference to the 53-year-old British singer having a history of self-harm.
But Fawaz told the Mirror he did not send the tweets, which were later deleted, and described it as frightening to see them on his account.
He told the newspaper: "My Twitter account has been hacked and closed.
"It's a bit scary to be honest. I did not send those tweets. I woke up at 11.30am to the news.
"I am not going to worry about these things."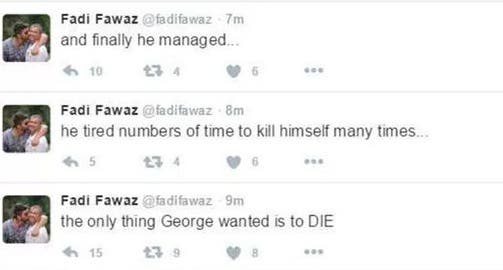 He also revealed he did not see Michael on Christmas Eve and fell asleep in his car that night instead.
The 53-year-old star was found dead at his home in Goring-on-Thames, Oxfordshire, on Christmas Day.
Michael's publicist has said there were no suspicious circumstances around his death, while police said more tests needed to be carried out after a post-mortem examination proved "inconclusive."
After news of the singer's death broke, Fawaz said he found the star dead when he arrived to wake him ahead of a planned Christmas Day lunch.
Fawaz began seeing Michael following the star's split from his former long-term partner Kenny Goss.
Michael officially announced in 2011 that his 15-year relationship with Goss had ended - but said the pair had actually split around two years earlier.
Their relationship was first revealed when Michael came out as gay after being arrested in public toilets in Beverly Hills, California, in 1998 for engaging in a "lewd act."