Forty minutes into an interview, noted Mexican journalist Carmen Aristegui picks up her phone and jokingly greets the government agents she alleges have been spying on her.
"Hello? Interior ministry?... Thanks for listening!" says the veteran anchorwoman, who is famous for hard-hitting reports on government corruption.
Humor is helping Aristegui, 53, get through the unsettling discovery that her cell phone -- and her teenage son's -- were hacked with a spyware called Pegasus, which accesses a target's communications, camera and microphone.
According to the New York Times, which broke the story last week, the secretive Israeli company behind the spyware, NSO Group, says it only sells it to government agencies.
The spyware is meant to be used to fight terrorists and criminals.
But Aristegui and eight other leading journalists and activists, who commissioned an independent investigation after finding the spyware on their phones, accuse the Mexican government of using it on them and their families -- a claim the government denies.
It is the latest crisis for the freedom of the press in Mexico, which is ranked the most dangerous country for journalists after the war zones of Syria and Afghanistan, and one where more than 100 journalists have been murdered since 2000.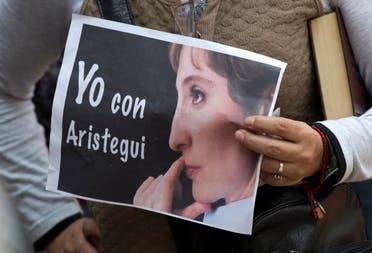 Q: Your investigation found that spyware was installed on your phones when you clicked on links in phony messages. What did those messages say?
"We received messages where they would use the name of a friend (of my son's). 'Hi Emilio,' it said. 'I'm so-and-so, will you friend me on Facebook?' But oddly enough, that person was already his friend on Facebook.
"Another message said: 'Presidency to press charges against journalists who investigated the "White House" scandal' (in which Aristegui exposed a shady real estate deal between President Enrique Pena Nieto's wife and a government contractor).
"My son received different messages like that, related to my work and saying they were going to investigate me or worse.
"Who knows how many we opened? There were messages that were impossible not to open."
Q: How did you feel when you realized you were being spied on?
"No matter how normal your life is, how transparent you are... it's intimidating to know they know everything about you.
"This spying obviously has a fundamental objective: to intimidate, to make you vulnerable to your own fears, your own human weakness, your own personal history or whatever. It's a sinister thing, something a dictatorial regime would do. These are the tools of tyranny.
Q: The spying started in 2015, and you suspected it for a long time. Why did you wait so long to go public?
"Put yourself in my shoes at that point. It was a serious thing. A delicate thing.
"The question was: Who do we report this to? To the very same people who are surely spying on us? So we did nothing, we just left it at that.
"My personal reaction was also to downplay it at first, assuming that it's quote-unquote 'normal' to spy on journalists.
"But the big news is we've now carried out a scientific study to prove (the spying). Now the question is whether it was the Mexican government. I presume it was. Absolutely."
Q: How did you react when you realized your son had been targeted?
"When we realized we had been receiving similar messages, I said, 'Let me look into this. Because it's bad that I'm getting these messages, but it's extremely bad that you, my underage son, are getting these messages."
"I thought the Mexican government had crossed a very serious line.
"Why did they push so hard to access Emilio's phone? Why so many messages targeting this boy? Only the people who did it know why."
Q: Are you afraid?
"I try to live my life in peace, without being paranoid that there's a knife lurking behind every door. If you do that, they've won.
"I have faith -- and I always tell myself this -- that my public work as a journalist is our best protection."