Britain's Professor Robert Winston stirred a row recently as he tweeted a series of images of a woman on train who was talking constantly on the phone.
His commentary, however, especially the series of images he posted, was called unnecessary by a large section of his 40,000 followers. Prof. Winston eventually deleted the images.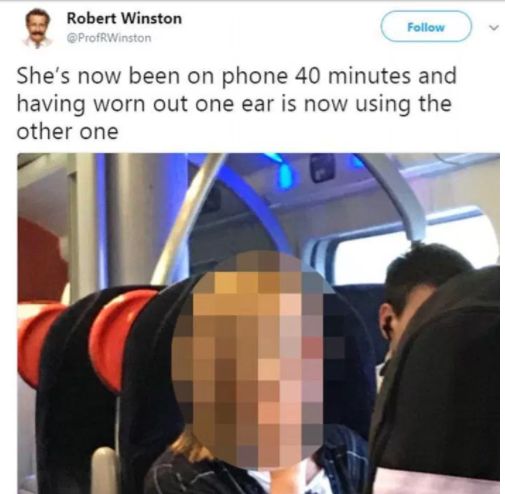 "Whatever I'm contrite - I've deleted the tweets but still rather feel that invasion of privacy can be a two-way invasion," he tweeter thereafter.
According to a report in The Sun, The 77-year-old scientist and TV presenter initially tweeted a picture of the mum, writing: "This woman has been on this phone call for 30 minutes in a crowded carriage. "We are not interested in her conversation."
May be you are right Jenny but she is in a public place and we can hear every word of one side of what seems an entirely banal chat https://t.co/DD5SxJrCoZ

— Robert Winston (@ProfRWinston) February 1, 2018
One ear to another
He later added: "She's now been on phone 40 minutes and having worn out one ear is now using the other one." His posts were met with some reaction as one of his followers tweeted, "never had you down as an internet bully, Prof".
No one ever wants to have to sit and listen to other people's conversations in public!! Went for a nice breakfast one morning only to have the girls behind us on FaceTime the whole time we were trying to eat, wanted to throw the phone out the window!

— Rachael Holloway (@rachyh78) February 2, 2018
Another of his followers tweeted: "There is a different between sharing her photo repeatedly to 40k people and having an annoying conversation in a public place... one is humiliating and targets a single individual... perhaps next time you just politely ask her to go elsewhere."
Professor Winston has been known to previously cause a stir after making topical statements. In 2014 he said patients should be charged £200 to see their GP to "learn to appreciate the NHS".