The Middle East and North Africa (MENA) region represents one of the largest groups of active users on Twitter Moments and we have witnessed high levels of interest from our audience, Hebatallah Wahab, Head of Moments on MENA at Twitter has said.
"Stories unfold on Twitter across multiple Tweets and points of view every day. With Moments, people can bring together their favorite Tweets, whether from their own or someone else's, into one moment," Wahab said.
ALSO READ: Saudi cinema Twitter account gets 42,000 followers upon launch
She said that the Moments MENA guide was launched last year as a section within Twitter's content discovery tab; 'Explore' that displays curated Moments in Arabic. "The page displays 'Today's Moments' that cover multiple categories including news, sports, entertainment and fun," she said.
This guide is currently available in Saudi Arabia, UAE and Egypt with Moments tailored to each market. People across and outside the region can stay updated with the Moments by following @MomentsMENA on Twitter.
Arabic language
Wahab said that Arabic is a key language on the platform and in the region and research conducted earlier revealed that over 90 percent of Tweets in Saudi Arabia, over 61 percent of Tweets in UAE, and over 81 percent of Tweets in Egypt are in Arabic.
"With the Moments MENA guide, it's now easier for Arabic speakers to follow news in their language and that's relevant to their region," she said. Twitter's global research reveals that 60 percent of people using Moments are under 25, with 84 percent under 35.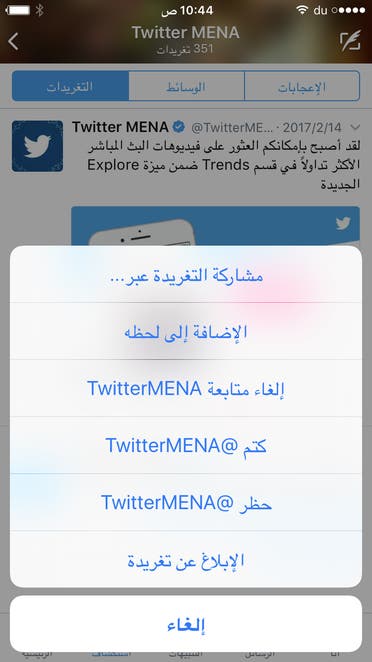 ALSO READ: Twitter to notify users exposed to Russian propaganda during US elections
MENA is the 10th market globally in which Twitter has rolled out the Moments guide following countries such as the US, UK, Brazil, Japan and Spain.
Arabic is the fifth language to be rolled out in the Moments guide; following English, Spanish, Portuguese and Japanese. The Moments guide has more recently been launched in India.