Facebook has taken down accounts run by Indian digital marketing firm, aRep Global, which posted unfavorable content against the United Arab Emirates and Saudi Arabia and praised Qatar's rulers.
"We removed a network of 37 Facebook accounts, 32 Pages, 11 Groups, and 42 Instagram accounts. This activity originated in India and focused on the Gulf region, the United States, the United Kingdom, and Canada. Although the people behind this network attempted to conceal their identities and coordination, our investigation found links to aRep Global, a digital marketing firm in India," according to Facebook's February 2020 report on "Coordinated Inauthentic Behavior."
The new monthly report is part of Facebook's new policy of shifting to a more regular reporting mechanism regarding disinformation campaigns. In the past, Facebook would release reports on individual disinformation campaigns as they were discovered.
The report said the individuals used fake accounts and focused their content geared toward the Gulf region, United States, United Kingdom, and Canada.
Facebook said over 29,000 accounts followed one or more of these pages, about 1,100 accounts joined at least one of the groups, and around 74,000 people followed one or more of the fake Instagram accounts.
READ MORE: Qatari propaganda campaign intensifies with paid articles in Politico newsletter
"The individuals behind this activity used fake accounts — some of which had been previously detected and disabled by our automated systems — to manage Groups and Pages, and to drive people to off-platform websites masquerading as news outlets," the report read.
According to Facebook's report, some of the pages now suspended also posed as news organizations and journalists. Those individuals running the fake accounts misled people in the Gulf region by claiming to be local news websites, journalists and activists from those countries.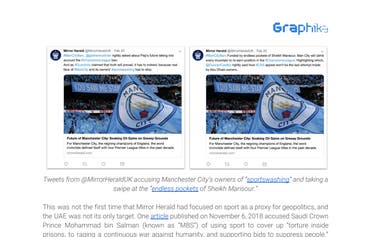 "The people behind this activity typically posted in English about local news and events including topics like Saudi Arabia's role in the Yemen conflict, the UAE and Saudi Arabia's human rights record, criticism of Manchester City, the Premier League soccer team, and praise for sporting events in Qatar," Facebook said in its report.
An internal investigation by Facebook found the individuals who ran the accounts and pages to be linked to aRep Global. A Twitter account for aRep Global showed that it was created in January 2016.
In total, aRep spent less than $450 on ads and had around 100,000 followers across Facebook and Instagram.
READ MORE: Qatari and Turkish state media under fire for 'manipulating' Egypt coverage
According to an investigation by Graphika, a social media research company which works with Facebook to analyze influence operations, the fake campaign run by aRep centered mainly around the Gulf state's military campaign in Yemen and the killing of Saudi journalist Jamal Khashoggi.
"Much of the content appeared to have been created by the firm behind this operation itself, but some was copied from other sources, suggesting it had been "borrowed" to give the operation's assets a veneer of authenticity, and to fill the websites with more content for less effort," according to Graphika's report.