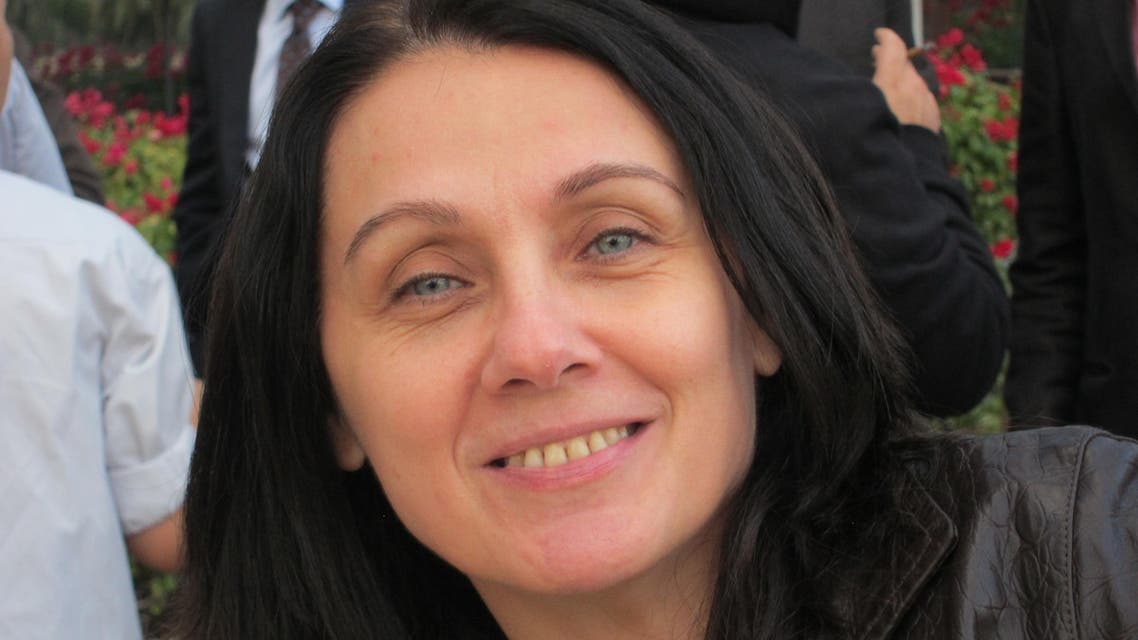 On assignment with Al Arabiya's Helene el-Hajj
"Even though it is very tiring, it is never boring," said el-Hajj about her job
Helene el-Hajj is head of the assignment desk at the Al Arabiya News Channel. While her job is very demanding, El-Hajj says she loves the role as it has paved the way for her to meet people of different cultures and mindsets. The vibrant grandmother of a 12-year-old girl spoke to Al Arabiya News about her duties, hobbies, family and more.
Q. What is it like being on the assignment desk?
It's a very challenging key position. Every newsroom has a dynamo – the foreign desk, or what we call at Al Arabiya the 'assignment desk'. We deal with all Al Arabiya offices around the world, not only with reporters but also with producers in many offices. Sometimes we face difficulties getting in touch with a reporter on field, so we deal with technicians or whoever is able to communicate with us.
It's challenging and very difficult because you are dealing with different cultures, different ways of thinking, as we have a massive diversity of nationalities here.
With every nationality there is a different upbringing, a different culture and sometimes very different vocabularies as well, so to find common ground to deal with all these people is very complicated.
But I love my job. Even though it is very tiring, it is never boring – everyday there is a new challenge.
We are the first people to receive the news. We gather the news from offices. The main news sources of Al Arabiya are its offices around the world. We have bureaus in all international key capitals such as New York, Washington DC, Egypt, Lebanon, Ramallah, Gaza Strip, Jerusalem, Yemen, Moscow, Paris, London, Algeria, Mauritania, and many more. In some countries we don't have offices but we have reporters, we have no less that 75 reporters dispersed internationally.
Q. Tell us about your normal working day, how does it begin and end?
In short, the day starts by gathering the news, distributing the news, and prioritizing the topics.
Daily tasks are now mostly handled by assignment staff. There are eight senior and junior producers divided into two rota schedules with different shifts, and there is one shift supervisor who is on both shifts.
Work honestly never stops. Sometimes I'd be on my cell phone, replying to messages, emails or on call because of breaking news. I can stay up till 3am or 4am following up with what's going on. A day's shift for the assignment desk usually ends at 3am.
When I first wake up in the morning at around 7:30am I immediately look at news to see what's happening around the world. I check my email to see if there are any emergencies or pressing issues which need to be treated immediately before the shift starts.
At the beginning of a day's shift, which usually begins at 9am, we start gathering the news. If it is a normal day with no breaking news, we see news received from our correspondents via email.
In parallel, we check the news agencies through the wires to make sure we haven't missed anything, and to notify our correspondents if they have, so we match both groups of sources.
We then prioritize the news and assign them. Sometimes we'd need to deploy satellite news gathering (SNG) on the field to get live coverage, so we'd need to work closely with the satellite desk and master control room (MCR), as each of these departments have a specific role.
The satellite desk is the coordinator; MCR are the people responsible for getting the image on air.
It is important to note that the assignment desk doesn't only work with the foreign bureaus and correspondents; it is rather kind of a connecting hub between all the other departments in the newsroom.
We communicate with the editor of the day continuously because we need to deliver information to him or her in a speedy manner, and with the producers who have the newscast, this is the editorial side of the issue.
The technical side of the assignment tasks deals with the satellite department, MCR, finance, etcetera.
Q. How long have you been on the assignment desk?
I have been doing this since January 2006. In the first two years I did not take many vacations, but since 2008 I've been taking all my leave days, because it is a very stressful environment. If you don't go on holiday you will die, definitely.
The work is quite tough and exhausting. You are always on deadline; you always need to deliver and be there.
It is not an excuse if you missed an important call at 3am because you were sleeping. So I've developed a habit to wake up to an important call even if my phone was on silent. I have no idea how or why this happens and I can't explain it, I think I got programmed for it.
Q. Tell us a little about yourself?
I studied Arabic literature, journalism, and two years of sociology.
Before starting with MBC Group I worked as a presenter in Lebanon's Télé Liban television from 1986 till 1989 when I left the country.
I originally worked with MBC in London in 1994, and was one of the three people who founded the news department in MBC radio. I left when the group decided to move to Dubai in 2002.
By 2004 I got an offer to work with Dubai News Center at Dubai Media Incorporated (DMI). When MBC knew I was in Dubai, they contacted me again, and I came back.
Overall, my experience with MBC was a rich one, and I enjoyed every bit of it. In the Arab world, we tend to know about our country and a few neighboring countries, but not more. My experience at MBC introduced me to each of my colleagues in an amazing way. Now I can understand different dialects and can differentiate between them.
We [Arabs] are very different from each other, and now I can comprehend their mentalities and what their societies teach them.
Q. What do you do in your free time?
You need to understand that at work I am fully alert and work with all my senses. If a team member missed a piece of news I need to be there and take action immediately or else it's gone.
Breaking news is a matter of time. Sometimes you can lose a scoop in the matter of a minute. All media outlets almost work the same way, they want to bring the news and be the first to announce them. They want to be the first to cover and be on the ground, so you are always racing with time, and any little mistake can create a catastrophe on air because someone else would've beaten you to the scoop.
So with all this stressful work and my incredibly busy days, I need at least half a day of doing absolutely nothing.
During this time, I honestly don't do anything. I mute the TV, and just sit. I don't even know if it is meditation that I do, because I don't perform any of specific rituals, but I just empty my mind completely, so I can refill all the energy that I lost during the week.
Other than that, I like to read, write, walk, and swim. These are the four most things I love to do.
Sometimes I walk around my house even if it is late at night, for at least around 20 minutes. I swim during weekends mostly, because I don't get the time during the week.
I can write anytime I like, sometimes I'd be sitting in the newsroom and something comes to my mind so I write.
I used to write about politics but I stopped a long time ago. Now I mostly do sentimental writings, things that are related to human life.