From the red carpet: Q&A with Al Arabiya presenter Nadine Kirresh
Nadine Kirresh is the producer and the host of Al Arabiya's the Big Screen Show
Nadine Kirresh speaks to Al Arabiya News about "Al-Shasha al-Kabeera" (The Big Screen), the cinema-focused show she produces and presents for Al Arabiya. She also critiques Arab cinema, its development over the past 10 years, and its present and future challenges in light of regional upheaval and technological advances.
"We live in a very interesting time… What's happening in the world with technology, and in our region with politics, is creating a wonderful film industry that's constantly moving and changing and making a great impact in the world," said Kirresh, who runs a production company based in Amman.
Q. What does your role on the Big Screen Show entail?
I'm the sole producer and the presenter of the program, so my responsibilities start as a producer, identifying the content we're going to use every episode, and which films we're going to review. We always try to have a good balance between Western films, big box office movies, independent movies, what's new in Arab cinema and documentary films. We try to have a diverse mix of films in every episode.
We gather content, shoot what we need to shoot, interview who we need to interview, and then shoot the episode itself, going into post production and all of that. So pre-production, production and post-production, and of course there's the other role of being the host of the show.
Q. What is your view on Arab cinema in general, especially Egyptian cinema?
Egyptian cinema has been around for much longer than the rest of Arabic cinema, which is still very young but has made great progress in the last 10 years, transitioning from hip independent films that people get to see in festivals, to films that are now actually screened in cinemas where the masses can see them. That's a huge transition.
The creation of Arab and local film festivals also helped the industry flourish quickly, and these festivals have also been funding films. Those things have made Arabic cinema part of global cinema. When a film like Omar gets nominated for a Golden Globe and an Oscar, it's a really big deal.
Q. Is the Arab film industry becoming too politically oriented in light of the Arab Spring, or is it a natural consequence of what is going on?
Cinema is a mirror of what society is going through at any time. It's a platform of expression, whether political, personal or social. So naturally, whatever's happening in any country or society at that time will be reflected in the film industry.
We had so many movies coming out of Lebanon about the civil war, and still do, because it's something they need to talk about. The same is true with Palestine and the occupation. Now we have films talking about the Arab Spring.
These films start to differ with time - their narratives, points of view, angle - as politics change in each country. I think it's been very healthy, and a great form of venting, expressing, and carrying societies' or communities' points of view to a global audience, other than what people see on the news in a short report.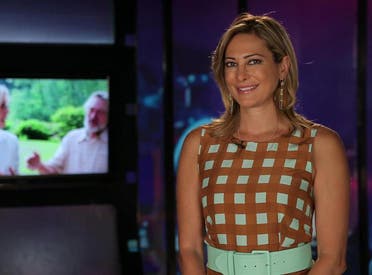 Q. What is your take on the notable increase in Arab audiences for Bollywood and Turkish productions? Are Arab productions not enough anymore?
You've got universal stories. Films or series speak of things that any culture can relate to, once you've broken the language barrier by dubbing. Of course you can't compare sometimes the production budgets or facilities that Bollywood or Turkey have to what we have. People like variety and change, so if they watch Turkish series, that doesn't mean they don't like traditional Arabic series.
Q. Is censorship decreasing in the Middle East?
What a TV station chooses to broadcast is according to its programing and guidelines, but we all know that if something is not airing on a particular TV station, I can still access it on many different platforms.
The rise of social media, of multiple platforms, of the digital world, and with the world becoming such a small place, you can't enforce censorship anymore because we have access to everything now. There's now infinite access that's very hard to control, so censorship is definitely declining.
Q. Walk us through your daily routine.
My routine is pretty much like everybody else's. I'm just lucky that I do something I love. I wake up, go to the office, check my emails, surf the internet to see what's out there. I watch a lot of films and TV series, because TV has advanced so much it's on the same level as film, and sometimes TV even makes more money than film.
I also try to pick up new trends and see what's changing. I have a lot of discussions with people from different generations on content and how they view it. I'm passionate about work, so I never tire from it. I'm glad that with my job I'm able to travel a lot, because I cover film festivals and premieres all over the world.
I'm also always on the lookout for content to produce for short films or documentaries, interesting stories to tell. I've produced a couple of short films to support the Arab industry.
Q. You said you focus on the content of films rather than actors' personal lives and scandals. Does focusing on the latter devalue the film?
These shows are often quite popular and they do have a big audience, but you can't just take cinema from one aspect. It also depends on your channel and demographics. Some shows focus on the celebrity side of film, which is interesting. Let's admit it, we all like to hear that kind of news, and we do sometimes mention on our program when there's big celebrity news.
However, you can't do everything in a program, so we decided to focus more on the films, on reviewing them, on talking about the industry and focusing on Arab cinema as well. Not to say that other shows are less popular, it's just that you can tackle it from different angles.
Q. What did you do before the Big Screen Show?
I'm a TV producer, I have a production company based in Jordan, and it's still running. I've mainly produced TV content over the years.
Q. How long have you been in this field?
I've been in the field since around 1998.
Q. What do you do in your free time?
I love the cyber world and the digital age we live in. I enjoy surfing the internet, gaining information and seeing what's out there. I love watching movies, so I'm glad to be able to do that and get paid for it.
Q. What about family?
I'm married with a six-year-old daughter, so I'm a working mom.
Q. How do you manage with such a demanding job?
You find a very supportive husband.
Q. You're based in London. Do you travel to the region often?
I've been based in London for a few months. I travel to the region a lot. I was in Amman before London.
Q. What are your future plans?
I would love to produce a feature film one day.