King of Jordan honors Al Arabiya's Saad Silawi
Experienced correspondent receives medal for services to society, following his epic battle with cancer
One of the Al Arabiya News Channel's most experienced correspondents has been honored for services to society by King Abdullah of Jordan.
Saad Silawi was one of several to be honored this week as part of annual celebrations held around the Kingdom's Independence Day.
"I did not expect to win this award," Silawi said. "They wanted to say 'thank you for all the service you have given'. I want to thank his majesty very much… He knows how dangerous the job is."
Others awarded for advancing the development of the country included Jordan's Prime Minister Abdullah Ensour, who was awarded the Order of Al Nahda of the First Class, according to media reports.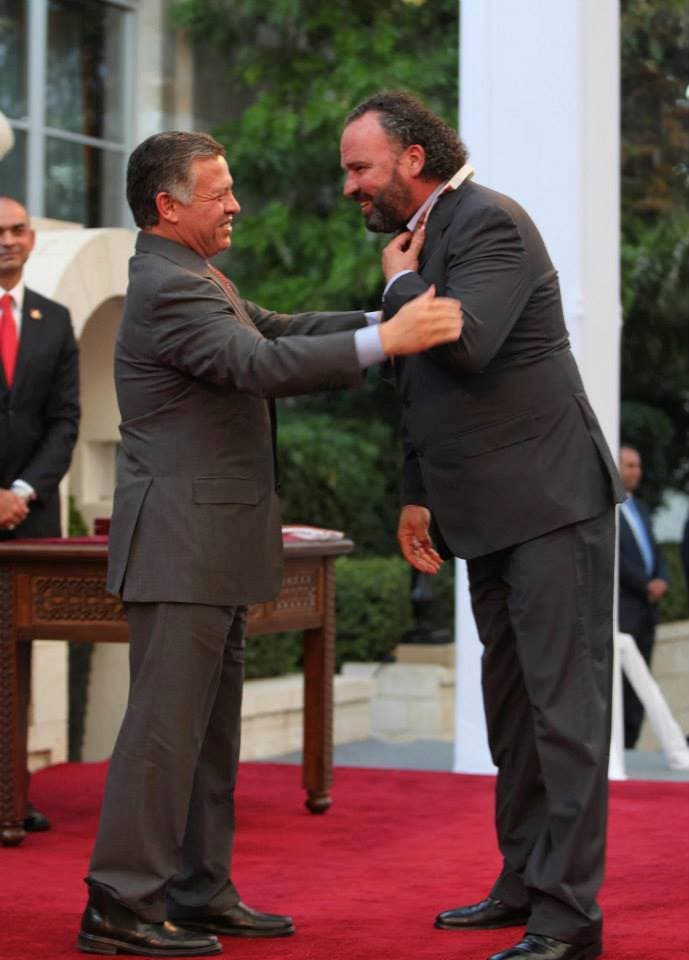 Cancer battle
Silawi's award came in the same week he made his first TV appearance after an epic year-long battle with throat cancer.
He made his appearance on Tuesday on Sabah Al Arabiya, the channel's morning show, despite having difficulty speaking after three operations and the removal of his vocal chords.
"This was the first time I went on screen in a year," he said. "I received hundreds of calls and messages from my friends."
Silawi has vowed to resume his work as a journalist in the field, and asked viewers to judge him by his words on screen rather than his voice. After several operations, he now speaks through an air passage, and must press against his neck in order to speak.
"Please do not listen to the quality of my voice. I am not a singer; listen to my words," he said. "I want people to listen to me for what I'm talking about."

Tough assignments
Silawi is Al Arabiya News Channel's Regional Bureau Manager and Senior Correspondent, currently based in Jordan.
He started his career in journalism more than two decades ago, before joining the Al Arabiya News Channel on its formation in 2003.
Silawi reported from Iraq over three decades – in the 1980s and during the two Gulf wars. Working in such a location does not come without its price, with several Al Arabiya staff members having tragically lost their lives. "In Iraq, we paid a lot, in blood," said Silawi.
He also reported from Algeria in the early years of the civil war that began in 1991. Other postings included the Palestinian territories, and Lebanon during the 2006 war; his notable interviewees include Hosni Mubarak, the former Egyptian President.
"I was everywhere… a lot of places were very very difficult and very very dangerous," Silawi said.
But his adventurous career and regular on-screen appearances had to come to a temporary halt when Silawi was diagnosed with a "very dangerous" form of throat cancer.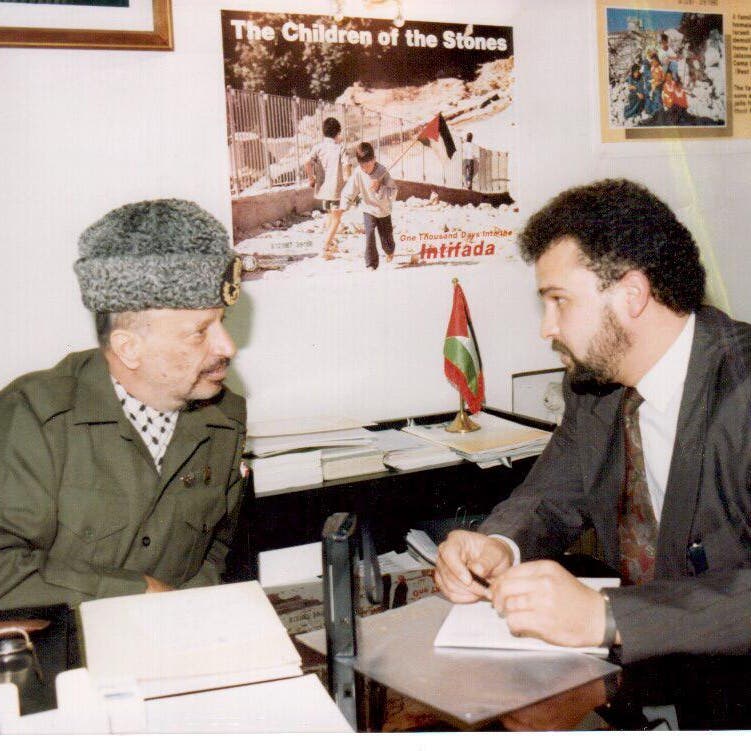 'I couldn't talk'
He travelled to Canada for treatment by Dr Roger Tabah of the Montreal General Hospital and McGill University.
"He saved my life. I want to thank him very much," Silawi said. "He told me: 'Be patient, you will speak again'…. He is one of the best doctors in the world."
A series of operations, the first of which was in June 2013, left Silawi unable to talk.
"I couldn't talk for seven months… For two months I couldn't eat or drink. It was very hard and painful but I believed in God, and my friends and family… and all my friends at MBC Group. They gave me the courage to fight this ugly cancer."
He conveyed his gratitude to Sheikh Waleed al-Ibrahim, MBC Group's Chairman, and Abdulrahman al-Rashed, General Manager of the Al Arabiya News Channel.
After his grueling ordeal, Silawi says he has been tested and found to be clear of further tumors. "I hope that the cancer will never come back again," he said. "I think I was lucky, because I am still alive."

'I was born a journalist'
Despite the dangers of his job and his health ordeal, Silawi says he cannot imagine a change of career.
He said that several people he has interviewed – including the late Yasser Arafat, former chairman of the Palestine Liberation Organization, and the late King Hussein of Jordan – had asked him to be their advisors.
But he respectfully refused, saying that journalism is in his blood. "I was born a journalist and I want to be a journalist," he said.
And he is determined not to let his voice stand in his way. "I can go on screen and push my finger [against my neck] to speak," he said. "I have the courage to do it."