Inside story: The Al Arabiya director who survived Nepal earthquake
Aznive Tossounian was on a peaceful yoga retreat, but witnessed terrifying scenes when the 7.8-magnitude earthquake struck
When Aznive Tossounian travelled to Nepal for a yoga retreat, what was supposed to be a serene experience turned into a harrowing ordeal when the 7.8-magnitude earthquake hit, claiming at least 7,250 lives.
Tossounian, a studio director at Al Arabiya News Channel and its sister station Al Hadath, said what she witnessed during the deadly quake scared her more than the Lebanese civil war.
The Lebanese-Armenian said she was excited upon landing in the capital of Kathmandu on April 22, on a break from her busy job at the Dubai-based news channel.
She was looking forward to meditating and relaxing with her 14-member group headed by a yoga instructor, in what was her first visit to the Himalayan nation.
But the devastating earthquake on April 25 and more than 70 aftershocks shattered the serenity.
Tossounian said what she witnessed was more harrowing than the 1975-1990 Lebanese civil war, which resulted in an estimated 120,000 fatalities.

"I never felt this scared," the 45-year-old Tossounian told Al Arabiya News.
"I am Lebanese-Armenian and for the 15-year [civil war] in Lebanon I did not feel this scared because when [there was] war, we were able to take the car to the mountain.
"But in Nepal, you [could] not go anywhere; you just pray to God that the ground does not eat you," she said emphatically.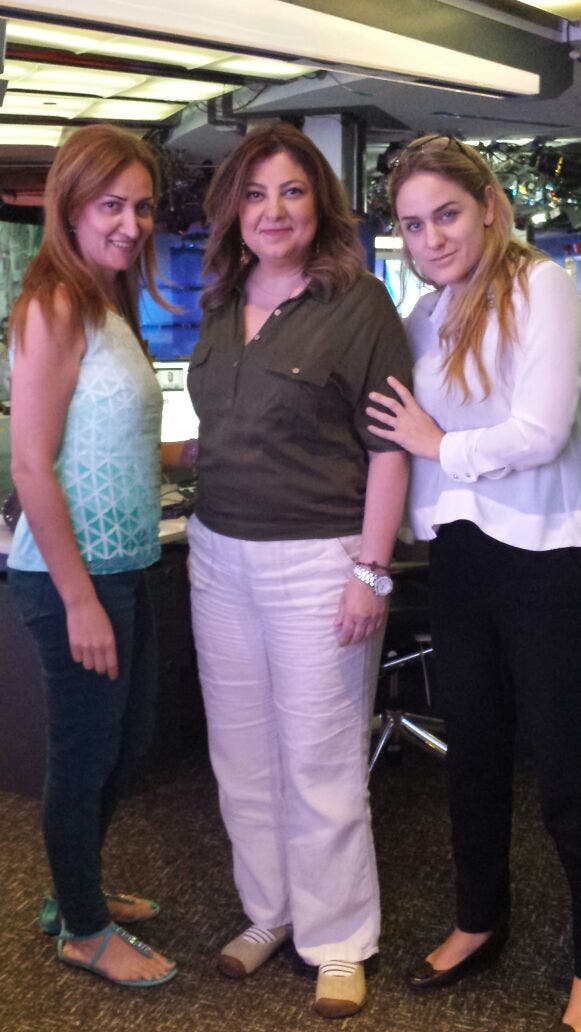 Tossounian was in her hotel room when the earthquake hit Kathmandu.
"I was lying down, relaxing. I felt some movements, I thought it was a joke, then… it escalated and I could hear loud sounds of things and objects clanking against each other," she said.
Tossounian hurried to open the door to her room but couldn't at first. When she did, she was speechless when she saw the hotel's swimming pool turning into two-floor tsunami.
"My God what is this?" she thought, amid the fear and chaos.
"Because of the water, people were falling down… I started running as everybody was running," she said.
Her fear was replaced with feelings of responsibility when a frightened woman handed a five-year-old child to Tossounian to look after. "My fear faded away when I had to take care of the child."
When Tossounian found safe ground, a nearby tree became a place of meditation – albeit of a different kind to what she expected when embarking on the trip.
"We were holding each other's hands around the tree, and praying. The yoga teacher advised us to give each other positive energy and something good will happen… Everyone was praying in their own way."
After the earthquake eased, Tossounian returned to her hotel, which was largely intact with only cracks in the ceiling.
Urgently wanting to return to Dubai, her city of residence, Tossounian faced a long wait before finally leaving.
The airport was overwhelmed with people trying to flee the natural disaster, which affected 8.1 million people, more than a quarter of Nepal's 28 million people.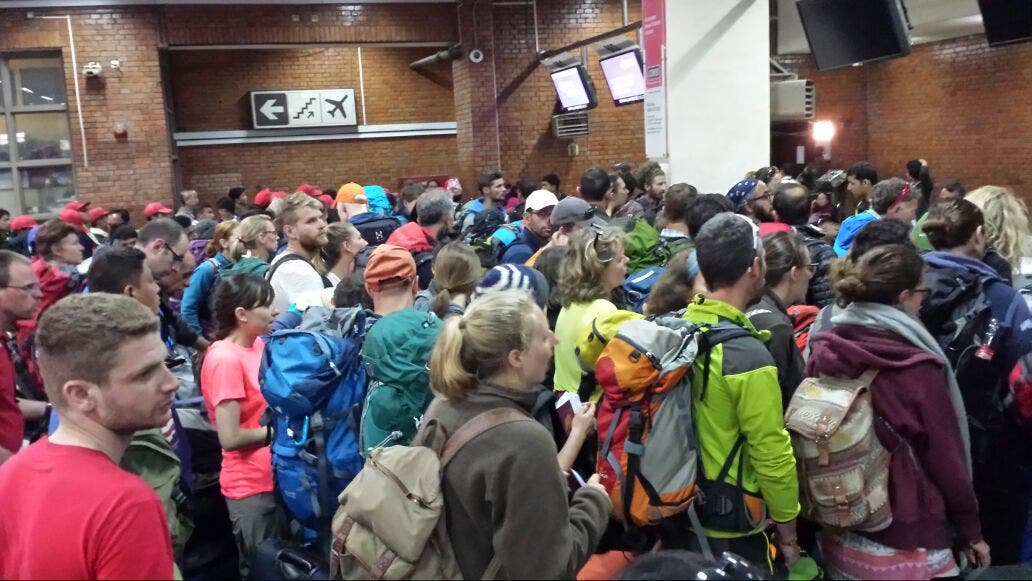 Due to the disruption and busy air traffic, Tossounian's plane back to Dubai was delayed, but finally took off mid-evening on April 27.
Though once scared of flying – she used to pray just before take-off – Tossounian said she felt much safer in the air than on the ground in Nepal, despite some turbulence.
"Now I am on longer scared," she said. "The sky is more stable than the ground."
The luck in escaping the devastating quake was not lost on Tossounian, who gave an emotional interview on what she witnessed to the Al Arabiya News Channel. Back in Nepal, locals are still grappling with landslides as they await further aid.