Al Arabiya English launches blogs section to 'instigate debate'
Giving the key note speech at the launch was renowned blogger Sultan al-Qassemi, a commentator on Arab affairs and art in the region
Al Arabiya English launched its newest addition to its website, the blogs section, to help instigate debate and focus on an additional beat which will be covered by a selection of renowned contributors.
The new section has attracted a host of international talent, writing on fashion, beauty, career coaching, nutrition and fitness. The page also features sports, politics, business and art bloggers, adding to the range of topics covered to suit a variety of audience.
Al Arabiya English's Editor-in-Chief Faisal J. Abbas told attendees at the official launch event, which took place in Dubai on Wednesday night , that the blogs section was designed to shed light on a different beat outside of the politically-heavy narrative consuming the region.
"Our lifestyle page has become one of the top three traffic generators to our website and it was through that we had an idea of launching the blog section as an extension," Abbas said.
"Although we are known for politics, we thought we'd give those who write on nutrition, sports, and life in general, an opportunity to write for our website," he added.
Abbas thanked Al Arabiya English's team and blogs editor Eman El-Shenawi for taking on the task of launching the page saying: "All this wouldn't have been possible without these efforts".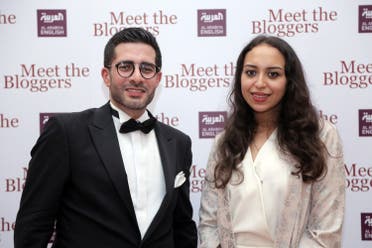 Giving the key note speech at the launch was renowned blogger Sultan al-Qassemi, a commentator on Arab affairs and art in the region, who launched the section with an inaugural blog piece on why the Middle East must embrace placing art online.
Qassemi recalled the Arab world's most prominent bloggers and called for the discovery of new blogging talent among the region's younger generations.
"It's important for bloggers to instigate debate and reflect the calls of society and present new ideas," Qassemi said.
"This is where Al Arabiya English comes in. I have a request: Please find new writers and bloggers and find new voices. Hopefully this page will not only be the source for not only nationals in the Gulf but also for any expatriate who lives in this region who has a right to read and reflect about us," he added.
Meet the bloggers