Al Arabiya to launch series on Africa to trace Arab steps
Al Arabiya allocated months of preparation preparing and training in order to film the program in African countries
In a bid to retrace the Arab's steps step in history, Al Arabiya News Channel is launching a series with a focus on the continent and its relationship with Islam and the Middle East.
According to the history books, Arabs entered Africa many decades before Islam. They traded as merchants on the African continent as incense traders at that time. After the birth of Islam, they ruled and built castles, fought battles, and were victories on many counts. Some of that history is still engraved on the stone walls of the city of Zanzibar.
Al Arabiya presenter and resident anthropologist Eid Al-Yahya looked into the books of history and tries to correlate it with the geography in a new series called "African Days."
Al Arabiya allocated months of preparation preparing and training in order to film the program in African countries, weathering harsh drought and sandstorms during production.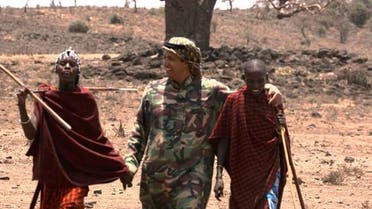 The mission replaced the paved roads, five stars hotels, and all forms of welfare it usually had with past seasons' programming with sandy and rocky roads, tents, mountains, valleys, and oceans to delve in the heart of the Maasai tribes' community, from where series' journey starts.
"African Days", will tackle the history, geography, and anthropology, of Tanzania in its early episode with the mission to locate the Maasai tribes' villages. Al-Yahya will also visit the active volcano of Tanzania Ol Doinyo Lengai and Lake Natron up to the highest peak in Africa, Mount Kilimanjaro.
The show will start on August 19 at 2:30 PM Saudi local time, 11:30 GMT on Al Arabiya News Channel.