Qaddafi's surviving cousin: Egypt plotted for war against Libya
Ahmed Gaddaf al-Dam reveals to Al Arabiya how Egypt and Libya were once on the brink of war
Muammar Qaddafi's former personal envoy and cousin Ahmed Gaddaf al-Dam has said that Egyptian troops were deployed from the Israeli front to the west end under the pretense that Libya had posed a threat to Egypt.
He is set to reveal the details about the dispute and the war between Egypt and Libya during the reign of late Egyptian president Anwar Sadat in an upcoming episode of Political Memory on Al Arabiya News Channel.
Gaddaf al-Dam confirmed that there were no armed disputes between the two countries but added that members of the armed forces often shared visits on the adjacent borders. But, he says, Libyan officials were surprised when Egyptians kidnapped a group of military officials at the time.
He added that Sadat refused to release them and claimed that the Libyan military group had infiltrated his country.
That is when the media war started, he says.
Gaddaf al-Dam is a polarizing figure in Libya since he was initially arrested in March 2013 in Egypt on attempted murder charges. He was released nine months later when Egyptian President Abdel-Fattah el-Sisi came into power.
Intimate details of the war
He stated that the Libyans special forces took aggressive actions and kidnapped a group of Egyptians, to which the Egyptian aviation responded by bombing the Jamal Abdel Nasser airbase in Tobruk, Tripoli then fired missiles at the aircraft and captured a group of pilots.
Rising tension led a number of Arab leaders to intervene to stop the war between the two countries, including former Algerian President Houari Boumediene and the late UAE President Sheikh Zayed Al Nahyan.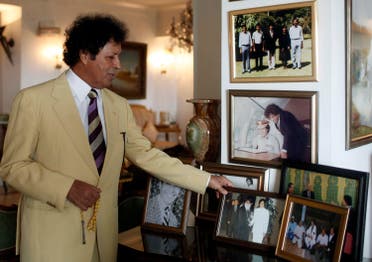 Gaddaf al-Dam told Al Arabiya's Political Memory host Taher Barakeh that when he visited the United States, he acquired a number of documents and maps proving the involvement of Egypt in a plot against Libya.
He exhibited the documents to Sadat, who "did not deny" the allegations, since the late Egyptian president was furious against the Libyan President, and accused him of scheming to bomb Aswan Dam with missiles.
Gaddaf al-Dam said he had asked Sadat to demonstrate good faith by withdrawing part of the Egyptian forces from the frontlines.
Qaddafi, it is revealed, had admonished his cousin for not informing him of his visit to Egypt and had considered Sadat to be an ally to American interests.
Eventually, Gaddaf al-Dam says Qaddafi then gave a speech in which he announced that he did not plan to attack Egypt nor demolish the Aswan Dam. That speech then Paved the way for direct peaceful negotiations in a number of European and Arab cities defusing a war that never took place.
*The first episode of the Political Memory interview with Ahmed Gaddaf al-Dam can be viewed in Arabic.