Al Arabiya's Ismaeel Naar named Outstanding Young Arab Journalist
Naar was recognized for his journalism during an event in Dubai attended by business and media leaders
Al Arabiya's online journalist Ismaeel Naar has been named Outstanding Young Arab Journalist of the year during a ceremony in Dubai attended by leading media and business leaders.
Naar, a Bahraini who joined the network in 2015, was given the award for his work in journalism by the ITP Publishing Group and APP Media Groups during a gala dinner event recognizing outstanding achievements by young Arabs aged 18-30 living in the United Arab Emirates.
He was chosen to win the journalism award by a distinguished judging panel, which was headed by Chaker Khazaal – the 28-year-old author of the Confessions of a War Child trilogy. Other prominent judges include former UK ambassador to Lebanon Tom Fletcher, filmmaker Farah Nabulsi, columnist Fasial Al Yafai, journalist Momen Mahmoud, OMG (MENA) CEO Elie Khouri, Asda'a Burson-Marstellar CEO Sunil John, humanitarian Mouna Elhaimoud and MBC Senior Vice President Mazen Hayek.
"It is a great honor to receive this award and represent Al Arabiya's digital operations. This award shows that hard work, perseverance and determination to tell others' stories truthfully pays off in the end," Naar said.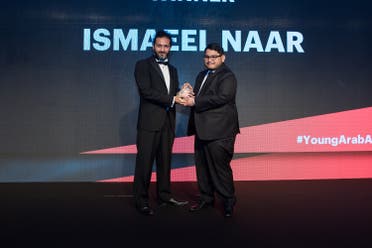 The 25-year-old Bahraini journalist was one of the youngest reporters from the region to cover the frontlines of the Saudi-Yemen war. He was the first to break the news of the Hajj stampede tragedy in 2015 and was lead reporter on some of the biggest news stories of this year.
"Ismaeel joined Al Arabiya in August 2015 and has contributed massively to our operations since he began. Among his work, recognized by a distinguished judging panel, was his reporting from the Saudi-Yemen border city of Najran, his handling of key breaking news events like the tragic Hajj stampede last year and the US elections this year," Al Arabiya's Editor-in-Chief of digital operations Mamdouh Almuhaini said.
"I would like to thank my former editors Imad Musa and Yasir Khan at AJE and Faisal J. Abbas for giving me my first breaks in journalism. The support from my current editors, Mamdouh Almuhaini and Ammar Ben Aziz, has been tremendous without which I would have not grown as a strong writer and storyteller," Naar said during the event.
He also thanked the "pillar of strength" in his life his father, Rashed Naar, for supporting his ambitions as a journalist.
Ismaeel Naar received his Bachelor's degree in journalism from Northwestern University in Qatar and has previously worked for the Financial Times, Euronews and Al Jazeera English before working for Al Arabiya News Channel.