Al Arabiya reporter confined at home after covering coronavirus in Hong Kong
Al Arabiya journalist Arfad al-Janabi will be under home quarantine for 14 days after spending more than a week covering the coronavirus outbreak in Hong Kong as a correspondent for the channel.
Al-Janabi was in Hong Kong for 10 days to cover the outbreak of the coronavirus on the ground. Upon his return from Hong Kong to Dubai – where Al Arabiya Media Network is based – on February 28, he was advised by Al Arabiya's administration to stay at home for 14 days as paid time off as a precautionary measure for his and his colleagues' health and safety.
The Iraqi-Canadian journalist was part of Al Arabiya's extensive coverage on the ground across Asia with Laith Bazari covering the Diamond Princess cruise ship off Japan's coast and Ashwaq al-Atoli covering the coronavirus outbreak in Seoul, South Korea.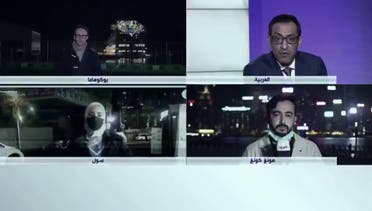 "After two weeks of working to cover the developments of the coronavirus from Hong Kong, our family's only son returned unscathed (so it seems so far) to be placed under house arrest for two weeks at the request of his channel (Al Arabiya), enjoying the sun of this unexpected required leave, as well as the sterilizers and face masks that he carried with him as gifts for the family," Nowfal al-Janabi, Arfad's father, said in a tweet.
The United Arab Emirates' health ministry has been calling for citizens and residents who have recently returned from time abroad to check up on their health and asked them if they have been exhibiting any symptoms of the coronavirus.
A recent traveler who returned from India received a call from a health ministry worker asking about his health and urging him to visit a clinic should he show any symptoms. The calls are part of the UAE's precautionary measures against the spread of the coronavirus in the UAE, which has confirmed 27 cases in the country so far.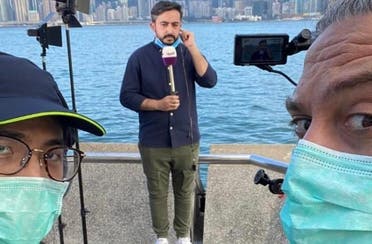 This was al-Janabi's first deployment on the field as a roving correspondent.
"Everything happened rather quickly. Three days before I was meant to leave, I was told that we were going to focus our coverage on the coronavirus on the ground and that they needed someone in Hong Kong. It isn't my first time in Hong Kong, I've visited three times already," al-Janabi told Al Arabiya English.
He said his recent experience in Hong Kong was very different than his past visits given how much the coronavirus outbreak has changed the city.
"It was so weird seeing Hong Kong, such a global city, being diminished in numbers and crowds to what it is now. It really caused a panic among businesses and hotels, and a lot of restaurants had to close down," he added.
Given the demnading nature of this deployment, al-Janabi said he did not have time to worry or think much about his own safety.
"It was a demanding deployment. My main objective was to get new information every hour so that every time we had to go live there was something new to give and because of the demanding nature of this job, there was not time for me to worry," the journalist said.