Rights groups slam Turkey after journalist deported
Human Rights Watch and Reporters Without Borders point to increasing curbs on free speech as Al Arabiya News columnist ejected
Rights groups today slammed Turkey for increasing curbs on free speech, following Friday's deportation of a journalist who had written tweets critical of the prime minister.
Reporters Without Borders (RWB) and Human Rights Watch said press freedom and freedom of speech are suffering, partly due to Turkey's new controls on the internet brought in after a corruption scandal that rocked the government.
Mahir Zeynalov, who was working as an online editor at Today Zaman and is a contributing columnist to Al Arabiya News, was deported to his native Azerbaijan after posting a series of tweets, including some critical of Prime Minister Recep Tayyip Erdoğan.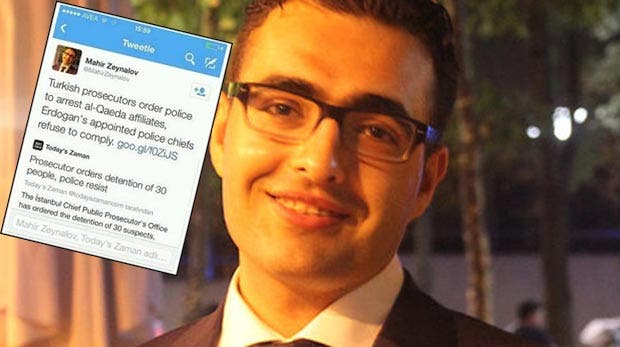 Johann Bihr, Head of the Eastern Europe & Central Asia Desk at RWB, said that the group was "appalled" by the deportation.
"It's not such a surprise because we have monitored growing intolerance toward foreign journalists and critical journalism," Bihr told Al Arabiya News.
Bihr said it was the first time since 1995 that a foreign journalist had been banned from Turkey. He pointed to a case last year in which Turkish authorities denied Dutch journalist Bram Vermeulen's request to renew his residency permit and press accreditation. Vermeulen's papers were later renewed in what was called a "misunderstanding."
Media freedom?
Emma Sinclair-Webb, senior Turkey researcher with the Europe and Central Asia division at Human Rights Watch, agreed that Turkey is imposing further restrictions on free speech.
"The trend is getting worse," said Sinclair-Webb, who did not comment specifically on Zeynalov's case as she had not studied it in depth.
Zeynalov, writing today in his Al Arabiya News column, said he was "deported like a thief".
"Deporting a foreigner over critical tweets… constitutes a black stain on Turkey's hard-won democracy," he wrote.
"My deportation is part of this troubling trend that has wreaked havoc on the freedom of media in Turkey – driven by Erdoğan's never-satisfying appetite to shut down any voice that doesn't applaud him."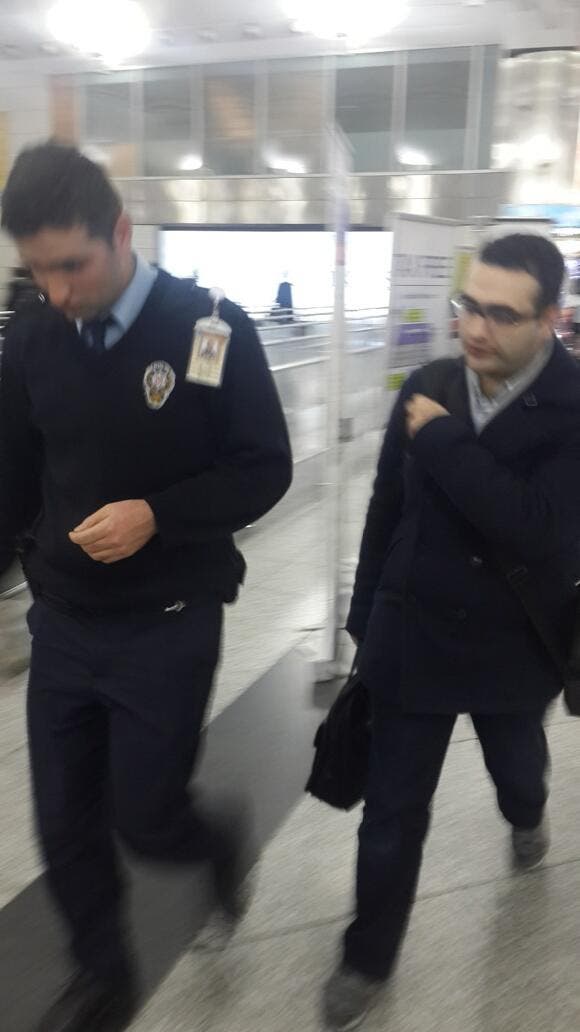 Internet controls
Zeynalov's deportation comes as hundreds of people gathered on Saturday to protest new controls on the internet that were approved last week by parliament. The controls, once approved by the president, allow Turkish authorities to quickly block websites without obtaining a court order. Some see the move as an attempt to dampen criticism of the government in the wake of the ongoing corruption scandal that has implicated members of Erdoğan's inner circle.
A staff member at Erdoğan's Justice and Development Party office in Ankara said no one was immediately available for comment when contacted by Al Arabiya News.
But Erdoğan himself yesterday hit back at criticism that he was promoting censorship, denying that the new internet regulations will limit freedom of expression.
"These regulations do not impose any censorship at all on the internet ... On the contrary, they make it safer and freer," Erdoğan was quoted as saying by AFP.
Despite Erdoğan's claims, Sinclair-Webb said the internet law marked "a further erosion of freedom of information" in Turkey.
"We have concerns with this new internet law, which basically increases the possibility of blocking sites," she said. "Turkey already has a very restrictive internet laws… Thousands of websites are already blocked."
Bihr said the new internet legislation was just one of many "setbacks" to press freedom in Turkey over the last 3-4 years.
Behind bars
In 2013, Turkey ranked 154th on the RWB annual Press Freedom Index, a decline of six places on the previous year. That places the country behind Iraq, Cambodia and Russia on this list.
There are currently 26 journalists imprisoned in Turkey, according to RWB, more than any other country except China and Eritrea. The New York-based Committee to Protect Journalists puts its estimate even higher – 40 imprisoned as of December – which it says makes Turkey the world's leading jailer of journalists.
"Turkey remains one of the biggest jails for journalists in the world," Bihr said, adding that an "unprecedented number of journalists were beaten and attacked by police last year."
Bihr added that "self-censorship is growing" in the country, while criminal defamation laws were commonly used in attempts to silence journalists.
Turkey's media landscape is a complex one, however, and some outlets are much more outspoken than others.
Corruption allegations against Erdoğan's associates have been widely carried by Gulenist titles – those influenced by the U.S.-based cleric Fethullah Gulen – like Bugun and Zaman, according to Reuters reports. Other media outlets, such as the fiercely anti-government Sözcü newspaper, are also critical.
Protests - or penguins?
Conversely, TV stations such as CNN Turk attracted ridicule in June after it chose to broadcast a documentary about penguins instead of covering protests in Taksim Square.
Much of the mainstream media has lost its teeth, amid widespread self-censorship, stiff penalties and a climate in which dozens of journalists have lost their jobs, commentators say.
"The media landscape is very polarized and highly politicized," said Bihr. "In Turkey you have vibrant media outlets and harsh criticism. But the problem is you may face really dire consequences, including jail terms."
Sinclair-Webb said mainstream titles such as Hürriyet and others owned by the Doğan Media Group had "kept a critical line" in their reporting. But she added that many had had "their wings clipped" by self-censorship.
"A lot of journalists have a feeling of being careful, of not rocking the boat too much," she said. "There are many no-go areas… In general there is a chilling environment."
The ownership of more than a dozen media outlets by large holding companies, which have interests in businesses such as construction or mining, also complicates the picture.
"They don't want to lose public tenders because their newspapers are critical and are [aggravating] the Prime Minister," said Sinclair-Webb.