UK's 'first suicide bomber' in Syria sends shockwaves
Abdul Waheed Majeed was described as a 'normal family man' although he is thought to be behind a bombing in Aleppo
British media have reacted to the story of an alleged British suicide bomber thought to be behind last week's bombing by rebels on a prison in Syria's northern city of Aleppo, expressing shock as the man was reportedly a "normal family man."
The bombing of the wall of Aleppo's central prison earlier in February was followed by a group of rebels who stormed the compound and freed hundreds of inmates.
The suicide bomber, who drove a large truck clad with makeshift armor into the prison wall, was named as 41-year-old Abdul Waheed Majeed, known by al-Qaeda-linked rebel group the al-Nusra Front as Abu Suleiman al-Britani.
If the identity of the bomber is to be confirmed, Majeed would be the first suicide bomber from the UK to die in Syria – and the eighth UK citizen to have died since fighting began in the war-torn country three years ago.
Police raid
Britani, who was of Pakistani origin, is believed to have flown from the UK to take part in the conflict.
Earlier this week, police raided his home in the town of Crawley, in the county of Sussex.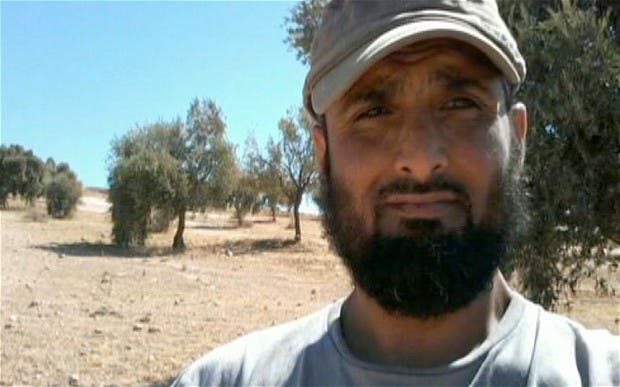 "Crawley has very good community relations involving people of different faiths but it is particularly shocking if someone from the town is involved in radicalization," UK daily The Telegraph quoted Member of Parliament Henry Smith as saying.
"Jihadists have posted eulogies to 'Britani' on social media websites, with one saying: "All British Muslims should be proud of him," the newspaper reported on Wednesday.
Majeed was described by British newspaper The Daily Mail as a father of three and a "devout Muslim"who "regularly spoke to his wife and children through the internet phone service, Skype," while in Syria.
'A very jovial chap'
"I was shocked because he seemed like a normal guy, a family man. He was a very jovial chap, you'd see him joking around with people," The Daily Mail quoted a neighbor as saying.
The house where Majeed lived in the UK with his family was coincidentally the childhood home of Roy Whiting, the killer of 7-year-old schoolgirl Sarah Payne in an prolific murder case that gripped UK media in 2000.
Another newspaper, The London Evening Standard reported on Thursday that Majeed was "the driver and devoted student of banned hate cleric Omar Bakri."
In an interview with Bakri from the cleric's flat in Tripoli, the cleric said that Majeed was "a very dear brother."
"He was a funny guy and a family man, he would talk about his daughter a lot. But it doesn't surprise me that he did this.
Knowing him and his nature, he wanted to be of help, he wanted to help people, he wanted to help the, Muslim cause," Bakri told the newspaper.
On Friday, British tabloid The Mirror revealed pictures of Majeed pictured next to children in Syria wearing "Micky Mouse ears."
Britons travelling to Syria to help the rebels fighting President Bashar al-Assad could be arrested on their return, a senior police chief warned on last month, saying they may pose a security risk to the UK.
Peter Fahy, head of the Association of Chief Police Officers, said there was "huge concern" about Britons, including a rising number of youngsters, fighting in Syria and becoming radicalized by hardline Islamists.