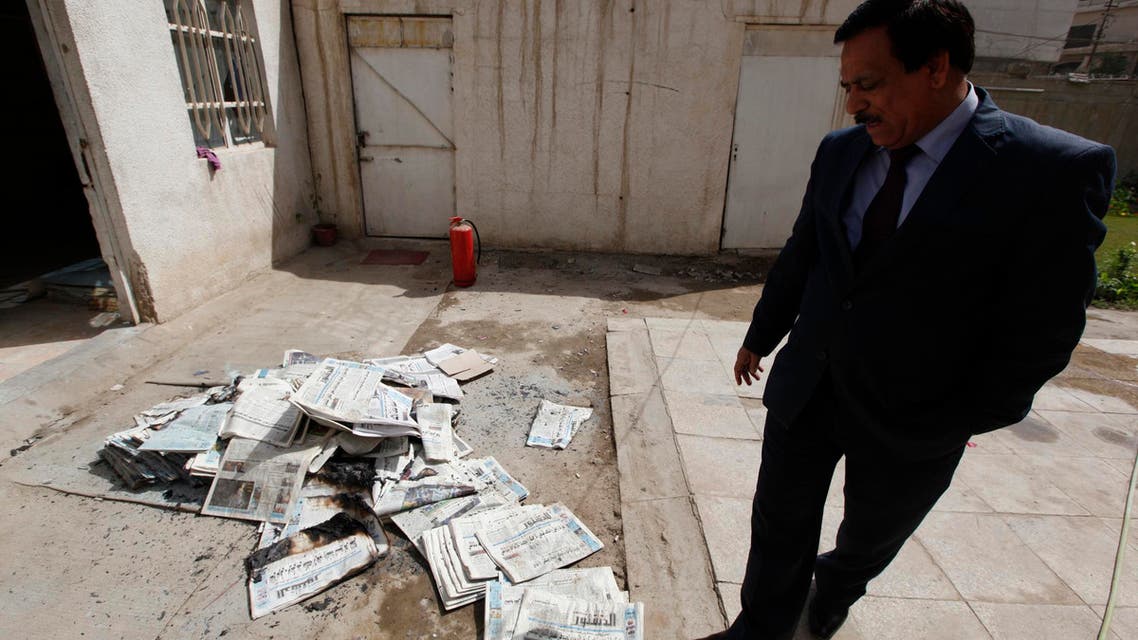 Iraq's government slammed as 'intolerant' of journalists
Two press freedom groups say threats to reporters operating in the country extend beyond the 'alarming decline' in Iraq's security situation
Press freedom in Iraq under Prime Minister Nouri al-Maliki's government has consistently worsened, experts told Al Arabiya News on Thursday.
The Arab Lawyers Association chief slammed the current government as being intolerant to voices it sees as dissenting.
"As far as the government is concerned, they tolerate no criticism whatsoever, even from within the system," Sabah al-Mukhtar, UK-based President of the Arab Lawyers Association.
Since most of the competent judiciary from Iraq's former leader Saddam Hussein were dismissed by the provisional administration put in place after the 2003 invasion that toppled the Iraqi strongman, the remainder has been almost entirely ineffective, Mukhtar told Al Arabiya News.
"The judges under Saddam - the worst of them – [were] probably better than the worst of them at the moment," said the London-based lawyer.
Iraq's judicial bodies seeming being against journalists is symptomatic of the problems with the rest of the country's government, with a key issue being a lack of culpability, said Ghassan al-Attiyah, director of the Baghdad and London-based Iraqi Foundation for Development and Democracy.
"No one can be held accountable. We have a constitution, parliament, but they are all dysfunctional," he said.
Consistent failings
On Tuesday France-based press freedom advocacy group Reporters without Borders and its Iraqi counterpart the Journalistic Freedoms Observatory penned to the heads of Iraq's judiciary bodies voicing concern over the declining freedom of information in the country.
The letter from the two press freedom groups states that threats to reporters operating in the country extend beyond the "alarming decline" in Iraq's security situation.
"Journalists now have to face new threats in the form of arrest and prosecution on spurious grounds," the document states.
Paramount to the group's concerns are the usage of laws "inherited from the old regime" – a reference to Iraqi strongman Saddam Hussein's three-decade iron rule.
The letter cited the arrest of journalist Sarmad al-Tai earlier this month as someone who was convicted under a "draconian" legal structure.
Paying a high price
"Iraq's journalists have paid a high price since 2003 for their fight for the right to report the news," the letter reads, adding that many have been the targets of "bloody attacks."
On the group's World Press Freedom Index 2014, Iraq languishes at 153rd place out of 180 countries surveyed – dropping three places from the previous year.
But is there a realistic hope of Iraq's judicial authorities taking the message on board?
"They will make excuses and simply say that this is an exaggeration," said Attiyah.