STL summons top Lebanese editors for contempt
Two journalists and two media organizations have been charged with contempt before the Special Tribunal for Lebanon
The Special Tribunal for Lebanon (STL) tasked with trying those charged with assassinating Lebanon's former Prime Minister Rafiq al-Hariri in 2005 said Thursday it had summoned two editors and two media organizations for contempt.
"Karma Mohamed Tahsin al Khayat from al-Jadeed TV, as well as the station's parent company New TV S.A.L., have been summoned to appear before the STL on two counts of Contempt and Obstruction of Justice," the Tribunal said in a statement posted on its official website.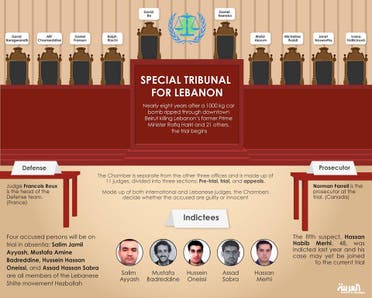 "Ibrahim Mohamed Al Amin from Al-Akhbar, as well as the newspaper's parent company Akhbar Beirut S.A.L., have been summoned on one count of Contempt and Obstruction of Justice," the tribunal added.

Al-Jadeed and its deputy chief Khayat, as well as the pro-Hezbollah Al-Akhbar and its editor-in-chief Amin, are accused of "knowingly and wilfully interfering with the administration of justice by broadcasting and/or publishing information on purported confidential witnesses."
In April last year, a list of 167 names of so-called witnesses for the Hariri trial was published by a previously unknown group identified as "Journalists for the Truth."

The group said it wanted to "unveil the corruption" of the STL.

Both Al-Akhbar and Al-Jadeed published the list.

The STL, established at Lebanon's request, seeks to try five members of the powerful Shiite movement Hezbollah for the attack that killed Hariri and 22 others on February 14, 2005, in Beirut.

Hezbollah accuses the court of being part of an "Israeli-U.S." plot, and has yet to hand over the suspects.

The trial opened in a suburb outside The Hague in January.

[With AFP]