British media resurrects sex scandal MP's meetings with Assad
Brooks Newmark took it upon himself to engage in what one newspaper described as "DIY diplomacy"
A British minister who resigned after he was caught sending sexual photos of himself to women, was spotlighted on Saturday by The Telegraph for oddly meeting Syrian President Bashar al-Assad "several times."
Brooks Newmark took it upon himself to engage in what the newspaper described as "DIY diplomacy."
The shamed Conservative MP "first met Assad in 2006 and continued to meet him on a one-to-one basis until 2011, after which he argued in favor of arming the rebels in order to give opposition forces a 'chance of winning,' the newspaper reported.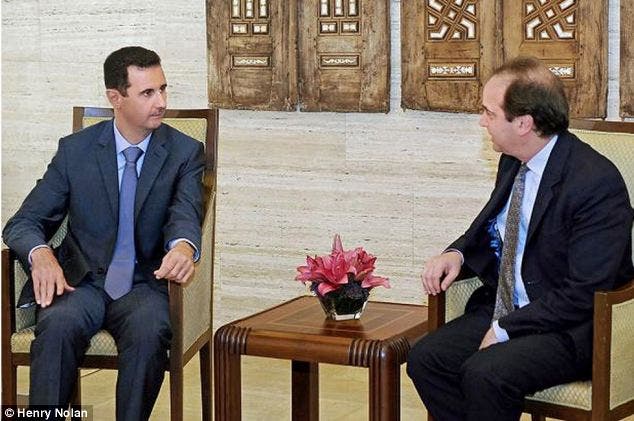 In a comment piece he had written for the Daily Mail in 2013, he described Assad as "incongruously softly spoken" but "always forthright."
"He [Assad] did not seem to mind that I gave equally forthright answers and regularly invited me to meet him again on subsequent visits, right up to 2011, when the civil war started," Newmark wrote.
The politician, a Conservative member of parliament since 2005, resigned on Saturday,
"I have decided to resign as minister for civil society having been notified of a story to be published in a Sunday newspaper," said Newmark, in comments carried by Agence France-Presse.
"I would like to appeal for the privacy of my family to be respected at this time. I remain a loyal supporter of this government as its long-term economic plan continues to deliver for the British people," Newmark said.
The Sunday Mirror reported the 56-year-old married father of five exchanged a series of sexually explicit photos online with a freelance male reporter who was posing as a young female activist.
In a private conversation on a social networking site, Newmark "sent a graphic picture exposing himself while wearing a pair of paisley pyjamas," the tabloid newspaper reported.
The then-minister also invited the reporter to meet with him during the Conservative party conference, which begins on Sunday, when the party will set out its case for re-election in May 2015.

[With AFP]