UK newspaper marks death of slain British aid worker
'The front page text on the Sunday edition of the paper He was killed, on camera, for the sole purpose of propaganda. Here is the news, not the propaganda'
A UK newspaper on Sunday marked the death of slain British aid worker Alan Henning – who was beheaded by a masked ISIS fighter in a gruesome video released Friday – with a story space taken up by a simple black background and a claim to present the "news, not the propaganda."
The front page text on the Sunday edition of the paper, which has a circulation of around 100,000 copies, reads: "On Friday a decent, caring human being was murdered in cold blood. Our thoughts are with his family."
"He was killed, on camera, for the sole purpose of propaganda. Here is the news, not the propaganda."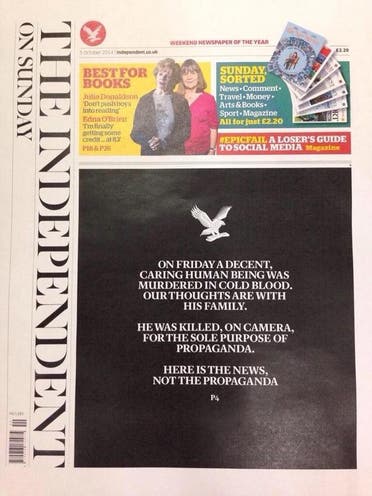 Henning, a taxi driver from northwest England, was abducted minutes after his aid convoy entered Syria in December last year.
He was the fourth Western hostage to be killed by ISIS since mid-August, following two American journalists and another British aid worker.
In their latest video, Henning's killers linked their action to a vote Sept. 26 in British Parliament to deploy the Royal Air Force against ISIS positions in Iraq, but not Syria.
Like the three videos released by ISIS on the internet before it, the killing prompted widespread condemnation from several world leader and Muslim groups.