'Elshakmagia' marks return of taboo-breaking comic books in Egypt
Elshakmagia is said to be the first feminist comic-strip magazine to discuss societal topics
The recent release of all-new feminist magazine Elshakmagia in Egypt marks the return of adult comic books aimed at breaking social taboos using art and literature.

Elshakmagia, which came to light last month, is said to be the first feminist comic-strip magazine to discuss societal topics from a feminist and a women's rights perspective.

The name, derived from an old Egyptian word meaning a jewelry box, tempts the reader into opening and discovering the joys of the literary pieces inside the pages.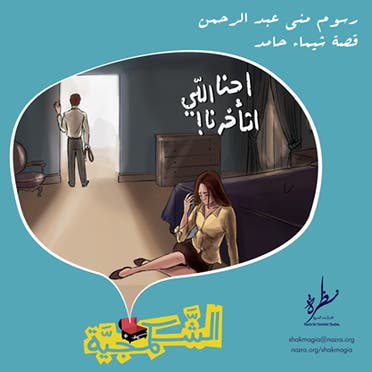 Fatma Mansour, the magazine's editor-in-chief, told Al Arabiya News the name was chosen to drive through the comic's aim of connecting with Egyptians from all walks of life through story telling.

"We chose the name Elshakmagia because it [jewelry box] exists in every Egyptian household, in all social classes. We believe that our stories represent people in every house and of every class."

And because the effort to produce the comic came from the heart of its team, Mansour said "all the stories and art work inside the magazine are regarded as treasures that deserve to be kept in our virtual Shakmgia."

Produced by the Egypt-based organization Nazra for Feminist Studies, the first issue of the magazine came to light last month.

One of a few Arabic comic magazines dedicated for grownups, Elshakmagia's main target audience is young adults.

"We care to select stories and topics that young adults can relate to," Mansour said.

Every issue of the magazine will tackle one specific social problem, she added.

"The first issue of the magazine discussed sexual harassment and violence against women, given the fact that it's a pressing social problem that concerns everyone.

"We covered the topic from different angles, starting with domestic violence and child sexual abuse to sexual harassment on the street and the work place."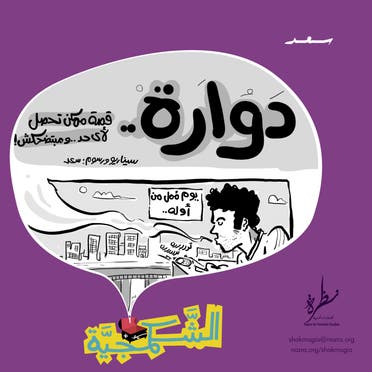 Catchy topics aside, the formula of the magazine's success is its attention-grabbing, pictorial artwork.

"What is special about Elshakmagia is the fact that we are able to use art as a tool to discuss very serious and sometimes horrible facts in a very creative artistic manner."

Because so much attention is dedicated to the artistic standards of the magazine, Mansour said a group of creative artists work together on how best to convey the messages in the comic.

"We care to discuss the issues we want to cover in the magazine and make sure that our artists understand exactly the messages we aim to deliver."

"We depend on the fact that pictures and visual materials reach the hearts and minds of people faster than any other way of communication," she added.

Elshakmagia's team looks to publish a new issue every three to four months.

Mansour said ways of developing the magazine for a wider, regional audience were being considered.

"We are planning to expand the magazine to include artists from the Arab region to talk about issues that are of concern to the whole region."