From press to politics: Khaleej Times editor eyes role as politician
Mustafa Al-Zarooni is running for one of Dubai's four seats on the UAE's Federal National Council
For Dubai's Khaleej Times city editor Mustafa al-Zarooni, being a journalist and politician go hand in hand.

"To be a good politician, you need to be close to the people, and be on top of the issues that are affecting constituents on a daily basis," Zarooni told Al Arabiya News.
"No one does this better than journalists, who are on the streets day in and day out talking to the lowest stakeholders on the social chain.
"To be an effective politician at the Federal National Council [FNC], we need more people like me who can bring the voices of the people directly to the table."

The 40-member FNC is the federal authority of the United Arab Emirates (UAE), and was formed to represent the general public.
UAE citizens elect 20 members, with the rest appointed by the Electoral College and rulers of each emirate.
Zarooni meets with one of his constituents at his Majlis, his campaign's headquarters
Zarooni, 32, is one of 60 other candidates vying for four seats in Dubai. This year's election is the third general since voting began in 2006.

During the last election in 2011, voter turnout was a disappointing 28 percent. "This must change," said Zarooni.

"Win or lose, my main role in this election is to rally support within the younger segments of Emirati society to get them to vote.
"Even if they want to throw out their votes should they see no fit candidate to represent, they need show up at the ballot box and cast their votes.

"We have to start building a more inclusive political culture in the UAE. Elections are more prevalent in other Gulf Cooperation Council [GCC] countries such as Bahrain and Kuwait, and we need to catch up."
Key issues
Two of the main issues that have dominated the Emirati streets in recent years are education and housing for young citizens.

When asked if he will make promises to his constituents, Zarooni replied: "I'm one of the few candidates in the field who are against making grand promises that they know there are no guarantees of fulfilling. The FNC have advisory responsibilities, not legislative ones.

"What I can bring to the table are my skills and experiences as a journalist who is close to the people.
"Part of my job as a journalist for the last decade is to sit among Dubai citizens and ask about their issues. In a watchdog role, I have the skills to make sure accountability is held."
Zarooni meets with his constituents at his Majlis, his campaign's headquarters, one the eve of early elections
The UAE ranks ahead of its GCC neighbors in education, but ranks at 45 in the world, according to a recent report by the Organization for Economic Cooperation and Development (OECD).

Zarooni says his country has a long way to go if it wants to compete on a global scale, but any actions should "start anew with fresh blood."

He added: "Being a journalist, I've been covering the FNC elections since they first started in 2006, and the issues many are campaigning on now they first talked about 10 years ago.
"Something has to be done other than the usual statements recycled in every council session."

Zarooni has worked in multiple Arabic-language media as a journalist and commentator on social and political issues.
He switched to English-language media three years ago when he joined the Khaleej Times as city editor.

Zarooni says he does not believe his move away from the Arabic-language mainstream media will hinder his chances with voters who mostly read the local papers, which are peppered these days with rival candidates' adverts.
"When I was working for the Arabic paper Al-Bayan, I wrote more on issues that pertained to the Arabic-speaking parts of our society," he said.
"But the English-language media has a different flavor, and does certain things better than the local Arabic media.
"An example of this is the focus on issues that 90 percent of the population, who are expats, face - how well they integrate and work alongside Emiratis.
"That experience of speaking and understanding all the diverse sides and opinions is actually an advantage in the FNC."
Changes needed
Compared to other GCC countries such as Bahrain and Kuwait, local elections are a relatively new phenomenon in the UAE.

Kuwait has the longest recorded political culture in the region, given that it elected its first National Assembly in 1921.
Kuwait's ruling family dissolved parliament in 1939, but it was reinstated in 1962 following independence the previous year.

Bahrain elected its fourth parliament at the start of this year, with a strong turnout of 51.5 percent.

For the UAE, the upcoming vote will mark only the third time its citizens head to the polls. In 2006 only 6,600 people did so, while in 2011 the turnout stood at 28 percent.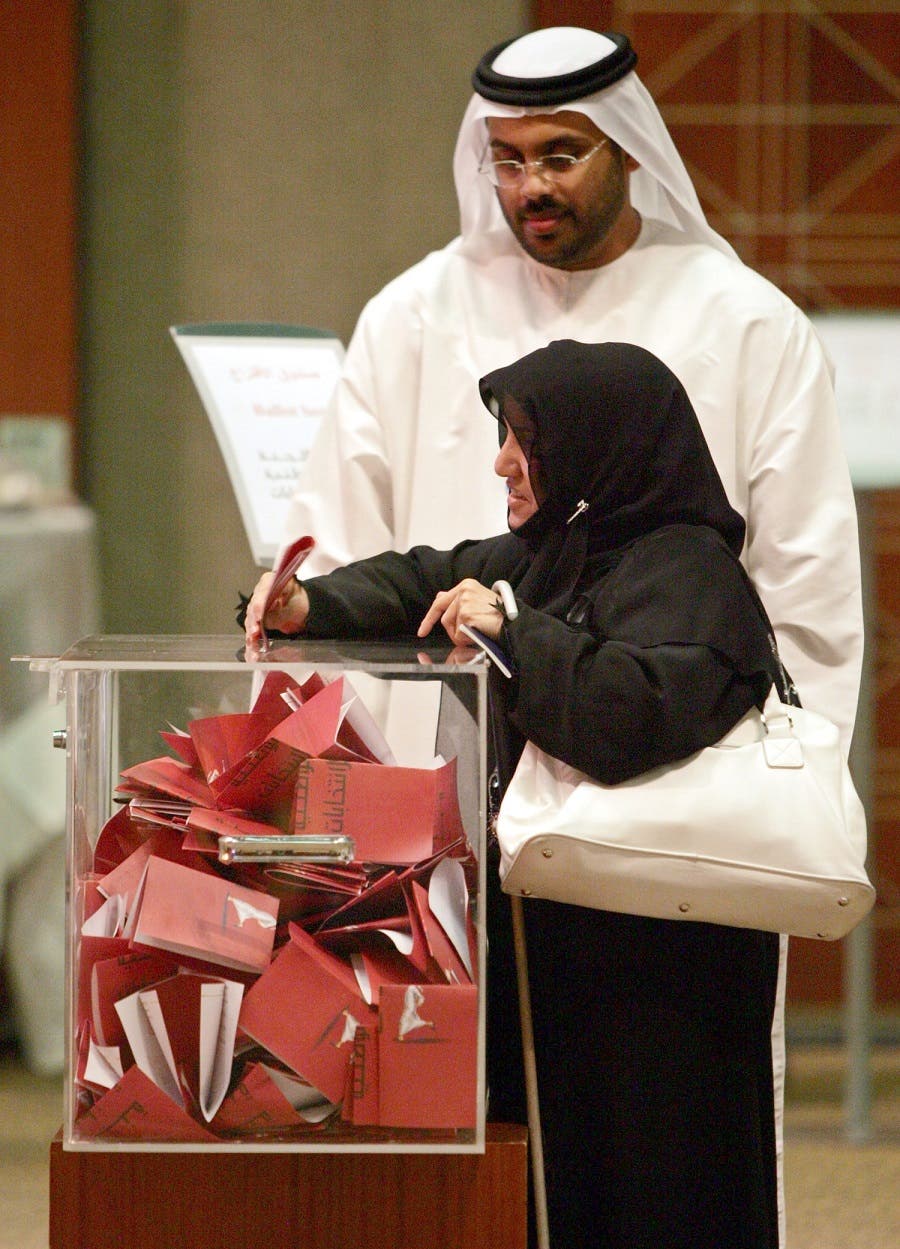 "Emirati society is still not used to an active political and social culture," said Zarooni.
"It's a good and bad thing. Good because the UAE government and its leadership have given their citizens all that they ever needed and more.
"But citizens still have the right to ask more of themselves and their country, and to have a voice in the decision-making process of their local communities. We have a long way to go, but it all starts with the voting this week and on Oct. 3."
My dual role as editor of a major daily and future public servant will add more platforms on which I can voice people's everyday concerns and issues.
Mustafa Al-Zarooni
Zaaroni's father Ismail ran in the last elections, and supports his son's bid this year. "My family plays a big part in the cultural and social fabric of Emirati society," said Zarooni.
"So when I decided to run, I had a discussion with my family's elders, who all threw their support behind me."
Under FNC regulations, those candidates who serve in public offices are to resign should they win a seat at the council.
Given that Zarooni occupies a private role, he says he plans to stay on as Khaleej Times city editor if he wins.
"My dual role as editor of a major daily and future public servant will add more platforms on which I can voice people's everyday concerns and issues," he said.

Early voting starts on Monday and ends on Sept. 30, with a general Election Day scheduled for Oct. 3. Results of the winners and those appointed will be announced on Oct. 11.