Horror in Paris: French media reacts to 'deadliest attack since WWII'
Most chose to use pictures of the simultaneous attacks, which included multiple shootings, a 100-person hostage crisis, and explosions
France woke up to newspapers and magazines describing a series of bloody attacks in Paris, which killed more than 127 people late Friday, as a "horror."
A tweet from Le Monde Histoire showed the covers of many different titles, with some describing last night's events as a "terrorist massacre" and "carnage."
Most chose to use pictures of the simultaneous attacks, which included multiple shootings, a 100-person hostage crisis, and explosions.
The attack is believed to be France's "deadliest since World War II."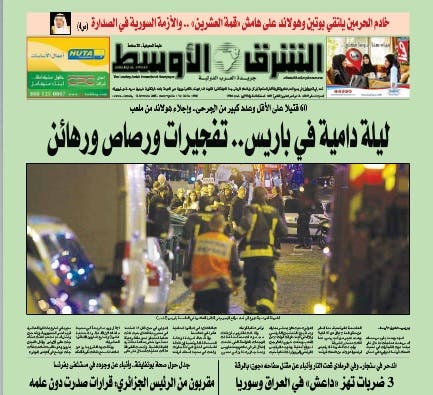 A total of eight militants were killed, including seven by their suicide belts, during Friday's attacks, a source close to the investigation told Agence France-Presse.
Four of the attackers were killed in the Bataclan concert hall, three by activating their suicide vests and one shot by police. Three more died near the national stadium and a fourth was killed in a street in eastern Paris.
One of the attacks took place at the Bataclan concert hall where nearly 100 people had been killed at the venue. Police reprtedly stormed the hall after it had been taken seige an uncertain number of gunmen.
According to a witness, one attacker in the concert hall had shouted "Allahu akbar," meaning "God is great" in Arabic, and fired into the crowd.
An Al Arabiya News correspondent quoted witnesses at the Bataclan hall saying that the gunmen had allegedly said: "What we've done was in response to your actions in Syria."
Paris-based analyst Khattar Abu Diyab told Al Arabiya News Channel it was a "difficult" and "unprecedented" night for France.
"It was the biggest attack against a Western country since decades, since 9/11," he said.
Abu Diyab said while France on alert, it did not "expect" such magnitude of attacks. "It really shows that France is targeted."
The attacks, whose motive are not immediately made clear, came less than a year after radical gunmen killed 17 people in the Charlie Hebdo magazine and a Jewish supermarket attacks.
French authorities have been on high alert since the January attacks, and the country has been named as a priority target by ISIS militants.