NY Times exec: Digital, not print media is our future
Michael Goldman admitted the media industry is facing a day when it will be 100 percent digital
As newspapers worldwide face the decline of their once-dominant print business, the New York Times is working to adapt to its increasingly digital-focused consumer base, one of the paper's executives said on Wednesday.
"We are trying our hardest to move from a newspaper that has a website, to a digital company that has a newspaper," New York Times Company Vice Chairman Michael Golden told an audience of newspaper editors from across the Arab world at a Dubai conference.
Earlier this month, UK daily The Independent announced that it was shutting down its print business entirely, and would focus on digital platforms. The paper currently has a circulation of under 60,000, down from over 180,000 in 2010.
"Print is critically important to us, and I believe we will be printing newspapers for maybe two more generations," said Golden.
"But our industry is facing a day when it will be 100 percent digital… if we don't get ready for that, we won't be part of that world," he said.
To stay competitive, Golden said that the New York Times would force itself to redefine the relationship between its newsroom and its business side to compete with the likes of digital-only competitors like online juggernaut Buzzfeed. But he warned that balance is key in maintaining integrity.
"We have to ensure our commercial interests don't influence our journalism," he added.
Paper losses
At the conference, the organizer, World Association of Newspapers and News Publishers (WAN-IFRA) shared research that suggested for every $1 gained in the digital sphere, nearly $7 was lost in print.
But that has not yet deterred traditionally print companies, including the New York Times, from keeping ink and paper alive. In 2014, newspaper revenues generated at least $92 bln globally through circulation alone.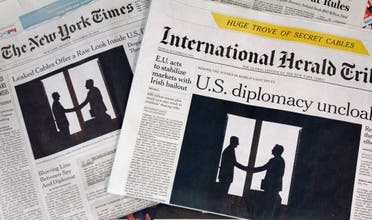 Despite the current survival of its print editions, the New York Times now boasts 1.1 million digital-only subscribers according to its vice chairman, on top of its nearly one million print subscribers.
"We are firmly committed to print and we will kept it vibrant and profitable as long as we can and I believe that we can be done for generations," Golden said, a remark that prompted applause from the audience.
However, the executive said that the digital age would put the New York Times in a tough situation: the paper faces laying off employees involved in the printing process.
In an internal report the New York Times conducted on itself, which was obtained by Buzzfeed in 2014, Editor-in-Chief Dean Baquet admitted that to successfully run a well-known newspaper with a dedicated audience, "you have to protect that while you go out there and get more readers through other means."
"We make sure that the print newspaper we put out is excellent. We continue to invest in it where that makes sense, and we continue to market it, sell it and build new subscriptions," Golden said.
"But it is digital that we have to be focused on, because that's our future."