Pitch Perfect: Tips from a journalist who became a PR professional
As a journalist, you need your PR network to support you. You cherish the good PRs you come across
When it comes to journalism in the UAE, let's first start by putting a few things in perspective. I arrived in Dubai in January 2004 to work on a magazine title not too dissimilar to the one I had spent the previous three years working on in the UK – Now! magazine. Both were celebrity weeklies and best sellers in their respective markets, both had glossy covers and dabbled in fashion, beauty and lifestyle. However, this is where the similarities ended.
In the UK, just like many other more established publishing markets, editorial teams were considerable. Now! magazine – now part of Time Warner Inc – had 50 plus in-house staff, and an army of freelancers scattered around the world. On arriving at my new magazine, we had just six.
At Now! magazine we had generous editorial budgets – whether that be for external photographers, shoot locations, exclusive picture sets, celebrity exclusives or freelance writers… we had choices and options. In the UAE, I was soon to discover this was not exactly the case. Far from it, in fact. Journalist life as I knew it was destined to change… dramatically.
Gone were the days I spent meticulously planning features and working on creative still life beauty shoots… we had pages to fill, and fast. Long hours in the office and late evenings spent at PR events meant every second counted. I had way less tolerance for casual PR chit chat… I wanted – and needed – fast, concise pitches that were delivered on time, with the full support network that PRs are supposed to offer.
When I asked for a high-res image by 12 noon, I didn't mean an out of focus 72dpi image at 6.15 pm. When I requested a product sample by Thursday, I didn't mean three weeks Thursday. I spent a considerable amount of my day chasing PRs for what I had already requested and backing myself up in case the material didn't, erm, materialize. After all, a journalist cannot send a blank page to press and with only a handful of PR contacts who I felt were fully reliable, I was dodging a bullet daily.
As a journalist, you need your PR network to support you. You cherish the good PRs you come across – the ones you can trust will not let you down – and yes, these are few and far between. Good PRs get a huge amount more press coverage for their clients, and having sat on both sides of the fence, it's easy to see why.
After five years working across some of the most popular fashion, beauty and luxury lifestyle magazine titles in the UAE – plus covering international fashion weeks for a leading newspaper, I gave up my job as a magazine Editor to do what I had vowed to do just days after landing in the UAE. I set up my own PR agency.
I understood the frustrations of being sent the answers to a Q&A, once my magazine had already been on – and off – the shelf, with said article already published within. I understood the blood boiling annoyance of those phone calls when asked "when" the press release "will" be published and demands such as "send me a copy once published". My particular favorites were when the press release had no relevance for my publication.
I set out to take all my pet PR peeves and bury them so that we would never leave a journalist hanging for information or over-promise and under deliver. Some clients often wonder why I need headshots of a spokesperson before I even secure an interview. Journalists will understand why. If you are unprepared, not only do you miss out on great opportunities, but you also show you haven't preempted a journalists needs.
So if you want to get on the top-tier media's speed dial list, here's some of my top tips for getting – and staying – there:
A helping hand
Next time you email or call a journalist, ask what they are working on and find out what you can do to help. It's not always what they can do for you, but should be what you can do for them.
The death call
Do your research and find out every title's press deadline – then avoid it like the plague. If you want to pitch your client forward for a lengthy feature, but you call 30 minutes before the magazine presses, you are likely to get a very irate staff member on the other side of the line.
It's all in the detail
Instead of calling journalists incessantly, send them a well thought through email detailing – in bullet points where possible – exactly what you are pitching and whether this is an exclusive story for them. Exclusivity is key to securing a large feature.
Great expectations
It's a common misconception by marketing managers that by advertising in the media title, you will automatically be supported with editorial coverage. To a certain extent, yes, you will have a certain amount of leverage, however you still have to feed journalists with good PR content for them to create stories.
On demand
You should never demand or expect anything when it comes to editorial – it is ultimately the journalist's choice what goes into their publication. This also goes for demanding a copy of the magazine – or a PDF of coverage. It is up to the PR to do their own media monitoring.
The chase
Ask any journalist their top three PR bugbears and you can guarantee that follow up calls will feature. "Did you get my press release on XYZ, that I sent a few minutes ago?" is a favourite. Here's a tip – unless you get a bounce back email, they have it. If you have targeted your email well, it should be of interest, and they will use it.
Thanksgiving
When you receive a lovely gift from a friend, family member or even a colleague, it's always polite to give thanks. The same goes for when you receive an amazing piece of coverage. Show the journalist that you really appreciate the coverage and you really enjoyed working together. Gifts are not necessary, your acknowledgement is often enough.
It's a date
Good PRs know, journalists are your extramarital relationships. You have to nurture your relations, get to know your contacts inside out. Understand how they tick and how they like to communicate. You would not expect to build a meaningful relationship with a partner and never ask them out on a date. Ask them for coffee, or lunch. They may not have the time, however it is the thought that counts.
Know your stuff
Know your magazines. It's one of the most basic tips that can be handed down by a journalist, but also the most underrated. If you don't understand the magazine or reader profile, you are wasting your time as well as the journalists' by pitching irrelevant content.
The full monty
When it comes to sending a press release, or a media kit, always ensure you have thought of every last detail that the journalist may need. Have you included the launch date, opening hours, prices and availability? If not, you are effectively creating more work for the journalist, as they then need to chase you for this basic information.
Picture perfect
Understand the difference between picture formats – and how to send each. A very high-resolution image should never need to be over 3-4MB and if you are sending more than one, you would need to send via an external source, such as Dropbox or Wetransfer. As a journalist, there's nothing more frustrating than having your email blocked for a day and then crash under the pressure of a PR sending a 20MB image. The general rule is to send nothing more than 5MB in one email.
The name game
This may seem obvious, but you would be surprised how many agencies still refuse to address journalists personally. Of course, it's far quicker to mass mail everyone using "Dear Editor", "Dear Media Friends" or simply start with no introduction whatsoever. However, if you are requesting media coverage, at least have the courtesy to address your recipient by their first name.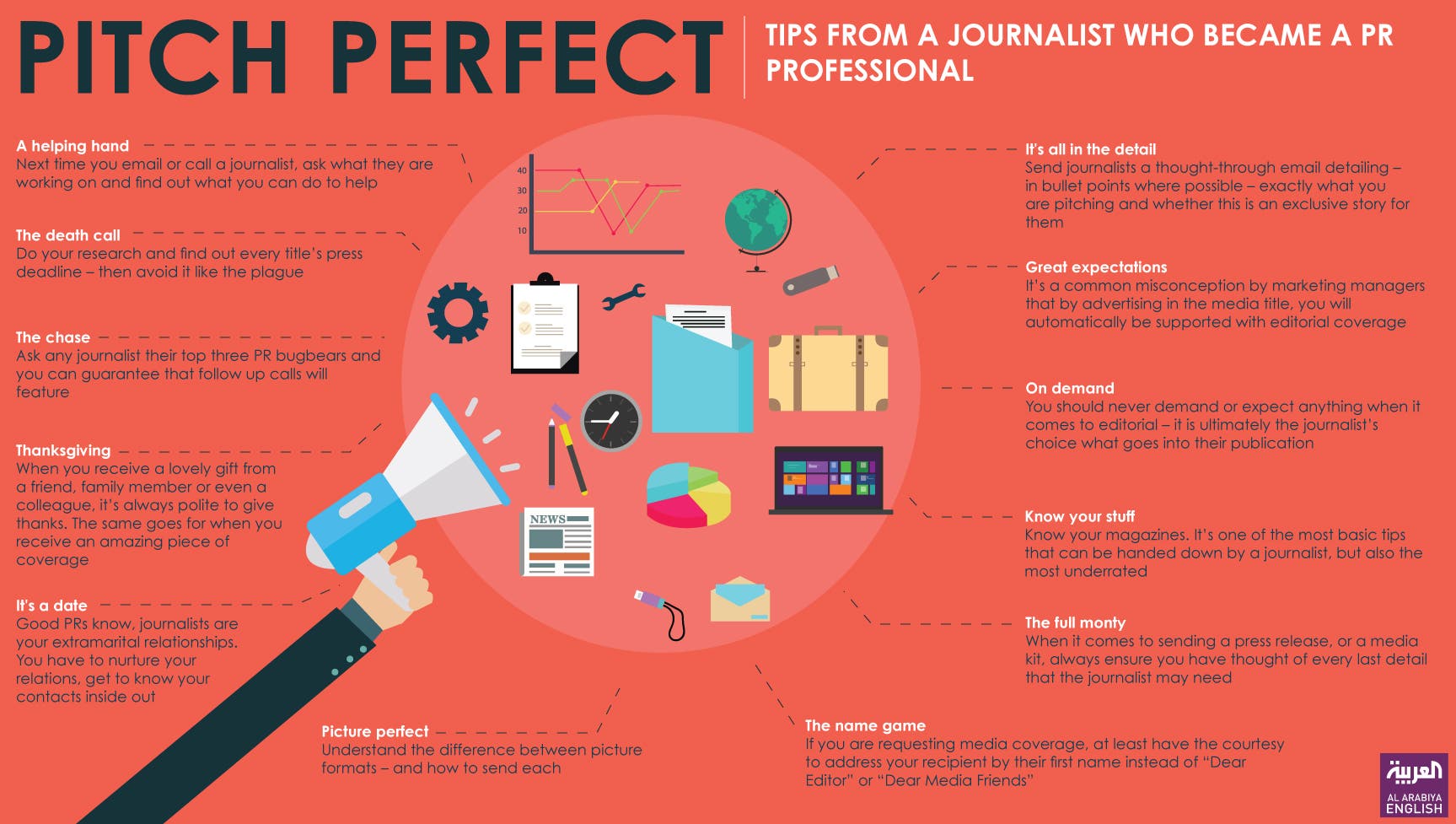 __________
Jill Downie is a British ex-magazine editor and founder of luxury lifestyle PR agency Aziza Communications and Co-Founder of The Media Network, both based in Dubai.