Iran imprisons journalist for reporting on judiciary corruption allegations
Prominent Iranian reformist journalist, Isa Saharkhiz, was sentenced to six months by a court in Tehran, sources told Al Arabiya.
Saharkhiz was the director of publications during the era of former reformist President Mohammad Khatami. He was sentenced to prison for criticizing the corruption files of the Head of the Judiciary Ayatollah Sadegh Amoli Larijani, who is accused of possessing 63 personal bank accounts that generate millions in interest benefits of financial belonging to citizens who have cases in court.
The verdict comes after he was released on April 25, more more than a year and a half in prison for "spreading lies in favor of enemies" because of his articles criticizing the regime.
Saharkhiz lawyer said: "This is a political accusation and an open court must be set up in the presence of a jury, but the court issued its verdict," reported Iranian Labour News Agency (ILNA).
On March 12, Issa Saharkhiz was beaten while in Evin prison, north of Tehran, by security personnel and was taken to the hospital where he suffered heart problems from a hunger strike.
Saharkhiz was director general of publications at the Iranian Ministry of Culture under former reformist President Mohammad Khatami was also jailed for four years for participating in the "Green Intifada" in 2009 against former President Mahmoud Ahmadinejad and was released two years ago.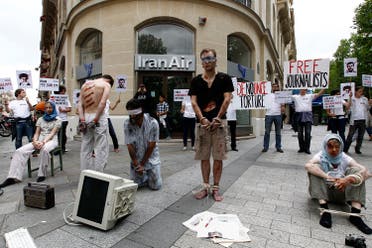 Iranian intelligence agency (IRGC) announced in November 2015 that it had arrested four journalists, Afrin Chitsaz, Ihsan Mazandrani, Saman Safarzai and Issa Saharkhiz, for forming an infiltrating cell operating in the local Iranian media, cyberspace and collaborating with Western parties against Ali Khamenei, and against the regime. "
Human Rights Watch called on the Iranian regime to release the four journalists, pointing out that the journalists were accused of "unjust" charges.
In its recent report on Iran, Reporters Without Borders criticized the arrest of dozens of journalists, social networking activists on false charges.
Since last winter, Iran has arrested more than 94 bloggers, particularly Telegram activists, who have become an easy target for the security services.
The organization said the authorities denied 55 million Iranian citizens free access to information and access to free and independent information and restricted access to social networks as the elections drew near.
Last April, Reporters Without Borders confirmed in its annual report on media and press freedom that "Iran remains one of the top five countries that suppress journalists and that its supreme leader, Ali Khamenei is a huge freedom of press enemy."