Saudi Crown Prince Mohammed Bin Salman, deputy premier and minister of defense, is leading the Time magazine's poll for the 'Person of the Year 2017' award.
With 24 percent votes so far, Prince Mohammed looks set to beat US President Donald Trump, Russian President Vladimir Putin and many other high-profile figures.
The magazine has chosen 33 people from diverse fields of activities across the world.
In second place is the #MeToo campaign with six percent of the vote, while The Dreamers are in third place with five percent.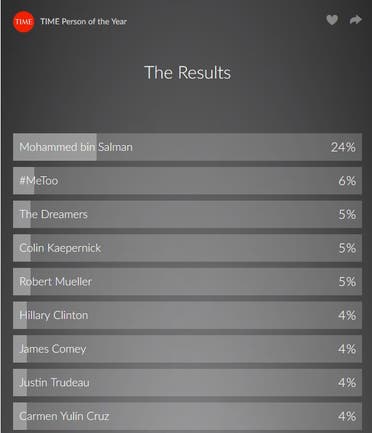 Voting on the reader's choice poll ends on Dec. 4 and Time's Person of the Year will be announced on Dec. 6.
The final decision is in the hands of the magazine editors but the people's vote reportedly also does play a role.
The chosen person is defined as one who has had the most influence over the news in the last 12 months.
Saudi Crown Prince and reform
Prince Mohammed has embarked on bold social and economic reforms in Saudi Arabia.
His National Transformation Program 2020 and Vision 2030 have been hailed by experts all over the world have benefitted the kingdom.
A Saudi Finance Ministry budget report released last Sunday put the Kingdom's total third quarter revenue at SR142.1 billion ($37.9 billion), up 11 percent year-on-year.
S&P Global Ratings has affirmed Saudi Arabia's investment grade 'A-/A-2' foreign and local currency ratings, saying the recent shift in social norms and political power may make the region's biggest economy more attractive for investors.
Prince Mohammed's anti-corruption campaign has won him global praise.
"Unlike the other Arab Springs — all of which emerged bottom up and failed miserably, except in Tunisia — this one is led from the top down by the country's 32-year-old Crown Prince, Mohammed Bin Salman," wrote celebrated New York Times writer Thomas Friedman in his report after his recent interview in Riyadh with the Crown Prince.
"Our country has suffered a lot from corruption from the 1980s until today. The calculation of our experts is that roughly 10 percent of all government spending was siphoned off by corruption each year, from the top levels to the bottom. Over the years the government launched more than one 'war on corruption' and they all failed. Why? Because they all started from the bottom up," the Crown Prince told Friedman.
Addressing an investment conference in Riyadh last month at which he announced the launch of an ambitious $500bn independent economic zone straddling Saudi Arabia, Jordan and Egypt, Crown Prince Mohammed announced, "We are simply reverting to what we followed — a moderate Islam open to the world and all religions. 70% of the Saudis are younger than 30, honestly we won't waste 30 years of our life combating extremist thoughts, we will destroy them now and immediately."
The Crown Prince seems to be a man in a hurry as far as reforms are concerned. He explained the reason to Friedman in his interview: "I fear that the day I die I am going to die without accomplishing what I have in my mind. Life is too short and a lot of things can happen, and I am really keen to see it with my own eyes — and that is why I am in a hurry."