'My thoughts were misread,' says Halla Diyab
British-Syrian pundit reacts to her being called a 'Syrian Sarah Palin' after objecting to Britain hosting Syrian refugees
A British-Syrian TV pundit is threatening to sue social media users who slander her or threaten her life after her recent controversial views regarding not allowing Syrian refugees to come to Britain were aired on a BBC program.
Halla Diyab, a writer and producer based in London, told BBC One's This Week news program that Syrian refugees would be better off seeking asylum in neighboring Arab countries such as Saudi Arabia, Lebanon, Jordan and Egypt - rather than coming to England where they will face a cultural barrier such as not being able to speak English.
Syrian refugees shouldn't be "picky and choosey," she told the BBC's Andrew Neil.
She also voiced concerns over how much allowing Syrian refugees into the country would cost British taxpayers.
Many people publicly condemned Diyab's views referring to her as "Syria's Sarah Palin";' however, the British-Syrian pundit is now concerned the criticism has went too far with some angry viewers saying she is an Assad-loyalist and others making comments about her morality.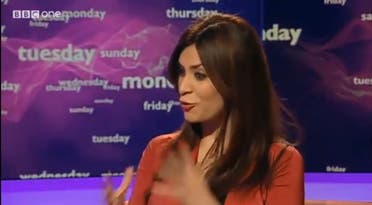 "Posting death threats, abusive photos, words and rumors to my page is not freedom of speech, it is abuse of freedom", tweeted Diyab (@DrHallaDiyab) who holds a PhD in Drama studies from the University of Leicester.
She also tweeted in Arabic that she will "all take legal measures to defend her self"
"The way I put my thoughts across was misread. My intentions were not as they think," Diyab told Al Arabiya News on Monday.
In the BBC interview last week, Diyab had said: "I don't believe it's a wise idea to bring the Syrians to Britain as refugees."
The interview filmed her speaking directly to the camera in an Arabesque café-like setting, with shots of sipping on Turkish coffee.
'Cultural barriers'
Speaking to Al Arabiya News, Diyab said:
"I said priorities should be given to critical cases and orphan children, who will have a chance to come to Britain and be adopted and have a new family.
"I did not say Syrian people are illiterate and uneducated, I was highlighting a challenge that the refugees coming to England will face – the language and the cultural barriers, like the challenges we all faced, whether we are educated or not.
"I'm not talking about all of Syria, I was talking about deprived areas in Syria where there are people who cannot afford education and so may face a cultural barrier.
"I'm from Syria. I can't go and insult where I come from. I don't forget where I come from. Even the British Council for Refugees has stated that the most challenging cases for asylum seekers in Britain are those who come from non-English speaking countries.
'Insensitive'
"That is my point. I don't know if I explained it right [during the interview].," Diyab said, explaining also that the café-like background she was filmed at was a BBC setting. "I have been criticized for being insensitive," she added.
Her views on whether Syrian refugees can integrate into British society have been the main topic up for discussion.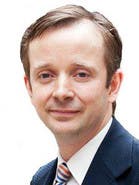 One of her critics was Chris Doyle, director of the Council for Arab British Understanding (CAABU).
"All this talk about Syrian refugees being incapable of integrating into the United Kingdom goes against all the evidence of previous refugees who have come here and enjoyed the benefits of being in the UK."
"Of course there is a bit of a culture barrier, but there is a huge Arab-British community, a large Syrian community that would help through them. Of course it would be best for Syrian refugees to go back to Syria, but the very harsh reality right now that it's a difficult prospect," Doyle added.
Displaced Syrian blogger Aboud Dandachi, author of the journal "From Homs to Istanbul" vented his anger at Diyab's remarks in a post on Friday.
"Let's start with Diyab's first objection, the 'cultural barriers' that in her mind seem so insurmountable. Refugees throughout history have found themselves uprooted and ending up in strange lands. They do what human beings have done throughout time; they have adapted, and if they were lucky enough to end up in societies where fellow countrymen and women had established themselves, they could rely on their aid and assistance in integrating," Dandachi added.
'Taxpayers paying for refugees'
During one part of Diyab's BBC appearance, now available online, Diyab takes a sip of coffee, and asks: "If Syria returns to peace, will the British government force them to go back to Syria or will they stay here forever?
"As a British taxpayer, will I be requested to subsidize for a new Syrian population in this country?"
"It would be much better for them to stay in neighboring countries that are close to Syria culturally and demographically, like the United Arab Emirates, Jordan, Egypt, Saudi Arabia and Lebanon," she added.
The comments attracted a host of infuriated responses online.
"Hala Diyab has become a taxpayer and she's worried about her taxes," Twitter user @freesyria78 sarcastically wrote in Arabic, swearing at her in the same post.
Commenting on the taxpayer remark, Doyle said: "The most extraordinary comment was that her clear dislike of the idea that she, as a British taxpayer, might have to pay for a new Syrian population in the country. It is quite something that most British MPs are happy for this yet a member of the British-Syrian community is not."
Long-term challenges
In her statements to Al Arabiya News, Diyab said she wanted to put across the long-term challenges that would face Syrian refugees.
"I was highlighting dangerous, long-term challenges for Syria as a nation. I said it was better for them to stay in Arab countries because the refugees represent a psychological factor which can pressure international community to bring peace to Syria.
When they stay in neighboring countries, the Syrian cause will never be forgotten.
"We have seen this in Palestine. Palestinians are still in Gaza, it is a symbol of resistance; they are saying 'we are here and we are not going to leave,'" Diyab added.
For his part, Chris Doyle pointed to the difficulties Syrian refugees face when taking asylum in neighboring Arab countries.
"Diyab suggests that Syrian refugees might stay in countries like Jordan and Lebanon. This misses the point that these countries are no so overcrowded with refugees that it is not sustainable. The conditions in which they are forced to live are appalling and many live there in constant fear of reprisal attacks, exploitation and health risks," Doyle told Al Arabiya News.
'Syrian Sarah Palin' and Assad's counsin
The online criticism has also included Diyab being likened to Ribal al-Assad, Bashar al-Assad's cousin. In an interview in 2010, he denied that his uncle was involved in the massacre of Hama.
"@DrHallaDiyab views on #Syria refugees as told to @afneil @bbcthisweek much like those of her friend Ribal Assad," tweeted Doyle.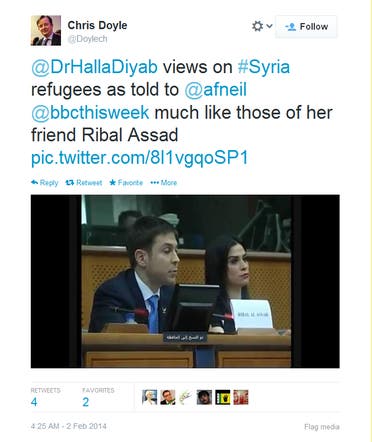 Elaborating on his Twitter post, Doyle told Al Arabiya News: "The reality she needs to answer is that she is associated to [Ribal al-Assad] and his organization 'Democracy and Freedom in Syria' politically; she has been described online in the past as a spokesperson for his organization.
"She came across as elitist and denying to Syrian refugees some of the very same opportunities that she herself is enjoying in Britain," Doyle said, adding that while the some of the outrage has gone too far, Diyab has "alienated herself from many Syrians."
Abusive
But Diyab is now concerned by posts that she has deemed threatening and abusive, such as: "#HallaDiyab why don't you put your ugly red nails where they belong and claw out your face. thank you," one Twitter user posted.
"I have received threats and I've had to report this as a crime to the police. There are people posting vindictive and evil rumors about my life," Diyab said.
"All these rumors about a private relationship between me and Ribal – which is very classic in the Middle East – is a personal attack on me; it's character assassination," she added.
Another user dubbed Diyab the "Syrian Sarah Palin."
"The Syrian Sarah Palin said Arab countries like Lebanon and "North Africa" should host the #Syria n refugees not the UK. No joke! #HallaDiyab," wrote_Syriana_ 21h
In response to attacks on her morality, Diyab said: "I do understand people are suffering, I do understand people are in refugee camps living in bad conditions. I am sympathetic and my heart is with them. What I am doing now is calling for peace in Syria."
Not loyal to Assad, not loyal to the opposition
Diyab, who had previously opposed a Western military strike on Syria intended to weaken Assad's military capabilities, is being criticized as being a "secret supporter" of the Assad regime.
When asked to refute these allegations, here is what Diyab had to say:
"I want to clarify that I was never quiet about the Syrian cause. Since the war began, I have devoted my life [to the cause]. I was one of the voices in Britain who talked in parliament, in magazines, in many media outlets to raise awareness that [Western] military intervention would escalate the conflict.
"If you look at what I stand for, it's not about Assad and it's not about the opposition, for me it's about Syria. Unfortunately, when you say something [about the Syrian conflict], you get categorized as either with Assad or with the opposition. There is no gray area and I think I belong to that gray area, where many voices call for peace and conflict resolution. I'm not loyal to the Assad regime, or loyal to anyone."