Al Arabiya chief: Al Hadath is a new model of TV journalism
Abdulrahman al-Rashed says re-launched Al Hadath channel will air in-depth reports on regional events
Al Arabiya's recently re-launched sister station Al Hadath offers a new model of broadcast journalism, according to Abdulrahman al-Rashed, General Manager of both channels.
Al Hadath, which re-launched on Saturday, specializes in following fewer news stories but in greater depth than the Al Arabiya News Channel, al-Rashed said.
The channel features extensive news coverage and political discussion, with live news bulletins throughout the day.
Al-Rashed said the news station is in its soft-launch phase, and will gradually build up its operations.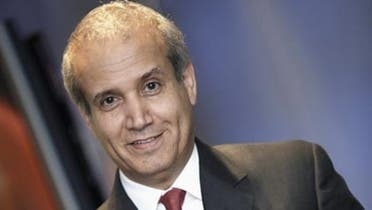 He praised the hard work of staff such as Nakhle el-Hage, Director of News and Current Affairs at Al Arabiya.
Al-Rashed said the strategy of the Al Arabiya News Channel would continue in its course of broadcasting the latest news and more diverse shows on politics, economy, sports and culture.
Al Hadath's launch sees a new studio in its base at Dubai Media City, along with a website.
Dr. Nabil Khatib, Executive Editor at Al Arabiya News Channel, said Al Hadath would bolster the brand's regional reach in providing rolling 24-hour news.
"Al Hadath is a new news service, which focuses entirely on news, without recorded programming," Dr. Khatib said on Saturday.
"There will be no sports or business news; it will specifically cover the heated political events in the Arab region," he added.