Water cannon hits Turkish reporter, causes stir
The journalist, who was identified as Hüsna Sarı of theTurkish Ulusal television channel, was driven off screen due to the water pressure
Images of Turkish police violently intervening to disperse a protest in Ankara last week have triggered harsh reactions, the Hurriyet Daily News reported Sunday. In particular, a photo of a Turkish reporter being hit by a water cannon during the protest has caused outcry.
Turkish police used tear gas and water cannons to disperse around 3,000 demonstrators gathered to protest against coup trials.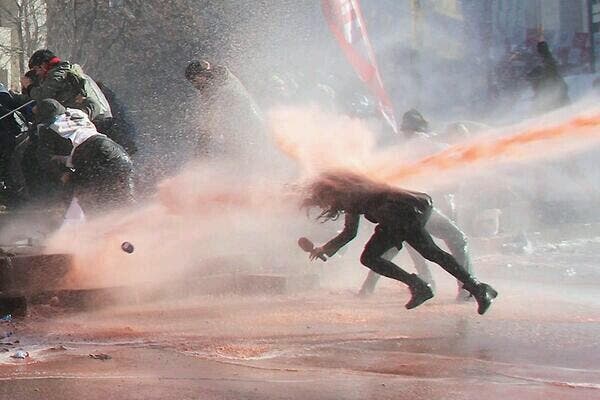 The journalist, who was identified as Hüsna Sarı of the Turkish Ulusal television channel, was driven off screen due to the water pressure.
She told a local news agency that she tried to point out to the police that she was a reporter but to no avail.
"It was a peaceful demonstration. We couldn't predict that an incident was likely. When I was standing in front of the police barricade, the police started to use tear gas and the water cannon without warning," Sarı said, as quoted by the Hurriyet Daily News.
"At that moment, I was recording in front of my cameraman. I was caught in the crossfire. By showing my microphone, I tried to explain to the police that I was a journalist. The water hit my back severely. I remember how I flew and fell down. I tried to stand up, but I was targeted by the water cannon again for a few more times. I felt intense pain in my ribs. My friends took me to a hospital. I believe the police intentionally target members of the press," Sarı added.
"Police brutality at it's peak again," said one Twitter user, commenting on the photo.
"This is how the police treats journalists in the capital of Turkey," another Twitter user said.
"I wish Turkey had come a longer way since Gezi and had learned this kind of overuse of police force just backfires," said Zeynep Tufekci via Twitter, in reference to last year's Gezi Park protests against Prime Minister Recep Tayyip Erdogan.
Two people, including a police officer, were injured and left bloodied in the clashes, Agence France-Presse reported.
Last month, Turkish Prime Minister Tayyip Erdogan mooted the retrial of hundreds of army officers convicted of planning his overthrow, in an apparent attempt to discredit rivals he accuses of contriving a corruption crisis to drive him from office.