Egypt TV presenters tout Twitter ban over anti-Sisi hashtag
The anti-Sisi hashtag 'elect_the_pimp' has taken Twitter by storm
Popular Egyptian television presenters have touted the idea that the government should move to block Twitter as a counter measure against a hashtag deemed insulting to General Abdelfattah el-Sisi.
When Sisi resigned from the army last week and announced his plan to run for president, hashtag "I will elect Sisi" was created on Twitter to support him. Immediately afterwards, counter hashtag "intikhbo al-ars," which in English means "elect the pimp," appeared to take the micro blogging site by storm.
The Arabic word for "pimp" is considered in Egypt to be an extremely vulgar word. Its association with the former army strongman, who is widely seen as the imminent president of the Arab world's most populous nation, has sounded alarm bells among conventional state-aligned news outlets.
"Intikhbo al-ars," was reportedly shared on Twitter millions of times over the span of just several hours.
"More than 129 million impressions about...[the hashtag]. We can reach 1 billion by this week. Keep up guys," said one of the site's users, accompanying his tweet with a screenshot of the hashtag's analytics on Keyhole, a website that tracks key words and phrases on social media.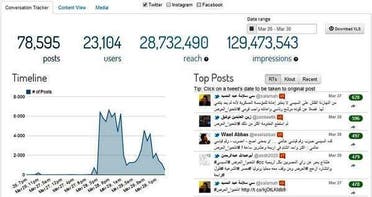 Access to Keyhole appeared to be unavailable amid social media reports that it had been blocked by authorities.
'Character assassination'
Egyptian journalist and CBC TV host Khairy Ramadan described the hashtag as a style of "character assassination" followed by Muslim Brotherhood supporters against Sisi.
"Following Sisi's resignation as defense minister and the announcement of his election bid, there was a hashtag that said 'I will elect Sisi,' and it received the highest tweets," Ramadan said on his show.
"Suddenly a second hashtag appeared that says: 'elect plus curse word.' This hashtag is number one now. Why? Because it is supported by the terrorist Muslim Brotherhood," Ramadan added.
The popular talk-show host said similar "character assassination" styles were employed against former Islamist President Mohammad Mursi - overthrown by Sisi after massive protests in July last year - but that Muslim Brotherhood "terrorists" are now using the tactic in a "more professional and dirty manner."
He urged the election campaigns of the two most prominent presidential contenders, Sisi and Hamdeen Sabbahi, to employ social media experts to counter what he said was an Islamist-led smear campaign.
Blocking Twitter?
During his show, Ramadan discussed the idea of blocking Twitter, an action he openly acknowledged could "ignite fire" among Egypt's youth.
"The easiest thing the government would do here is close Twitter or close YouTube. Of course the youth will ignite fire and say that we are back to dictatorship if this happens. But no one will pay attention to the fact that Erdogan [Turkey's prime minister] has done so, and that after Erdogan closed Twitter due to his leaks, he also closed Youtube," Ramadan said.
Amr Adeeb, another popular talk-show host, said the hashtag conveyed a "lack of manners which will increase if no one takes action."
"On Twitter these days, there is something I can tell you but you already know. Is someone planning to do something about this campaign?" the fiery talk-show host yelled on TV.
"Erdogan has shut down Twitter altogether simply because they described him a thief," he said.
Earlier reports cited an interior ministry spokesman as saying that the authorities were monitoring the hashtag on Twitter. BBC Arabic initially carried the report before it published a denial attributed to the ministry.
Interior ministry spokesman Hany Abdel Latif was not available for comment when contacted by Al Arabiya News.
Hisham Qasim, the former publisher of Egypt's al-Masry al-Youm newspaper and a human rights activist, told Al Arabiya News that social media "insults" against Sisi "cannot be controlled."
"I personally think that what has hurt Sisi the most are those hypocritical media campaigns that support him," Qasim said. "The smear campaigns and insults, I believe, will win him popularity."
'A mistake'
He said any repressive action against social media websites would be "counter-productive" and a "mistake."
"We have tried this previously. We shut down the whole internet during Mubarak's era and result was Mubarak's ouster."
If Mubarak had not shut down the internet, many of those people who took to the streets against him would have stayed at home, he said.
Qassim noted that hashtag could simply be tolerated until it subsides.
Egypt's military, which many believe is the ruling force behind the scenes of the country's politics, has been hit by a wave of satirical social media campaigns.
In recent weeks, a story that the Egyptian army developed a device which was able to detect AIDS and Hepatitis C went unchallenged in many local Egyptian media outlets.
One of the few exceptions was prominent Egyptian satirist Bassem Youssef, who dedicated regular slots on his weekly show on MBC Masr (part of the Saudi-owned MBC Group which Al Arabiya News is a part of) to ridicule the scientific claim.
Read Bassem Youssef's column "Egypt invents-an AIDS cure? Don't hold your breath" on Al Arabiya News.