MBC's Sheikh Waleed al-Ibrahim goes all out at Arab Media Forum
Media boss hits back at criticism from rival Prince Alwaleed and raises questions over Al Jazeera's operations
Media rivals, censorship and the ongoing elections in Egypt were just three hot topics addressed by MBC Group's chairman Sheikh Waleed al-Ibrahim in a rare interview at a Dubai media forum earlier on Tuesday.
In a wide-reaching, frank and sometimes blunt exchange, the Saudi media executive talked the audience through the formation of the Middle East's largest TV broadcaster as well as the Al Arabiya News Channel, of which this website is part.
In an unexpected move, he referenced rivals Al Jazeera and his fellow Saudi billionaire Prince Alwaleed bin Talal, who is setting up his own Arabic news station in Bahrain.
Sheikh Waleed responded to previous words of criticism from Prince Alwaleed, in which it was alleged that Al Arabiya was "the channel of the rulers."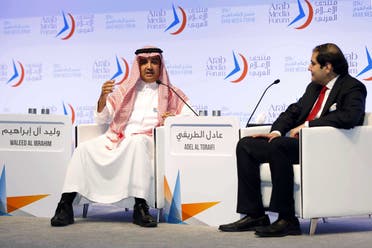 Given Al Arabiya's claimed social footprint of 27 million people, Sheikh Waleed cast doubt over whether that is the case.
"Prince Alwaleed bin Talal says that Al Arabiya is the channel of the rulers and that Al Jazeera is the channel of the people... Do you have 27 million rulers? That is the question."
Sheikh Waleed spoke at the Arab Media Forum, and was interviewed on stage by Adel Al-Toraifi, editor-in-chief of Asharq Al-Awsat.
He said that MBC Group is unlikely to launch an English-language news station in the same way Al Jazeera has done.
"If you want to follow the example of X or Y, it should be a successful example. Do you think Al Jazeera English is a successful example? That is a question to ask."
The executive talked through the history of MBC Group, which launched in London in 1991 and moved its headquarters to Dubai in 2002, as well as the formation of Al Arabiya in 2003.
He said that the Al Arabiya News Channel had not been censored by, or on behalf of the Dubai ruler Sheikh Mohammed bin Rashid al-Maktoum, who was present in the audience.
"Sheikh Mohammed never himself, or anyone on his behalf, called us or sent a message saying 'careful on this' or 'don't tackle this issue'. Never," said Sheikh Waleed.
MBC Group launched a TV station in Egypt in 2012, and Sheikh Waleed said more local channels could follow.
"Today, the idea of pan-Arabism is decreasing… Maybe we will need MBC Algeria, MBC Morocco, MBC Iraq," he said. "I would hope in the future to have MBC Kuwait."

Egypt is about to vote in a new president, with the former head of Egypt's armed forces, Abdul Fattah al-Sisi, widely expected to win. Sisi led the army ouster of the Islamist former President Mohammed Mursi in July 2013.
"Personally I think that what Mr Al Sisi has done in the past was a heroic action. It was a courageous move on his part. In case he becomes president of Egypt, I think Egypt will have a better chance of stability," said Sheikh Waleed.