ABC News 'regrets' telling viewers Gaza destruction scenes are in Israel
ABC News on Tuesday reported that scenes of destruction in Gaza had been shot in Israel
U.S.-based ABC News expressed "regret" on Thursday after it aired a report showing scenes of destruction in Gaza misidentifying them as destruction caused by Palestinian rocket fire.
"We take you overseas now to the rockets raining down on Israel today as Israel tried to shoot them out of the sky," ABC's Diane Sawyer told viewers, as images of Gaza flashed across the screen.
Sawyer then incorrectly describes an image of a Palestinian family gathering belongings from among the debris as "an Israeli family trying to salvage what they can."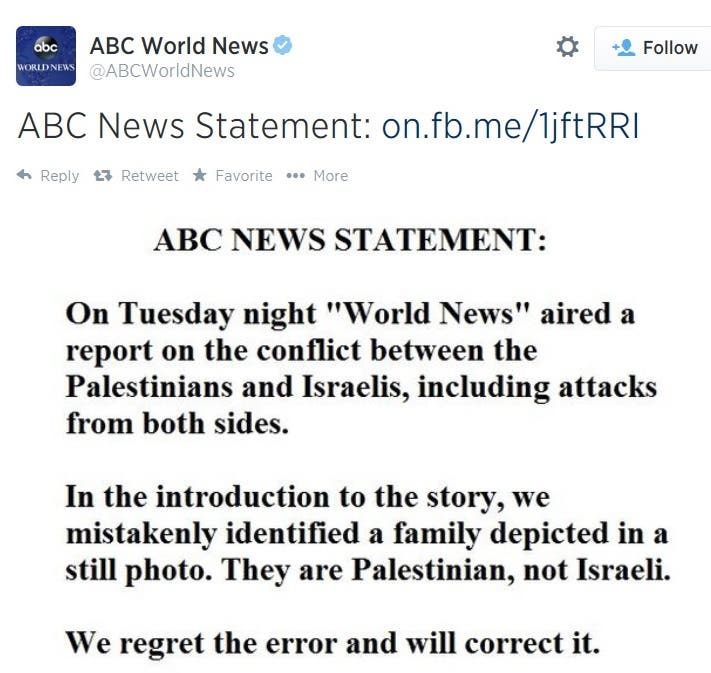 ABC News express regret for the incorrect depiction of the Palestinian family in a statement, saying: "We mistakenly identified a family depicted in a still photo. They are Palestinian, not Israeli."
"We regret the error and will correct it," ABC statement added.
Israel pressed on with an aerial offensive in Gaza for a third day on Thursday, killing at least 20 people in a major new confrontation with Hamas militants, Palestinian officials said.
Seventy Palestinians have been killed in the violence, more than 50 of them civilians, Palestinian medical officials said according to AFP. Israel has not reported any deaths from Palestinian rocket fire, to which the Israeli offensive is retaliating.