Egypt's media points finger of blame at Hamas over Gaza crisis
Egypt's media is showing little of the traditional Arab solidarity with Palestine over the Gaza crisis
As Egypt struggles to bring about a ceasefire between Palestinian militant group Hamas and Israel many media figures have appeared to show very little of the traditional Arab solidarity with Palestine, pointing the finger of blame at Hamas over the crisis and calling for Egyptian neutrality.
Recently, Hekmat Abdel Hamid, a state television presenter, sparked debate after she openly said that helping Gaza was not Egypt's duty and none of its business.
"Get killed, it is none of our business," she said during her morning show "Good Morning Egypt."
"For the last four years they have done nothing but cause us trouble," she added.
Other presenters have gone even further, with some praising Israel's "Operation Protective Edge" against Gaza, which was launched on July 8 and killed so far more than 630 Palestinians.
Azza Sami, from state-owned newspaper Al-Ahram, even extended her thanks to Israeli Prime Minister Benjamin Netanyahu on her personal Twitter account, adding that she wished God would bring "more like [him] to destroy Hamas!"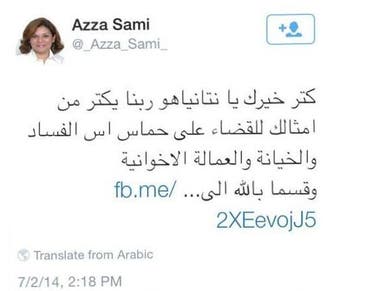 The criticism of the media figures comes despite Egypt's proposal of a permanent ceasefire plan, which Israel has accepted but Hamas, saying its terms had been ignored, rejected.
Journalists in the private media sector have also expressed criticism of any Egyptian role in the conflict.
Prominent media figure Tawfik Okasha, who owns a private television firm, attacked the entire Palestinian population live on air. "Gazans are not men," he said during an episode of his show "Egypt Today."
"If they were men they would revolt against Hamas," he said. "He who defends Gaza is a dog like Hamas," he added, speaking in an angered tone of voice.
Saluting Israel
Okasha, the owner of the Fareen channel, also saluted the "Israeli army, people and leaders" and took off his shoes in scorn of Hamas.
Okasha's statements were picked up by Israeli media which said the episode demonstrated Egypt's support for Israel, according to AFP.
Anshel Pfeffer, a writer with Israeli daily Haaretz, wrote on his twitter account: "Incredible that #Israel is going into #Gaza and the greatest Arab state #Egypt is not saying a word of criticism, just blaming #Hamas"
Some analysts believe that the hostility of these journalists comes from the close ties between Qatar, Turkey and Hamas, which are considered "Egypt's regional rivals."
"Hamas has close relations with Turkey and Qatar, which are known in Egypt to be our [Egypt's] regional rivals," Yasser Abdul Aziz, a writer and media analyst, told Al Arabiya News.
Egypt's ties with Qatar and Turkey took a dive following the ouster of Islamist President Mohammad Mursi last year.
Last week, Egypt's foreign minister accused Qatar, Turkey, and Hamas of conspiring to undermine Cairo's efforts to bring about a ceasefire between the Palestinian militants and Israel in Gaza.
Other analysts speculate that the real reason for the hatred is that Hamas is seen in Egypt as an offshoot of the Muslim Brotherhood.
"Some people in Egypt and especially in the media are linking Hamas with the Muslim Brotherhood and the harm it has done to Egypt," Safwat al-Alem, a media professor at Cairo University, told Al Arabiya News, adding that the media has "forgotten the real cause: the Palestinian misery."
"They are joyful to see that Hamas is in trouble and paying for what it indirectly did to Egypt," al-Alem said, explaining that the Muslim Brotherhood was accused of opening the prisons during the 18 day revolution of 25 Jan., 2011, spreading chaos and killing demonstrators at Tahrir Square.
Egypt's diplomatic relations
However, analysts stressed that not all Egyptians were expressing hostility to their besieged Arab neighbors, particularly given that the resentment of some is costing Egypt dearly and having a negative impact on its diplomatic relations with other Arab countries.
"These cases of unprofessional journalists should not be used as a generality. There are other hosts, both in the private and public sectors, who are taking Egypt's traditional position toward the conflict," Abdul Aziz insisted.
"Some comments like Amany [al-Khayat]'s statements are harming Egyptians and costing the country a lot," he said, referring to al-Khayat's on-air tirade against Morocco on privately owned television channel ONTV that sparked controversy in the north African country prompting intervention by Egypt's ambassador to Rabat.
AL-Khayat's comments came after she aired a video of Khaled Meshaal, the leader of Hamas, asking for Moroccan assistance to liberate Palestine.
Meshal's appeal to distant Morocco – instead of much closer Egypt – appeared to have angered al-Khayat, who suggested that the Moroccan economy relied on prostitution and criticized the country's king for the country's ties with Islamists.
"People like Amany tend to think they are political analysts and forget about their initial job, which consists of informing people and presenting facts, not accuse people or societies," al-Alem said about the TV incident, adding that the Egyptian foreign ministry should take actions to limit such occurrences.