Gaza 'media bias': BBC vs Channel 4
News coverage is under the microscope as both Palestinian and Israeli groups slam 'one-sided' UK reports about ongoing conflict
It is a complex conflict spanning decades, with no end in sight – yet the world's news stations often have just a few minutes a day to tell a succinct story about Gaza.
It is inevitable, perhaps, that accusations of bias flare up with each renewed surge of violence between Israel and the Palestinians, as media outlets try – and sometimes fail – to tell it right.
The latest chapter in this conflict is no different, with claims and counterclaims of one-sided reporting against several TV channels and newspapers over the last three weeks.
One of the loudest protests has been in the UK, where numerous activists and academics have accused the BBC of harbouring a deep pro-Israeli bias. A large demonstration was held outside its London headquarters on July 15, with similar protests in Glasgow and Bristol.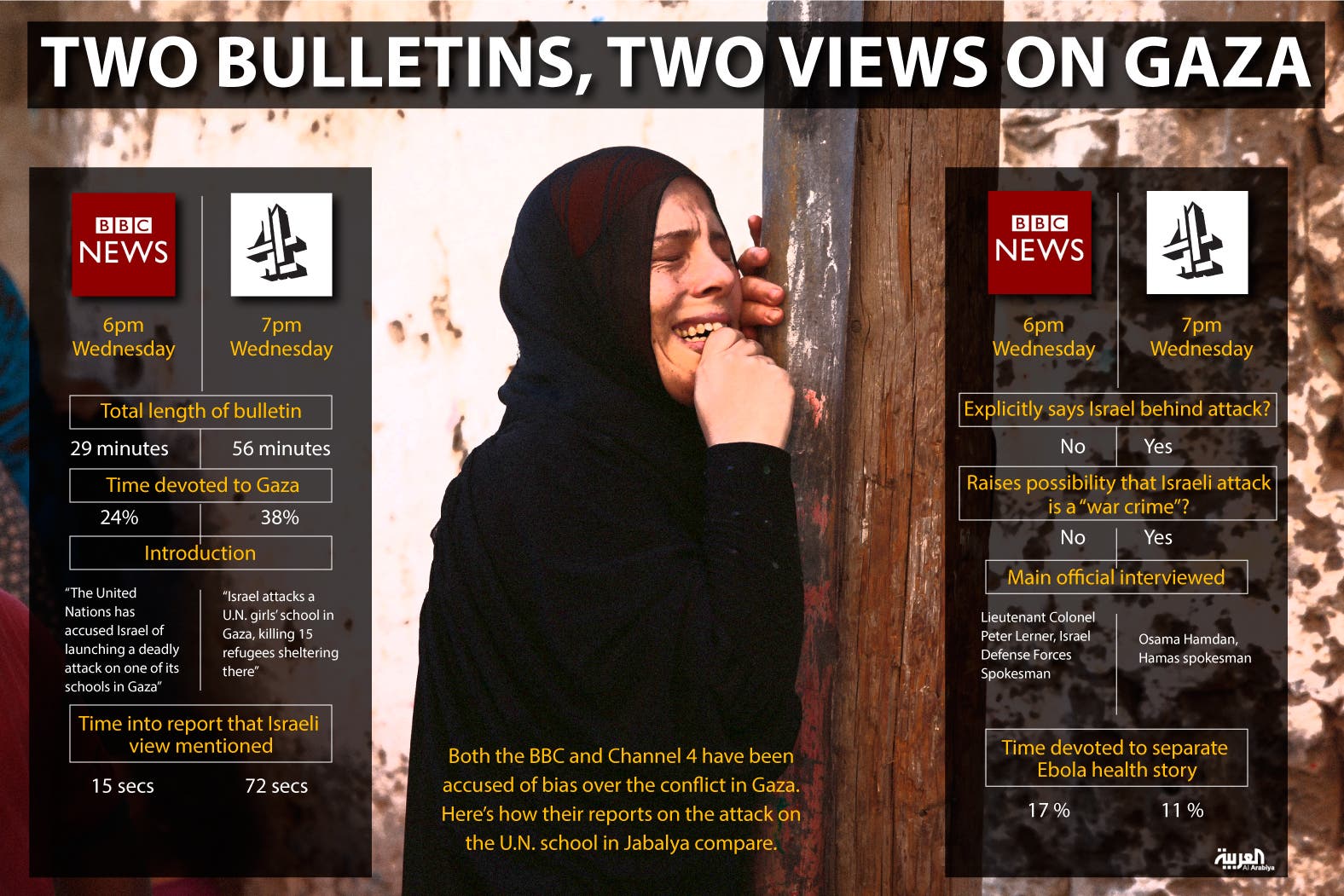 Campaigners from the Palestine Solidarity Campaign said the BBC's reports on Gaza are unbalanced and "entirely devoid of context or background", and presented an open letter signed by 45,000 people – including John Pilger, Noam Chomsky and Ken Loach – urging the broadcaster to improve its coverage.
But rival Channel 4 News has also come under fire for alleged bias – in favor of the Palestinians. Douglas Murray, Associate Director of the Henry Jackson Society, wrote in The Spectator that the news show portrays a "biased, inaccurate and one-sided" view of the Middle East.
Rival broadcasts
Both the BBC and Channel 4 defend their news coverage. Yet when comparing their output, there are marked differences – adding weight to allegations of bias.
Israel's shelling of a U.N. school in Jabalya, Gaza on Wednesday resulted in notably different reports by the two UK broadcasters.
The BBC's news bulletin at 6pm even stopped short of explicitly blaming Israel for the shelling of the school, which was said to have killed at least 15 Palestinians. The BBC's correspondent in Jabalya merely said that "the debate will begin immediately about who is responsible for this."
In contrast, Channel 4's 7pm broadcast began boldly with "Israel attacks a U.N. girls' school", and also raised the possibility – not mentioned in the BBC's report – that the incident could constitute a "war crime".
Tellingly, the BBC put forward Israel's view on the attack a mere 15 seconds into its main report, and chose Lieutenant Colonel Peter Lerner, Israel Defense Forces Spokesman, as its main interviewee.
Lerner stated that there was "mortar fire fired by Palestinian terrorists from right next to the school", a use of language that went unquestioned by the BBC. A Palestinian representative of Jabalya Elementary Girls School, did however refer to "the Israeli occupation, the terrorism" later in the report – giving some balance.
Channel 4's report added some weight to claims it highlights the Palestinian viewpoint in its coverage. Compared with the BBC, Channel 4 employed more emotive language throughout its report, with correspondent Paul Mason saying of Jabalya: "This is a place where ceasefires can be as deadly as battles".
In reporting on the Jabalya school tragedy, Channel 4 News did not voice Israel's viewpoint until 72 seconds into the main report, and chose Osama Hamdan, Hamas spokesman, as its main interviewee. Hamdan was, however, given a particularly tough grilling by Jon Snow, the anchor.
'The sky will fall in'
There is no dispute that the BBC has run some harrowing footage from Gaza over recent weeks. It has showed the bloody aftermath of Israeli attacks on the territory, with a heavy focus on the human tragedy.
Yet according to one expert on media coverage of the Middle Eastern conflict, it is typical for the BBC to show images of Palestinian suffering and then explain it in the context of an Israeli narrative – as was seen in the report from Jabalya.
Greg Philo, professor of Communications and Social Change at Glasgow University, said the BBC is reluctant to highlight the view that Palestinians are living under an aggressive occupation.
Philo – the co-author of More Bad News from Israel, a study of BBC and ITV coverage of the conflict – said "many" BBC journalists have told him that they cannot express such views.
"I think journalists in the BBC – a lot of them – want to do the best job they can. And they do feel under pressure," he said. "Everyone is aware that the sky will fall in on you if you criticize Israel."
Philo claims a BBC editor once told him that they "wait in fear for the phone call from the Israelis" after running reports on the conflict. "But it doesn't matter so much what you say about the Palestinians," Philo added.
Israel – known for its heavy spending on lobby groups – has a "slicker and better organized" public-relations operation than the Palestinians, Philo pointed out. But this is no reason for the media not to put across the other side's viewpoint, he asserted.
"There is no comparable message that the Palestinians have organized for themselves… The message is there, it's just not organized coherently," he said. "It's really incumbent on the journalists to put the Palestinian view. But they just don't do it."
Philo did not hold back in his criticism of the BBC's coverage: "At some point, the BBC needs to explain," he said. "For me, the answer is obvious. It is state-owned by a government that is very very close to Israel.
'Colonial times'
Amena Saleem of the Palestine Solidarity Campaign said BBC News is failing in its coverage of Gaza, because it portrays the Palestinians as aggressors while not "telling its audience that Israel is an occupying force."
BBC coverage also gives the impression that Israel's assault on Gaza is purely a response to Hamas rocket fire and tunnels, rather than an enforcement of its "occupation", the Palestinian Solidarity Campaign has argued.
"There is a shift in reporting, but the BBC has been left behind. It's a complete anachronism," Saleem said. "It's like an organization that's still stuck in colonial times… 'How should Israel tame the savage?' – that's the BBC's line in its reporting."
Saleem acknowledged that the petition and protests in London, supported by her group, had "forced the BBC to look at itself and its news coverage". The BBC held two radio debates to discuss its alleged bias, she pointed out.
Yet the broadcaster continues to strike the wrong tone, she added. "What the BBC does is present Israel and the Palestinians as equal opposing sides. [But Gaza's rockets] are nothing to Israel's huge military firepower," she said.
"While Israel is targeting Palestinian civilians, the Palestinians aren't targeting civilians, they're targeting soldiers. In Gaza, entire families have been wiped out.
'Honesty, objectivity'
A BBC spokesperson defended the corporation's output: "Our role is to explain what is happening and why and we endeavor to reflect a range of voices, amid deeply held views. We are committed to continuing to report and analyze sometimes fast moving events in an accurate, fair and balanced way."
Several others disputed claims that the BBC is pro-Israeli in its news coverage.
David Holmes, lecturer in journalism at the University of Sheffield, said that it was a great challenge to report on Gaza, but said the BBC was doing its utmost to be objective.
"I don't have the slightest doubt that the people working for the BBC are doing their very best – in very dangerous circumstances sometimes – to report honestly and objectively," he said. "If the BBC stands for one thing, it is honesty, objectivity and impartiality in its reporting."
One of the UK's most prominent pro-Israeli lobbying organizations also disagreed with claims that the BBC is biased in favour of Israel.
"I don't recognize that characterization of the BBC as being very much one-sided," said Dermot Kehoe, chief executive of the Britain Israel Communications and Research Centre, known as Bicom.
"In the past, the BBC has been accused of being pro-Palestinian and pro-Israel," added Kehoe, who worked at the broadcaster for nine years. "The reality is that the BBC is not 'pro' anybody. It's trying to do the job right, under difficult circumstances."
Kehoe said it was impractical for any media outlet to explain the full history of the conflict in reports on Gaza. "Any time any broadcaster covers a story, they can't give a full history lesson," he said.
Channel 4
But the tables turn when it comes to Channel 4's coverage of the Gaza violence.
The station's news reports, which are produced by ITN, are headed by veteran anchor Jon Snow, who this week made a video appeal in support of the children of Gaza, after spending five days there. It featured some harrowing scenes of injured children in Gaza, with Snow imploring that "we cannot let it go on".
While Snow won some praise for the emotional video, Kehoe criticized it, saying that the anchor has misunderstood the nature of Hamas, and that his appeal is part of a "campaigning narrative" of Channel 4 News.
"I think Jon Snow has done some brave and powerful journalism about the humanitarian issues in Gaza," Kehoe told Al Arabiya News. "However, I do feel his reporting has increasingly crossed the line between journalist and campaigner.
"He has failed to understand the true nature of Hamas as an organization… Hamas has not arisen as a response to the blockade, it is a cause of the blockade."
Kehoe acknowledged that the images of children in Gaza were "harrowing to watch" and their broadcast was justified. Yet he added that there must be a balance to such news reports. "What other broadcasters have done – the BBC and Sky – is shown the impact of the conflict in Israel, of Hamas's rocket fire, as well," he said.
David Holmes of Sheffield University acknowledged that Snow's video appeal brought the presenter close to the point where "a journalist becomes a participant" in a debate.
"Some people might argue that that is not the role of the journalist… Perhaps they lose the trust they need as an impartial, objective observer," Holmes said. "Personally, I didn't find that video particularly contentious. I think it was an honest attempt to report a human catastrophe."
A Channel 4 News spokeswoman said the feedback to the video had been "overwhelmingly positive".

"Jon Snow… made this video blog for the Channel 4 News website after being deeply affected by what he saw first-hand," the spokeswoman said. "We are extremely proud of the work our reporting teams have done and continue to do in very challenging conditions to cover this conflict."
Saleem – a strong critic of the BBC – was much more supportive of Jon Snow and Channel 4. "They're reporting the carnage as it is," she said. "They're showing who the underdog is, and I don't think there's anything wrong with that."
Philo – another BBC critic – said Channel 4 had "simply covered the Palestinian point-of-view" in a way that the BBC had not. "I don't think there is any impartiality in relation to the killing of children," he added.
Amid the ongoing violence in Gaza, the clamor of accusations over misleading reporting shows no sign of abating.
Yet there is little debate over that bloodiest of facts: The mounting death toll, which now stands at more than 1,350.