Despite religious ire, Egypt TV resumes belly-dance show
Egypt's leading Islamic authority Dar al-Ifta said extremists could use the show as a pretext to depict the country as anti-Islamic
An Egyptian private TV channel has defied the religious establishment by resuming a controversial belly-dancing show that was described as corrupting to morals.
When it was first aired this month, Egypt's leading Islamic authority Dar al-Ifta said extremists could use the show as a pretext to depict the country as anti-Islamic.
Al-Qahera Wal Nass TV temporarily suspended "The Dancer." It said the decision was taken to "honor" 11 Egyptian policemen killed in an attack in the Sinai. It did not cite religious anger as a reason.
Writer and media analyst Yasser Abdul Aziz told Al Arabiya News: "Dar al-Ifta has absolutely no power in dictating what can and can't go on air."
He said the channel likely resumed the show after assessing the pros and cons, including the political and social impacts.
Tamer Habib, one of the judges on the program, told Al Arabiya News: "The show was never stopped. It had just been postponed out of respect for the 11 martyrs killed in Sinai."
Habib said: "We never said we would halt it, despite the critics we faced after the first episode."
It was just like any other talent show, including "Arabs Got Talent" and "Arab Idol," he added.
Role of Islam
The debate over the "The Dancer" has led analysts to highlight the importance given to Islam by Egyptian presidents and its changing role in the country.
"Egypt was, and will remain, an overtly conservative country that applies restrictions on the media," Abdul Aziz said.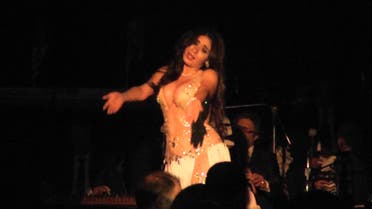 President Abdel Fattah al-Sisi "calls upon Islam for his ideology and society related matters, but never let religion interfere in his political decisions, unlike ousted Islamist President Mohammed Mursi, who was using Islam as a weapon to manipulate Egyptians," Abdul Aziz added.
While famed in Middle Eastern countries for centuries, belly-dancing is still seen as immoral by Egypt's conservatives.
Critics
Prominent media figure Tamer Amin slammed the channel following the airing of the second episode.
The bigger problem, he added, is that the channel is wrongly claiming that extremists are behind the criticisms and are preventing freedom of the arts.
However, Habib said: "For sure Salafis and extremists are behind all these critics. They don't recognize belly-dancing as a respectable art."