Anti-tobacco proposal for Egyptian film, TV sparks debate
WHO made the proposal after the number of Egyptians exposed to scenes involving tobacco had reached "alarming levels."
A proposal by the World Health Organization to limit tobacco promotion in Egyptian movies and drama series has sparked mixed reactions in a country where around 18 million citizens use tobacco.
The WHO proposal calls on producers of Egyptian movies and drama series to adopt a code of ethics that would see significantly less tobacco products featured on screen.
Infographic: WHO recommends tackling subliminal promotion of tobacco in Egyptian media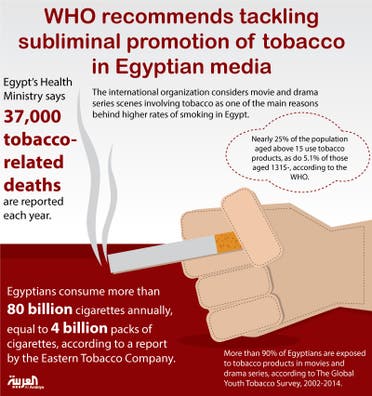 The plan comes after recent figures showing that the number of Egyptians exposed to scenes involving tobacco, cited by the WHO as one of the main reasons behind higher rates of smoking, had reached "alarming levels."
More than 90% of Egyptians are exposed to tobacco products in movies and drama series, according to The Global Youth Tobacco Survey, 2002-2014.

"Drama is being used as a machine for spreading tobacco use, especially among young people," said Nisreen Abdellatif, a communications officer at the WHO Egypt.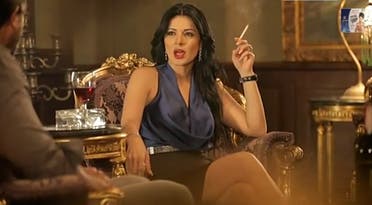 "We call on drama-makers to limit these scenes, as their role is integral in reducing tobacco-use prevalence on the silver screen," she said.
They could play a "key role in shifting the paradigm toward less tobacco use on screen, and delivering real health messages to the public" on the harmful effects of tobacco use, she added.
Egypt's Health Ministry says 37,000 tobacco-related deaths are reported each year.
Mixed reactions
Some media experts welcomed the WHO initiative, and even proposed an official law to back the recommendation.
"Official measures must be considered to limit the promotion of cigarettes and drugs in the media," said Professor Howaida Mostafa, who heads the department of mass communication at Cairo University.
These scenes, she said, were indirectly thwarting state-level efforts to raise awareness about tobacco and its health implications.
"When a series or a movie focuses on scenes where people are smoking or taking drugs, of course the viewer will be negatively affected," she said, adding that young Egyptians are particularly vulnerable to such scenes.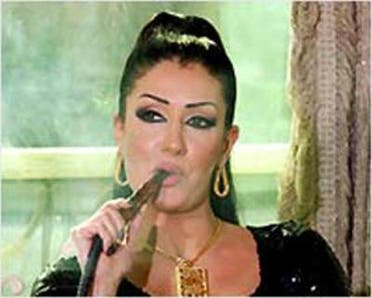 Nearly 25% of the population aged above 15 use tobacco products, as do 5.1% of those aged 13-15, according to the WHO.
Mostafa recommended that script-writers be more vigilant in their craft, saying they could drop scenes that promote tobacco.
In 2013, the WHO and the Health Ministry agreed that makers of films and series had a potential role in the health of future generations of Egyptians.
However, some media figures seem reluctant about the idea.
"I don't think scenes like these have any kind of influence on the viewer," Ahmad Awad, a Cairo-based filmmaker, told Al Arabiya News.
"There's no scientific proof that tobacco scenes push a viewer to consume more cigarettes or drugs," he said.
However, according to research published by the U.S. National Library of Medicine - the world's largest medical library - a direct link was found between viewing smoking scenes and immediate subsequent smoking.
Awad said in some scenes, a director may need to "call upon these substances to show a specific line of the character's personality."
Egyptians consume more than 80 billion cigarettes annually, equal to 4 billion packs of cigarettes, according to a report by the Eastern Tobacco Company.
WHO figures show that the number of smokers in the country grew more than twice as fast as the population over the past 30 years.
Globally, Egypt is ranked as one of the top 15 countries with the highest number of smokers.