'Made in Egypt?' Egyptian films seen as knock-offs of Western productions
Movies released in Egypt over the past three months could have left cinema-goers doing a double take due to their likeness to Western-made films
This season, silver screen-lovers can likely spot strong resemblances between several Egyptian films and well-known Western productions from Hollywood and Europe with eyebrow-raising plot similarities.
Movies released in Egypt over the past three months could have left cinema-goers doing a double take due to their likeness to Western-made films.
Egyptian comedy "World War III" seemed to closely follow the story of Hollywood's Night at the Museum" adventure comedy series, while "Made in Egypt" by Egyptian comedian Ahmad Helmy appeared to be an adaptation of John Bennett's comedy "Ted."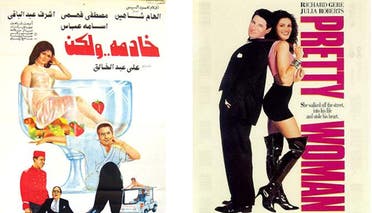 For its part, Egyptian actress Yasmeen Abdel Aziz's "Gawaza Meeri" seemed to be an Arabic version of the 2012 American romantic comedy "This Means War."
Some of the new movies - with seemingly not-so-new plots - have raised questions among cinema fans on the Egyptian film industry's authenticity and creativity.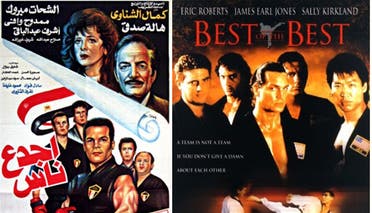 The apparent "trend" of copying Western movies is a signal of a "bankruptcy of ideas" among members of Egypt's film industry, said Egyptian film critic Tarek el-Shinnawi.
Shinnawi recently accused the creators of those movies of copyright infringement during an interview with Al Arabiya News's sister channel al-Hadath.
While some regard the close adaptations as blind copying, some say the localized versions of Hollywood's most beloved films cater to specific audiences.
Like any other film industry worldwide, Egyptian cinema's adaptations "are not something to be ashamed of," Egyptian film critic Magda Khairallah told Al Arabiya News.
"There is a difference between adaptation and copying the work of others," Khairallah said.
"Adaptation should contain parallel creativity to show that there was effort made to add to the original plot," she added.
Egypt's World War III - thought to be a copy of Hollywood's Night at the Museum series - is "drastically different" from the latter, Khairallah said.
"The framework of the Egyptian version discussed historical characters familiar to Egyptian history along with introducing new characters in the plot."
But the critic noted that the Egyptian version of the Hollywood comedy "This Means War" did not present anything new to the audience, adding that it had not been adequately adapted from the original American version to suit an Egyptian audience.
In April, Egypt suspended screenings of Lebanese star Haifa Wehbe's movie "Sweetness of Spirit" (or "Halawet al-Rooh" in Arabic).
The film, which was suspended due to its sexual content, was criticized for copying Giuseppe Tornatore's widely-acclaimed "Malena," starring Italian actress Monica Bellucci.
Among the classic examples are "Khadima wa Lakin" and "el jeans" which are knock offs of Pretty Woman and "agdaa nass" is a replica of "Best of the Best."
The earliest recollection of a knock off in the Arab country is the 1985 film "Midnight Driver," which is based on "They Drive by Night" - a 1940 Hollywood movie.
Here are some examples of Egyptian films that appear, according to fans and critics, to have been copied from Hollywood movies: