French movie rejected by U.S., UK distributors over claims of racism
The film is about conservative parents whose four daughters horrify them by marrying men from other religions and ethnicities
French film "Serial (bad) weddings," or "Qu'est qu'on a fait au bon Dieu" - seen by more than 12 million people in France so far this year - will not make it to the United States or the UK because distributors have described it as racist and politically incorrect.
The film is about conservative, white, Catholic parents whose four daughters horrify them by marrying men from other religions and ethnicities, including an Arab Muslim.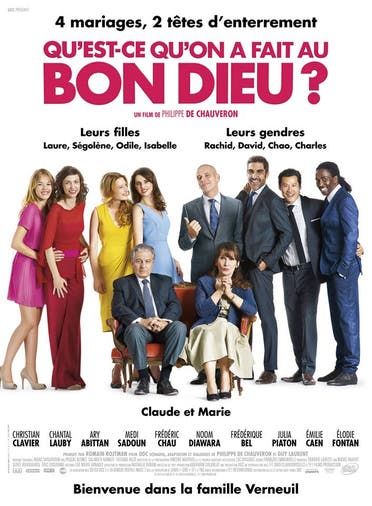 American magazine The Hollywood Reporter did not mince its words when reviewing the movie.
It has "nothing to do with quality," the magazine said. "Although the "bad' is in parentheses, that's perhaps the best way to describe Serial (Bad) Weddings."
Variety magazine said the film portrays "racist stereotypes" and feeds into "France's ambient xenophobia."
James Chapman - professor of film studies at the University of Leicester in England, and a media historian - said there were various factors behind the rejection of the movie by distributors.
A film that might provoke accusations of racism "can have social and political consequences" in a country, "though more so in terms of the controversies they generate than any long-term effects on people's attitudes and behavior," Chapman told Al Arabiya News.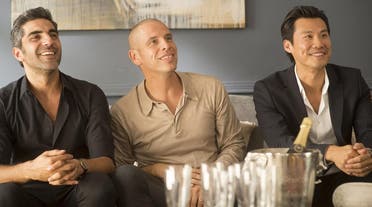 He added that some movie distributors can choose not to handle a "racist" movie for fear of upsetting certain groups and generating adverse publicity.
He said U.S. distributors might shun the film to avoid possible legal prosecution against them.
In the United States, a person who commits a "hate crime" by insulting a person's race, color, religion or national origin can face a fine or imprisonment of up to 10 years.
Reacting to the decision of American and British film distributors, Sabine Chemaly, international sales director at France's TF1 International, said English-speaking audiences "have a very different cultural approach" compared with the French.
The former "would never laugh at blacks, Jews or Asians," Chemaly told French weekly Le Point.
"They know that this will immediately create too much controversy at home."
French film critics say the movie should not be seen as racist, but as a means to overcome racism in France.
"Neither Arabs, Muslims, Jews or any other community regard this movie as offensive," Jean-Michel Frodon, film critic at French newspaper Le Monde and cinema studies professor at the National Institute of Political Sciences in Paris, told Al Arabiya News. 

"It's necessary to deal openly with existing stereotypes if we wish to go beyond them."
He added that it was better to let such movies circulate to give an understanding of what is really happening in France, where "racism is still too present."
Frodon said the mistake of the producers was to lack subtlety in presenting the different characters.
The film has been a success across Europe, with more than 2 million viewers in Germany.