To be Charlie, or NOT to be? Al Jazeera in controversy over Paris attacks
Leaked emails expose criticism of 'I Am Charlie' slogan, with one editor reminded of Qatari network's own campaign to free Egypt staff
A series of leaked emails has exposed an internal rift over press freedom at Al Jazeera, after a senior editor slammed the widespread public response to the violent Islamist attacks in Paris.
The 'Je suis Charlie' slogan – 'I am Charlie' in English – saw members of the public unite in their revulsion towards the terror attack on the French satirical magazine Charlie Hebdo, which left 12 people dead.
But Al Jazeera English editor Salah-Aldeen Khadr sent an email to staff, as revealed by National Review Online, in which the executive suggested the 'Je suis Charlie' slogan is "alienating,' and questioned whether the Paris attack really marks an assault on free speech.
The leaked Al Jazeera emails raised eyebrows internationally, particularly given that journalists around the globe have been standing in solidarity with the Qatari broadcaster over their arrested staff members in Egypt.
The National Review pointed out that the email exchange shows a rift between Al Jazeera's Arab base and the Western correspondents it hired after being accused for years of promoting anti-Western sentiment. While The Washington Times' Kellan Howell wrote that the emails revealed that Al Jazeera was not so keen to get behind the "Je suis Charlie" movement.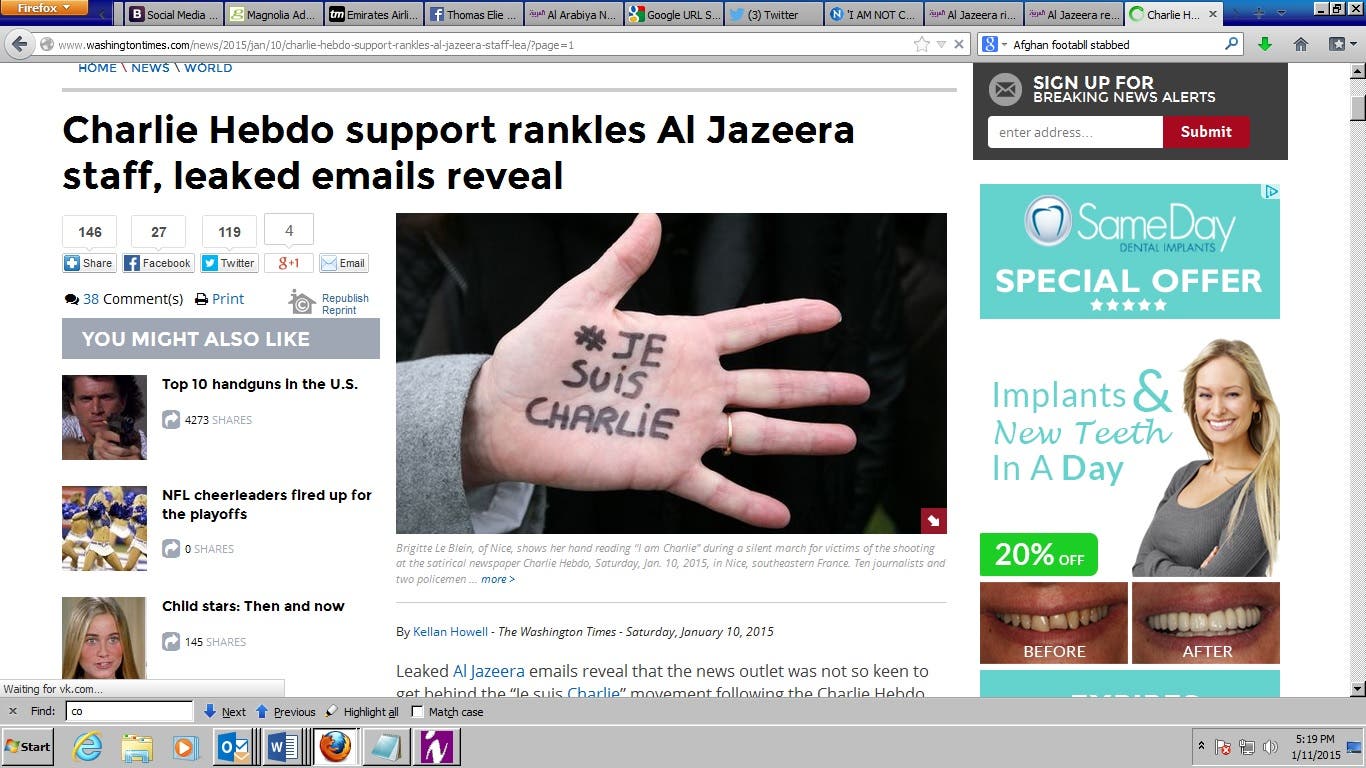 The Email exchange
Khadr's email, dated Jan. 8, gave staff suggestions on how to cover the incident in Paris, reminding them that "We are Al Jazeera!".
The executive slammed Charlie Hebdo magazine, which has published cartoons mocking the prophet Mohammed, something many Muslims found offensive.
"Does an attack by 2-3 guys on a controversial magazine equate to a civilizational attack on European values...? Really?," Khadr asked.
"Defending freedom of expression in the face of oppression is one thing; insisting on the right to be obnoxious and offensive just because you can is infantile," the executive wrote.
"Baiting extremists isn't bravely defiant when your manner of doing so is more significant in offending millions of moderate people as well. And within a climate where violent response – however illegitimate – is a real risk, taking a goading stand on a principle virtually no one contests is worse than pointless: it's pointlessly all about you."
But an angry exchange of emails followed Khadr's message, exposing a deep internal rift and questions of hypocrisy concerning the network's stance on press freedom.
The U.S.-based correspondent Tom Ackerman responded by quoting a blog in the New York Times by Ross Douthat. "If a large enough group… is willing to kill you for saying something, then it's something that almost certainly needs to be said, because otherwise the violent have veto power over liberal civilization, and when that scenario obtains it isn't really a liberal civilization any more," Douthat wrote.
That prompted an angry reaction by Doha-based correspondent Mohamed Vall Salem: "What Charlie Hebdo did was not free speech it was an abuse of free speech in my opinion, go back to the cartoons and have a look at them! It's not about what the drawing said, it was about how they said it. I condemn those heinous killings, but I'M NOT CHARLIE."
But Al Jazeera English's Paris-based correspondent Jacky Rowland responded with a "polite reminder" – saying "We are Aljazeera" and "#journalismisnotacrime".
The hashtag she quoted has been used largely in reference to a campaign to free Al Jazeera journalists Peter Greste, Mohamed Fahmy and Baher Mohamed, who were jailed in Egypt on charges of spreading false news.
When contacted by Al Arabiya News, Al Jazeera did not dispute the authenticity of the leaked emails concerning the Paris attacks when contacted. But the network did not comment further on the apparent rift between staff concerning press freedom.
"We have arguably the most diverse newsroom in the world, and the robustness of our internal discussions that flow from this are a great strength," a spokesman told Al Arabiya News.
"Viewers judge us on our actual output - on the horrific story in Paris our coverage has been first class, relaying events in real time, all the while providing expert context and analysis from across the spectrum."

Ridiculing the execution of Foley and Sotloff
The internal rift over Al Jazeera's complicated stance on press freedom also follows a recent scandal in which the TV network moved to retract a story.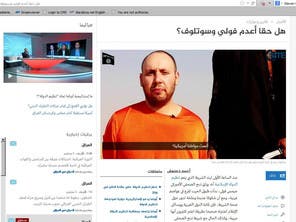 The controversial Al Jazeera report, published in September as a news item on the channel's Arabic website but not on its English one, ridiculed the execution of U.S. Journalists James Foley and Steven Sotloff as "Hollywood" fabrications, pointing out that one of the execution videos showed that "the knife being moved on the neck of the victim six times triggered no blood."
The claims were deemed by many online commentators as offensive and insensitive, and the story was later removed by Al Jazeera, with the network admitting it was "inaccurate".
Commenting to Al Arabiya News at the time, Magda Abu-Fadil, a Lebanon-based media specialist and commentator, said: "As for ethical journalism, I'm despairing at the bestiality of some media in their aim for ratings and how low they're willing to stoop for scoops. Insensitivity to bereaved relatives and victims of terrorism seems more the rule than the exception. It's truly revolting," Abu-Fadil said.