WashPost retracts 'unsubstantiated' report on King Salman's health
The article has since been amended and now simply raises speculation on King Salman's health
The Washington Post has retracted and published a correction relating to claims it made regarding Saudi Arabia's King Salman bin Abdelaziz suffering of dementia, a false claim which the paper later described as "too speculative and unsubstantiated."
The Post said it retracted the statement because it did not meet its "standards for publication."
The Post responded to Al Arabiya News's request for clarification explaining that as the Editor' Note has previously indicated the claims were "too speculative and unsubstantiated to meet The Post's standards for publication. (These assertions were variously attributed to "said to be" (May 27, 2014), "reportedly" (Jan. 23) and "widely believed" (Jan. 24). The only specific attribution came in the Jan. 24 piece, which quoted The Washington Institute for Near East Policy's Simon Henderson, which The Post claims is "an authority on Saudi Arabia and succession issues."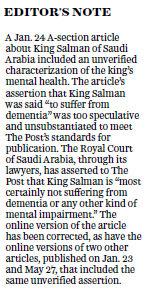 Since ascending to the Saudi throne late last month, King Salman has appeared publically to receive thousands of mourners, he also addressed the people of Saudi Arabia directly via a televised statement and he received a large number of world leaders, including U.S. President Barack Obama.
He has also issued a number of major decisions, including a government reshuffle and has appointed Emirs as new regional governors; today, he chaired the weekly cabinet meeting.
He also recently visited – as Crown Prince – several countries including France, China, India, Japan and Pakistan where he met with several leaders and officials.