Chapel Hill: Media 'double standards' laid bare
Broadcasters' reaction to the U.S. shootings is typical of a mainstream media guilty of stoking Islamophobia, say some
The killing of three young Muslims in a sleepy U.S. college town has exposed the "double standards" of the mainstream media, commentators say, amid claims some broadcasters are directly responsible for stoking Islamophobia.

Deah Barakat, Yusor Mohammad and Razan Mohammad Abu-Salha were on Tuesday shot in an execution-style killing in Chapel Hill, North Carolina. Craig Stephen Hicks, an avowed atheist and the alleged gunman, turned himself into police after the shooting.

Unlike social-media users, many U.S. national TV broadcasters were slow to pick up on the story, and when they did were notably cautious in describing Hicks' motive or motives.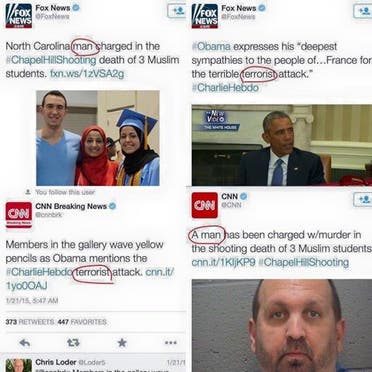 Some stations repeated claims that Hicks had shot the three young Muslims over a dispute over parking spaces outside the apartment complex where they lived.

Yet speculation over motives would have been very different if Hicks were Muslim and his victims white, rather than the other way around, says one commentator.

"When you have a Muslim committing a crime he's a terrorist, when you have an African-American committing a crime he's a thug," said Abed Ayoub, legal and policy director of the American-Arab Anti-Discrimination Committee (ADC)

"But when you have a white guy committing a crime it's over a parking spot, or he's mentally ill. And minority groups are pretty fed up with this double standard."
Slow response
Ayoub, speaking to Al Arabiya News from the U.S., said the country's mainstream media only started picking up the Chapel Hill story as outrage over the killings grew on social media.

"The U.S. media is quick to air a story when the Muslims are the bad guys. But they really don't cover it when the Muslims are in front of the gun rather than behind," he said.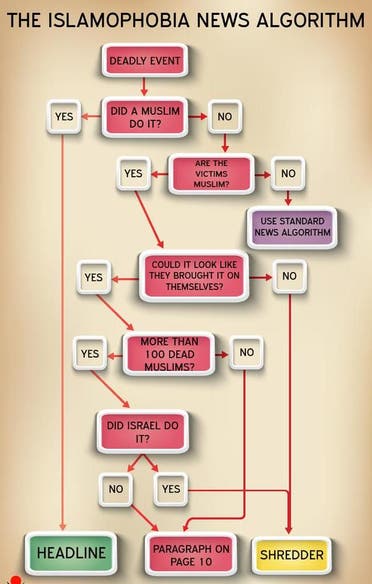 "You had three Muslim adults killed execution-style in what seemed like a hate crime – if the roles were reversed it probably would have been the leading story on many of the news channels."

In the UK, journalist Sabbiyah Pervez also noticed how the media had been slow to pick up on the story. She wrote an opinion article in The Independent newspaper describing the "dehumanisation" of Muslims, under the stark headline 'Three young Muslims have been executed, but the media ignored it because of religion'

"I was dismayed and astonished that, when I went through Twitter, there was nothing substantial on it," she told Al Arabiya News.

Pervez, who wrote a university dissertation on the portrayal of Muslims in the media, said she believes "social-media outrage" is what finally made UK media outlets pick up on the story.

But not everyone was convinced that there was a lack of media attention. "I must have missed the lack of coverage on the thing that everyone talked about all morning," wrote one Twitter user in response to Pervez's story.
'Grudging' coverage
Fiyaz Mughal, director of the UK-based Islamophobia-monitoring group Tell MAMA, said when the Chapel Hill shooting did finally make it to the mainstream media, it was presented in a "grudging" way.

"The media has failed quite dramatically," he said. "I was shocked. Whatever the case, if three young people are executed… it should be in the news."

Mughal said that, while it is not yet clear what the alleged killer's motive was, it was likely that he was "driven by some form of anti-Muslim ideology."

But this is not always made clear in media reports, he added. "The big problem for me is that whenever they describe these as 'lone wolf' individuals … what they don't do is join up the dots of the ideology which drives these people."

Dr Zahera Harb, a senior lecturer in International Journalism at City University London, said that the mainstream broadcast media in the U.S. "is not taking Islamophobia seriously."

Harb, who was born in Lebanon, said that if it was a Muslim wielding the gun, the media "would have rushed into labelling it a 'terrorist act'."

"The media waited for the exact nature of the crime [to emerge] before they called it a 'hate crime'. But in other contexts, they would have rushed into labelling it," she said.
#MuslimLivesMatter
Many social-media users also accused mainstream networks of hypocrisy due to the lack of prominence given to the story, with the hashtag #MuslimLivesMatter trending on Twitter.

"The hypocrisy of American society. Why am I just hearing about it now? Why was it not breaking news yesterday?," wrote @mariaj81.

"@CNN is currently airing a story about Obama singing Taylor Swift but nothing about the #ChapelHillShooting," was the take on it from @frenchandtea.

One image, shared on Twitter hundreds of thousands of times, compares two tweets from Fox News, and another two from CNN. Red circles illustrate the different language used: The alleged killer in the Chapel Hill shootings is just a 'man', while – in tweets concerning the attack on Charlie Hebdo magazine in Paris last month – President Obama quickly condemned the incident as a 'terrorist' attack.
'Inflaming Islamophobia'
Shafi Khan, a friend of the Muslim students killed in Chapel Hill, told CNN that Fox News was guilty of the "demonization of Muslims". Fox News did not immediately respond to a request for comment when contacted by Al Arabiya News.

Much of the wider U.S. media is also guilty of "inflaming Islamophobia" – which is directly linked to physical attacks such as that seen in Chapel Hill, said Ayoub.

"These media personalities are painting all Arabs and Muslims as the same – as killers, as evil, as the other. And that's leading to an increase in hate rhetoric, which is going to lead to an increase in hate crimes," he told Al Arabiya News.

But it's not just the likes of Fox News fanning the flames of Islamophobia, Ayoub said.

The recent release of American Sniper, the movie based on the life of the late Navy SEAL Chris Kyle, led to a surge of threats against Arabs and Muslims in the U.S., he said.

"After the release of American Sniper we began noticing that the hate rhetoric was a bit more volatile, a bit more raw and violent, calling for murders, executions, for the killings of Arabs and Muslims in the U.S.," he said.

"For the first time we noticed that the threats have taken a turn. It's no longer like, 'you towel-heads, you rag-heads, go back to the desert'. It's 'I'm going to send you back there in a box'."

Just last month, Ayoub's organization sent out an alert saying that an increase in Islamophobia is likely to lead to more hate crimes.

And with that warning proving horribly prescient, Ayoub is only too aware of his organisation's main priority today.

"We've got to make sure we protect our community," he said. "We cannot allow this to happen again."