India's Dish TV slammed over 'illegal' Mideast subscriber base
Indian television giant could terminate illegal subscriptions 'in 10 minutes' if it so wished, says boss of Dubai-based rival network OSN
India's Dish TV network is "illegally" allowing subscribers to view its channels in the Middle East, where it does not own the proper licenses to broadcast, according to allegations made by a Dubai-based rival.

David Butorac, chief executive of OSN, says Dish TV knows which of its customers are illegally tuning in from the Middle East, and could terminate these subscriptions "in 10 minutes" if it so wished.

Dish TV vigorously denies the claim it is acting illegally, saying the only reason its broadcasts are available outside India is that the satellites it uses beam down signals over a wider territorial footprint.

But Butorac said Dish TV has been contacted about its "substantial" subscriber base in the Middle East and had not taken the required action to shut it down.

Dish TV is a legitimate operation in India, but does not hold the required rights to broadcast much of its content in the Middle East.

"They're operating illegally," Mr Butorac said of Dish TV.
Cheap TV packages
As many as one million households in the Middle East are thought to illegally receive TV broadcasts from networks that do not have the proper content rights for the region.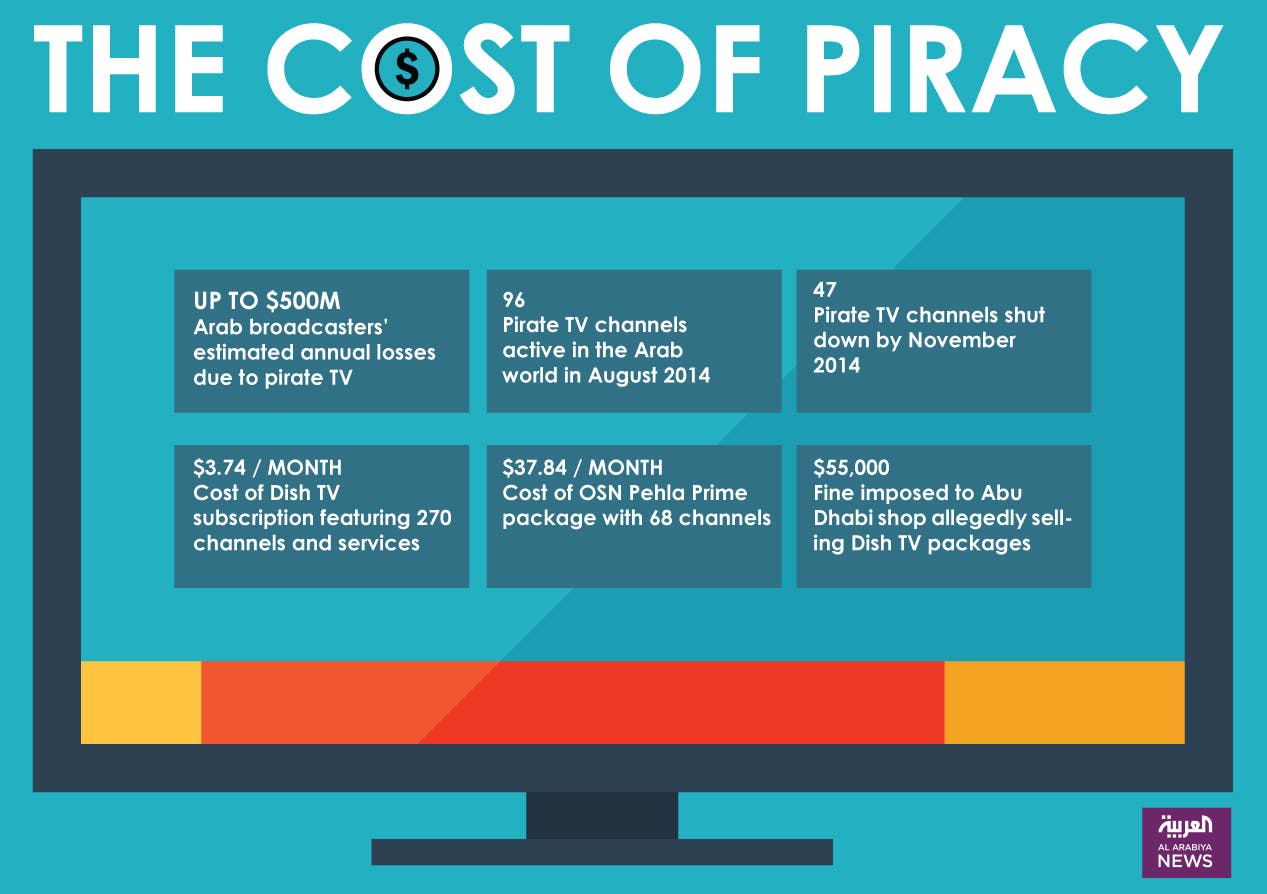 Signals broadcast by the likes of Dish TV, Airtel Digital TV, Sun Direct and Tata Sky can be picked up in the UAE and other parts of the Middle East, but are not licensed for broadcast in the region.

Of these Dish TV, which offers television packages for prices well below those promoted by OSN, is said to be the most popular among Asian expatriates.

"I can almost guarantee they're not declaring their subscribers in this region, because to declare them would be an admission that they're acting illegally," said Butorac.

The cost of a Dish TV subscription featuring 270 channels and services is about $3.74 a month, according to the network's website. The OSN Pehla Prime package, which is geared towards South Asian viewers and has 68 channels, costs $37.84 a month.

Subhash Chandra, the chairman of Dish TV's parent company Essel Group, said in 2012 he was looking to work with UAE authorities to stop residents illegally tuning in to Dish TV broadcasts.

Mr Butorac said he welcomed Chandra's pledge to help clamp down on piracy – but said it would be easy for Dish TV to close the accounts of illegal subscribers.

"The simplest way for him to [curb piracy] is to stop the distribution of his boxes and to switch off in his database the customers that he knows, and we know, are in the Middle East," said Butorac. "They could do it in 10 minutes if they wished to."

A Dish TV spokesperson said via email that the allegations made by Butorac were false.

"It is totally wrong, incorrect and without any basis to state that DishTV is operating illegally in [the] Middle East," the spokesperson said.

Satellites used by many broadcasters, including Dish TV, have footprints that go beyond the territory in which they operate, something accepted by the International Telecommunication Union, the spokesperson said.

"Since the satellites being used by DishTV has footprint beyond the boundaries of India, any customer who takes the equipment to any place where the footprint is available, will receive the signals," the Dish TV spokesperson said.

This however is just "what Dish TV will have you believe", Butorac said. He alleged that the Indian firm is in fact knowingly allowing thousands of subscribers in the Middle East to receive its signal.

"All of these subscribers are using Dish TV boxes that are coming out of Dish TV manufacturing plants, and are being shipped by Dish TV operators in India. So the argument that Dish TV doesn't know about it is irrefutably wrong," said Butorac.

"The fact of the matter is all of these customers must appear on the Dish database to be switched on. Because otherwise they wouldn't be able to receive the signal."

The Dish TV spokesperson said that such allegations are baseless. "It is denied that DishTV has the knowledge of the subscribers residing in Middle East," they said. The spokesperson added that Dish TV does not manufacture any receiving equipment.

Butorac said the executive team responsible for Dish TV has been contacted about the issue but full action had not been forthcoming.

The Dish TV spokesperson denied that the company had not responded, saying that it always disconnects subscriptions outside India when it was informed about them.

"Whenever any broadcaster has intimated to DishTV regarding the presence of any equipment outside the territory of India and has provided the viewing card number being used, DishTV has immediately disconnected the said connection," the spokesperson said.
Shutdown of illegal distributor
The row follows the recent closure of a shop in Abu Dhabi that was found by a court to be selling illegal subscriptions to Dish TV. There is no suggestion that Dish TV was implicated in any wrongdoing in that case.

The shop, which has not been named, was slapped with a Dh200,000 ($55,000) fine and ordered to close for a year, but can appeal the ruling, according to OSN.
The Criminal Investigation Department (CID) conducted a raid at the Abu Dhabi shop after OSN complained about sales of Dish TV subscriptions and set-top boxes, the broadcaster said.
There have been 47 such raids of hotels, shops and camps by UAE authorities following complaints filed by OSN, Butorac said, with the recent action marking the first to be dealt with by the courts.
"This court judgement is a landmark for us because it just reinforces the seriousness with which government is now taking piracy, which is a very good step," he said.

"There's an estimate that there's between half a million and a million illegal dish subscribers in the region. And that's having a huge economic impact," he added.
A $500 million problem
A coalition of Middle East broadcasters and other interested organizations, including OSN and MBC Group, has been formed to fight the rampant piracy in the region. The Al Arabiya News Channel and this website are part of MBC Group.

Piracy of all forms costs the Middle East media industry about $500 million, Butorac said, quoting industry estimates. That amounts to about a quarter of annual revenues pulled in by the entire Arab TV industry, which Butorac estimates at around $2 billion.

"When you consider the impact of, let's say, half a million Dish TV subscribers in the region, and that if even a small percentage of them were able to subscribe legally to the OSN platform – where all of those channels are legally available – you can very rapidly see how such a number [is reached]," he said.

Governments of countries such as the UAE are taking the piracy problem seriously, partly because they realize that it sees millions of dollars of flow out of Middle Eastern economies, Butorac said. Such money could otherwise be invested in local media production, he added.

"If the revenues that are flowing illegally out of the country through the organized-crime groups … stayed within the economy, what it would sustain is a huge investment in creative skills," he said.

"Piracy is the number-one issue for broadcasters globally... It's a fight that we will constantly have. But the fact that it's a major battle doesn't stop us from wanting to engage – because the only way to win it is to engage."