VIDEO: U.S. TV crew gunned down on air
Jeffrey A. Marks, general manager of WDBJ-TV, identified the two killed as Alison Parker and Adam Ward
A television reporter and cameraman were shot to death on the air during a live broadcast on Wednesday morning in Virginia by a gunman the governor described as a disgruntled station employee.
Law enforcement personnel have a photo of the suspect and he was known to the victims, Governor Terry McAuliffe said during an appearance on WTOP-FM's "Ask the Governor."
Jeffrey A. Marks, general manager of WDBJ-TV, identified the two killed as Alison Parker and Adam Ward.
The suspect, identified as suspected station employee Vester Flanaganof, had initially shot himself after the attack but was critically injured. The suspect was later pronounced dead at a hospital, the Washington Post reported, citing state police.
Al Arabiya English had published the video at the time of the incident and deleted it on February 22, 2020.
Initial reports said the suspect was dead, but both WDBJ and CNN later said he remained in critical condition.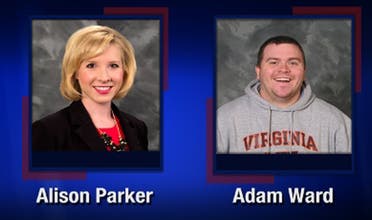 Video shows Parker interviewing an economic development official around 6:45 a.m. about tourism around Franklin County's Smith Mountain Lake. The station said in a tweet shortly before the shooting that Parker was looking into the planning process for a celebration.
Parker was smiling when suddenly at least eight shots were heard. Parker screams, runs and can be heard saying, "Oh my God."
As the camera drops to the ground, it captures what appears to be a fleeting image of the shooter. The person is wearing black pants and a blue top and appears to be holding a handgun.
Local Franklin County Sheriff's office released the WDBJ7 shooting suspect photo above.
The station then switches back to a shot of an anchor back at the station, who appears shocked and says, "OK, not sure what happened there. We will of course let you know as soon as we find out what those sounds were from."
Parker just turned 24 and attended James Madison University, where she was the editor of the school's newspaper, The Breeze. She also had been an intern at WDBJ-TV.
The station's website says Ward was 27 and a graduate of Virginia Tech. He was engaged to a producer at the station, Melissa Ott, said WDBJ spokesman Mike Morgan.
The station is based in Roanoke, Virginia, and serves the southwest and central part of the state. The shopping mall where the incident happened is just off Smith Mountain Lake in Moneta, southeast of Roanoke.