'Crisis mismanagement': Conflicting info on EgyptAir flight criticized
While EgyptAir was applauded by some for its quick response, some said the airline was taking a tone with the media by issuing several warnings
Conflicting reports of the missing EgyptAir Flight MS804 over the Mediterranean Sea has shrouded coverage of the crisis situation with EgyptAir and Egyptian authorities contradicting each at one point on Thursday.
Using one of its spokesman's Facebook page, the Egyptian army denied it detected any "distress messages" from an EgyptAir flight. Only hours earlier, EgyptAir had said it was informed by the military that it detected a "distress calls" from the Airbus A320. That tweet was eventually deleted.
In his briefing to reporters Egypt's Minister of Aviation Sherif Fathy admitted that authorities mistakenly reported that a signal was received two hours after air traffic control lost contact with MS804.
He said: "There was a mistake made by an official somewhere. He talked about a signal and then a few minutes after he came back and apologised, and he came back and said 'sorry there was no signal'. After his first statement we all went to the press and said the signal was received, thereafter we denied that and we admit there was a mistake that happened."
While EgyptAir was applauded by some online users for its quick response on its website and Twitter account, some said the airline was taking a tone with the media by issuing several warnings.
"EGYPTAIR Crisis Center follows up the situation and urges the media resources to abide by the official news issued and sent by the company," it tweeted. "EGYPTAIR Calls for media resources to be assured of the information they post or release."
After most news outlets had issued statements referring to the Egyptian army and EgyptAir, the airliner added more confusion when it tweeted that it was "denying all misleading information published by news websites and social media channels regarding the reasons of the disappearance of EGYPTAIR flight MS804 and the company confirms that the reason of disappearance hasn't been yet confirmed."
EGYPTAIR Calls for media resources to be assured of the information they post or release

— EGYPTAIR (@EGYPTAIR) May 19, 2016
'Filling the void with speculation'
Public Relations and communication experts say the problem with Egypt was relying on more than one person and body to release information.
"As for the importance of communication during a crisis situation, it comes down to identifying a credible spokesperson to release facts, confirmed facts, as they become available, and always with consideration of the people involved, internal and external to the situation," Patricia A. Roth, former assistant professor of journalism and public relations at Northwestern University in Qatar told Al Arabiya English.
"When there are unknowns, it's human nature to fill the void with speculation. The best response to the demand for information is a combination of "here's what we know" and "here's what we're doing," she added.
During a press conference later in the day, Egypt's Minister of Aviation Sherif Fathy added further confusion when he said that his country will continue referring to the incident as "missing" instead of reporting a crash but went ahead saying his team's "foremost priority is to look for the wreckage of the plane." While Egypt shied away from confirming, French President Francois Hollande seemingly went ahead by calling the incident "a reported crash" during a speech he gave earlier in the day.
"For now, we will continue referring to the incident as a missing situation but our first priorities will be to look for the wreckage," Fathy said.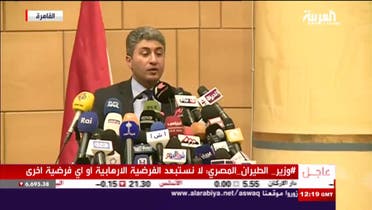 However, the aviation minister was praised for cutting his scheduled visit to the Saudi capital Jeddah short and returning to Cairo as soon as news of the missing plane was reported.
For the most part, aviation experts say confusion and speculations are going to be part of these incidents even when the best measures taken.
"Confusing is going to be part of the incident as you've got people on board who come from so many countries, departure and arrival airports and both those countries getting involved, and the international communities getting involved in search and rescue," aviation professor and expert Jeff Price told Al Arabiya English.
Egyptian MP and Chairman of the Committee on Culture, Media, and artifacts Osama haikal warned media professionals against disseminating information on social media accounts.
"Spreading any erroneous information in crises like these puts pressure on crisis management staff, and it is in the interest of the search and rescue crew working to be far from any public pressure," Haikal said.