Iraqi satire show hosts a real politician 'for the first time'
For Basheer, hosting Nyasif was just a first step. He told Al Arabiya English that 'we're planning to bring some ministers' on the show
In the West, politicians regularly appear on television shows to trade jokes, banter, and perhaps pet policies with a comedic host.
But this self-deprecating, seemingly democratic cultural trend - which even saw US President Barack Obama last year read a series of 'mean tweets' about himself on air - is just starting to catch up in Iraq.
On Friday, the satirical Albasheer Show, popular for mocking politicians and deriding Iraq's volatile political scene, hosted for the first time an actual Iraqi lawmaker - the well-known woman parliamentarian Aliya Nsayif.
In the show, Nsayif – who is a member of the Reform Front, a breakaway movement from former premier Nouri al-Maliki's coalition – was faced with a barrage of questions by Ahmed al-Basheer, the show's host.
Basheer asked the 53-year-old about her salary, Baghdad's deep-entrenched corruption and how many times she has physically attacked her nemeses in parliament.
"About four to five times," Nsayif told the host. In one famous incident in 2013, Nsayif threw her shoe at one rival lawmaker for making "vulgar" comments against her.
To liven up the show's mood even more, Nsayif, who claimed she "was good in basketball and gymnastics when I was young," played a game of throwing empty water bottles into a hoop - a nod to an incident last month when another lawmaker threw a bottle of water at her.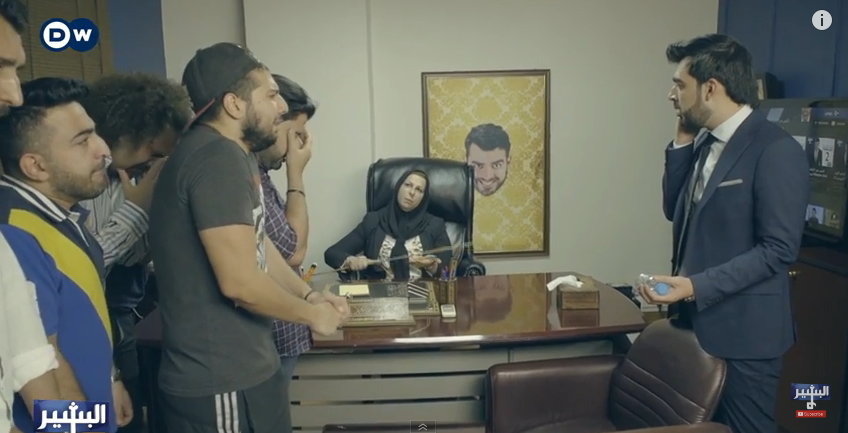 For Basheer, hosting Nyasif was just a first step. He told Al Arabiya English that "we're planning to bring some ministers" on the show.
But he could not give any further details, saying that the planned interviews were still "a secret."
The Albasheer Show has come a long, difficult way since its launch in April 2014.
The show had to move production to the Jordanian capital Amman last year and was for a time confined to YouTube and Facebook after Iraqi authorities ordered a halt to its broadcast and shut down al-Baghdadia, the channel it aired on.
In April this year, the show signed contracts with the independent Iraqi station, al-Sumaria TV, and the Arabic-language channel of German broadcaster Deutsche Welle, where it is aired every Friday.