Al Jazeera on Trial: Journalists say network knowingly endangered their lives
Two former Al Jazeera employees have said they are suing the Qatari-owned media network for breaching journalistic ethics during the 2013 Egyptian revolution and endangering their lives by sending them to Egypt without proper operational licenses.
Mohamed Fahmy and Mohamed Fawzy made the announced during a press conference at the National Press Club in Washington D.C. on Thursday where they also launched a website titled "Al Jazeera on Trial" to provide personal evidence of how the Doha-based news channel helped spread false news about Middle East events since 2011.
"Just as we expect governments to abide by basic human rights we also expect news outlets like Al Jazeera to respect the ethics of journalism, stop endangering the lives of its staff, and refrain from sponsoring groups like the Muslim Brotherhood, Al Nusra - an affiliate of Al Qaeda and other terrorist groups. There is a difference between the bias of many TV channels in the media today and the sponsorship of a cause for your own agenda, and in this case, its Qatar's agenda and that is why we are here today," Fahmy told reporters at the conference.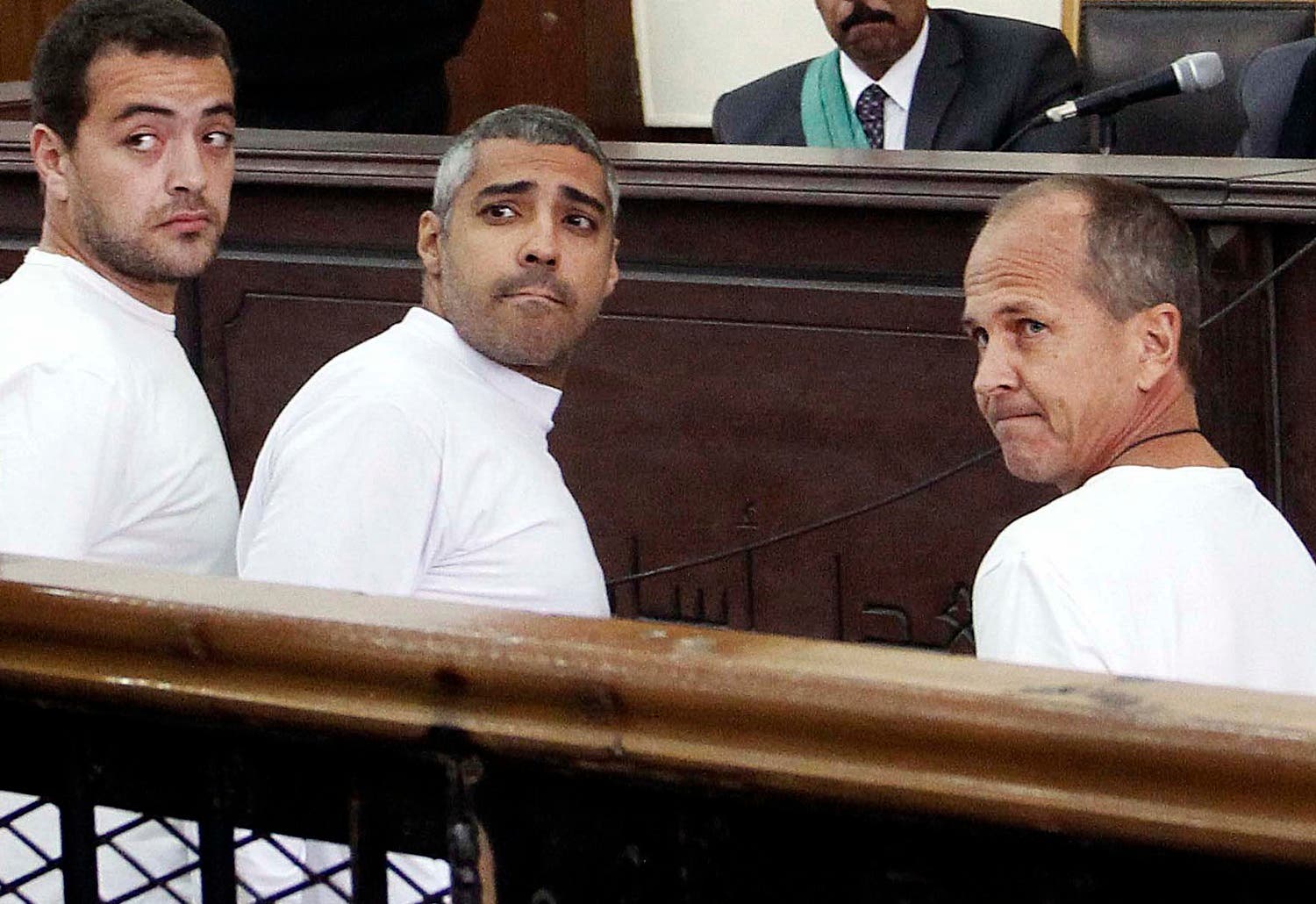 Former Al Jazeera English bureau chief Fahmy and Al Jazeera English cameraman Fawzi were convicted in 2014 on charges of collaborating with the Muslim Brotherhood to spread the terrorist group's agenda via fabricated news stories in the Egyptian revolt. Fahmy served 438 days in an Egyptian prison while Fawzi was forced to seek asylum in the United States after being sent to Washington D.C. by Al Jazeera only to be laid off by his Qatari employers just days later.
"I had asked the administration of Al Jazeera to transfer me to work in Washington to avoid the risks of traveling in the Middle East; and I was surprised when I arrived in Washington that the channel did not complete my official papers and authorization to work legally," Fawzi said. "I applied for political asylum in the United States of America to protect myself and my family and avoid being deported to Egypt, where I would face the execution of the judgment and a mysterious future."
Knowingly endangering the lives of their journalists
During the press conference, Fahmy confirmed that the channel put the lives of its employees in danger and denied that he had anything to do in publishing false news. He pointed out that the defense lawyers in Egypt tried to convince the court to separate the responsibility of journalists from the responsibility of the channel since the journalists are themselves victims Al Jazeera's fraudulent practices. He said that Al Jazeera used them as a scapegoat in order to publish false news about Egypt. Fahmi said he also had affidavits from US diplomats and former members of Al Jazeera attesting to the allegations.
Fahmy also disclosed that Al Jazeera English had illegally used the television trucks of Al-Quds and Al-Aqsa Palestinian channels, which owe allegiance to Hamas after they were smuggled through the Gaza tunnels. The two channels in question coordinated with Al Jazeera and supplied them with videos from inside the Rabaa al-Adawiya Square sit-in protests in 2013. Ahmed Jamal Saeed, a security guard working in al Jazeera, testified that the channel used other media network's trucks illegally, including one belonging to Egypt's state owned television network.
"When I was working for Al Jazeera English Channel in Rabaa Protest, which was led by the Muslim Brotherhood, I saw the members of the organization forcibly taking over the Egyptian state television's car, and cooperated with all the channels and journalists of Al Jazeera during the protest and allowed Al Jazeera English, Al Jazeera Arabic and Al Jazeera Mubasher to broadcast live on the air using the technology available in the car," Fahmy quoted Saeed as saying.
Fahmy also revealed that the channel was owned by former Qatari Foreign and Prime Minister Hamad bin Jassim, and that Al Jazeera was operating in Egypt without obtaining legal licenses for its work.
He also said that he asked the channel's management to separate his work from Al Jazeera Mubashar Misr (Egypt Live), that was closed down in 2014, but that did not happen which caused his involvement. In addition, the channel appointed more than 25 members of the Muslim Brotherhood who had nothing to do with journalism, among its ranks.
"During the course of my research in prison I interviewed many Muslim Brotherhood youth who explained to me the extent of the unethical and illegal relationship they had with Al Jazeera. Many of them sold footage to the network that was aired without sourcing or proper vetting. Astonishingly, some even received cameras and broadcast equipment directly from the network or indirectly through the Muslim Brotherhood with the knowledge of the senior managers at the network," Fahmy said.