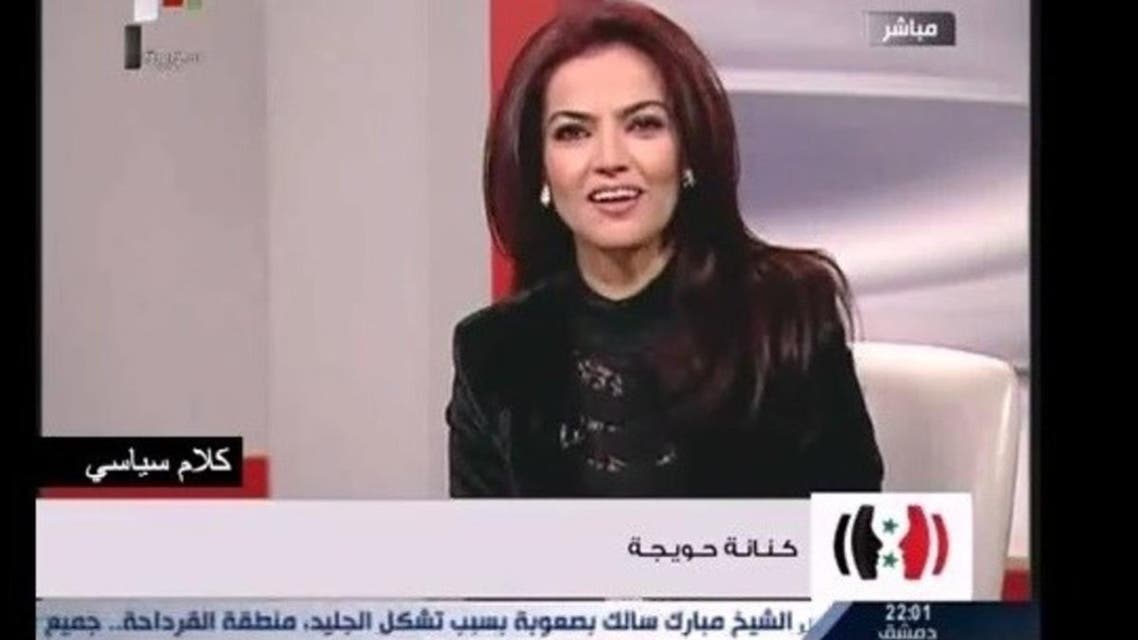 Syrian host dubbed 'millionaire godmother negotiator' by displacing civilians
Keenanah Houwaijah is a name which will be remembered for decades in the minds of displaced Syrians who blame her as being the "Godmother and architect" of deals that have displaced many of them, while getting paid at least one million dollars for doing so.
Though her day job consists of being a television presenter on one of the pro-Syrian regime channels, Houwaijah was seen mediating between Russian military personnel and armed factions in Daraa in southern Syria, negotiating a deal for forced internal exodus and displacement of Syrian civilians.
Until now, no one can explain why Bashar al-Assad's regime has chosen this woman who works in television to negotiate on their behalf with the Syrian opposition.
In a video which went viral on social media, she was seen with a headscarf negotiating deals, surrounded by Russian military personnel, although she usually appears on television without wearing one.


Houwaijah – who is also nicknamed "the millionaire presenter" for receiving hefty sums of money allegedly for her side-role as a negotiator – is the daughter of Maj. Gen. Ebrahim Houwaijah, the former head of the aerial intelligence unit, one of the well-known security leaders in building the Assad military state.
The Syrian Observatory for Human Rights monitor said on Saturday that the television presenter received $800,000 as a reward for her role in a deal merging the city of Inkhal in Daraa province to territories under the Syrian regime control.
The monitor added that Howaijah's bank account is topped up after "marathon negotiations" she held with representative from the city in northern Daraa.
Reports recently circulating have indicated that the presenter threatened Syrian opposition factions in Daraa by obstructing any possible deal, and had allegedly tried to intentionally sabotage any deal of forced displacement in Daraa in order to receive a bigger pay.
Houwaijah has reportedly negotiated many similar deals in different areas of Syria, earning her the nickname of "the Godmother" after she mediated a deal between the Syrian regime and ISIS in May 2017, where she provided the extremist group with guarantees to exit safely from south Damascus to other locations in Syria, without any obstruction or delays from the regime forces, the Russian military officers in Syria or from the pro-Iranian militia.