Thanks to social media Arabs become more tolerant
Sites like Twitter and Facebook makes Arab users "more open and tolerant", study reveals
The use of social media websites, such as Twitter and Facebook, has made internet users in the Arab world "more open and tolerant of other people's points of view," a recent study has revealed.

The latest series of the Arab Social Media Report, released by the Dubai School of Government, covered eight Arab countries (Bahrain, Saudi Arabia, Egypt, Jordan, Lebanon, Oman, Kuwait and the UAE).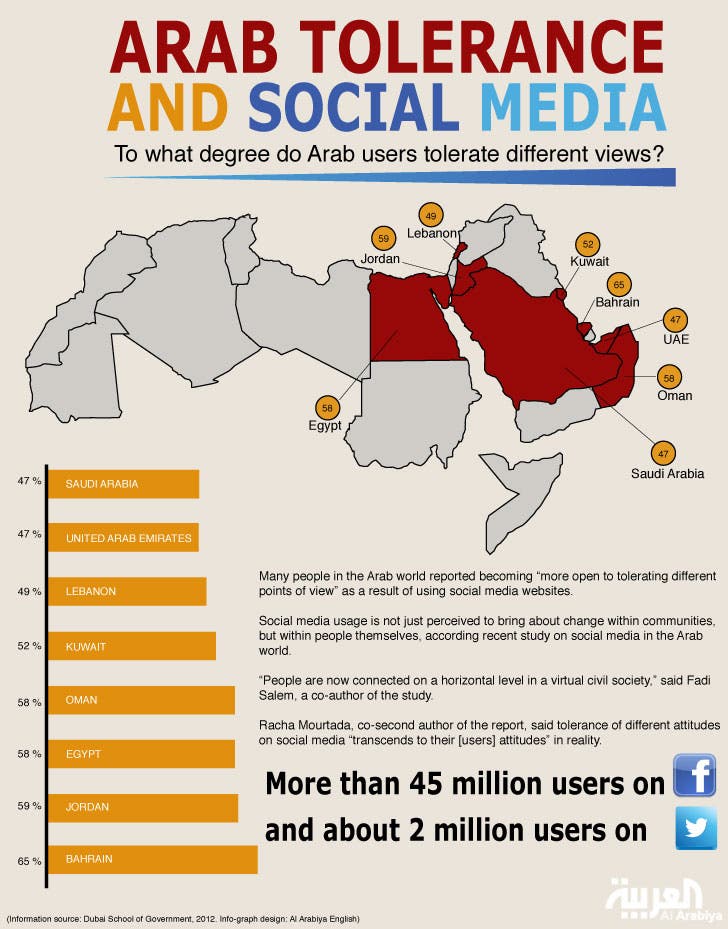 According to the report, 65 percent of people surveyed in Bahrain said they were "more open to tolerating different points of view" as a result of using social media. In Jordan, the figure was 59 percent, in Egypt and Oman 58 percent, in Kuwait 52 percent, in Lebanon 49 percent and in Saudi Arabia and in the UAE the figure was 47 percent.

"On an even more personal level, social media usage is not just perceived to bring about change within communities, but within people themselves," according to the report.

"Many claim that social media usage and, by association, its ability to expose people to a variety of ideas and opinions, has led them to become more open and tolerant of these views."

In an interview with Al Arabiya English, Fadi Salem, a co-author of the study and the director of the Governance and Innovation Program in the Dubai School of Government, said that the absence of social, cultural and political constraints in the virtual world makes people less shy or reserved to state their opinions as they would do in real life.

On topics such as women empowerment, Salem said respondents, males and females gave similar answers.

"Our questionnaires showed that men and women have identical views on everything on social media," he said. This indicates the social media's ability to bring together viewpoints in an environment free of social and political boundaries, Salem added.

"What happened with the growth over the past two years [was that] all the factors flattened the barriers, and people are now connected on a horizontal level in a virtual civil society," he said.

Racha Mourtada, co-second author of the report, said tolerance of different attitudes on social media "transcends to their [users] attitudes" in reality.

"We have seen that much of the online activism and social and civic initiatives during the past two years have manifested on the ground as well, and that people's online activities generally mirror their offline ones," she added.

"Generally, because of the pervasiveness of social media in many Arabs' lives (especially young people), actions and attitudes on social media tend to reflect those in real life," Mourtada added.

She disagreed, however, with the generally-held belief that tolerance is more pervasive in social media than in the real world. "I don't necessarily think that people are more tolerant on social media than in reality."

Mourtada explained that the "same social codes and etiquettes that are applied in real life, and that the repercussions of discussing any controversial topics would be the same as those offline."

In a previous series of the Arab Social Media report, people said their biggest concern in discussing political issues online was "the fear of being held accountable by the authorities for their opinions," according to Mourtada.

"Controversial topics vary, of course, across the region, from the political to the religious -among others - but what is heartening to see, is that the once-controversial discussions surrounding citizen empowerment, social and civil society movements, and government-citizen engagement have become more commonplace on social media," she explained.

According to Salem, social media can "amplify" points of view regarding certain political or religious topics that are hardly tolerated in real life. "Extreme views (regardless what they are) usually get amplified more than moderate ones both on traditional and social media channels," he said.
Global citizens
In addition to becoming more tolerant, more than 70 percent of Arab social media users said they became more "global citizens" after interacting with people from different parts of the world. According to the report, the people's exposure to various ideas and opinions on social media "has led them to become more open and tolerant of different views."

The report, which is also available online, provides other statistics about Arab social media users in the period between 2010 and 2012. Statistics show that there are more than 45 million Arab users on Facebook and about 2 million users on Twitter. The massive number of Arab users made Arabic the fastest growing language on Facebook and Twitter, according to the report.

GCC countries have the highest number of Facebook users per population in the Arabic world, according to the report. The UAE was ranked first, followed by Kuwait.

A quarter of total Facebook users in the Arab region are from Egypt, with more than 1.6 million new users added up in the past year alone.