Iraq puts new national anthem and flag 'on hold'
Iraqis were divided on what national anthem and flag to champion after the toppling of late President Saddam Hussein
Iraqi President Fouad Massoum recently revived a hotly debated issue with a statement indicating he seeks to introduce a new Iraqi flag and national anthem placatory to all of the country's people, from its southern point to its mountainous north.
After receiving the Iraqi cultural and media committee and its head Maysoon al-Damulji on Monday, Massoum stressed on the "importance of achieving a new national anthem and flag."
However, Damulji told Al Arabiya News that set "there is no time frame" and that the issue at hand has now been placed on hold.
Infographic: The evolution of the Iraqi flag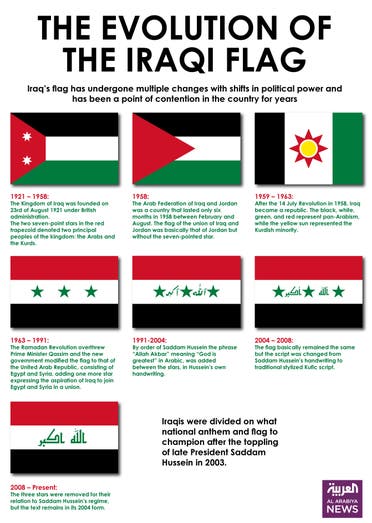 "When we proposed it to the leaders of various political blocs in another meeting in the parliament, we agreed to put the issue on hold as the current timing is not appropriate," Damuljii said in reference to the ongoing battle against the Islamic State of Iraq and Syria (ISIS) group, which recently re-captured the country's largest oil refinery in Baiji, some 155 miles north of Baghdad.
In 2004, a public competition was held to help craft a new Iraqi flag complete with a judging panel which issued directives. However, the leadership of the parliament did not act upon the panel's recommendations, according to Dalmulji.
"Now, we will review that selection panel's recommendations and directives. However, it is not necessary to choose a new Iraqi flag," she added.
Iraqis were divided on what national anthem and flag to champion after the toppling of late President Saddam Hussein in 2003. Some detractors criticized how the Iraqi flag seeks to represent Arab nationalism, lauded by Saddam Hussein, and apparently excluded the country's main non-Arab minority components. Others saw it as representing Saddam Hussein's brutalities during his 24-years in power.
Iraq's old national anthem, "The Land of the Two Rivers," which was adopted in 1981 and discontinued in 2004, featured belligerent stanzas in support of the Baath party, angering those who were marginalized by the authoritarian party which ruled Iraq under its slogan of "Unity, Liberty and Socialism."
To plug the gap, "Mawtani" or "My Land," written by Palestinian Ibrahim Toqan in 1934 and composed by Lebanese Mohammed Flayfel, was chosen as Iraq's national anthem in the aftermath of Saddam Hussein's fall and remains so to this date.
"I think they [government] are more concerned with security; more concerned with ISIS, it's not really about the flag anymore," Rasha Alaqeedi, an Iraqi researcher at the Dubai-based Al Mesbar Studies and Research Centre, told Al Arabiya News.
"In 2004 there was talk about changing the flag and it was a huge deal then especially for the Arab Sunnis, as the idea of changing the flag offended many," she said. "Even removing the stars offended a lot of people back then. I think they feel their lands are lost, let alone the flag."
Like many Arab states such as Syria, Egypt, Yemen, UAE, Algeria, Kuwait, Sudan, the Iraqi flag is made up of red, white and black and features three stars representing Saddam Hussein's intended Arab unification that would unite Baghdad, Cairo and Damascus.
However, the stars were removed in 2008 as they also represented three Baathist tenants, which were hugely rejected by the Kurds and Shiites.
In 2008, the words "Allahu Akbar," or "God is Greatest," in Arabic were changed to the Kufic script because the previous curvy writing of the common Islamic expression was ordered by Saddam Hussein on January 13, 1991 – the eve of the Gulf War that saw Iraqi invading its southern neighbor, Kuwait.
"Until now there are clauses that allow for amendments. They deal with the national anthem and the flag," said Alfahad Mawlood Mukhlis, member of the political party Iraq Alliance, told Al Arabiya News.
"There are always issues and disagreements in the Iraqi parliament, so I do not expect a new national anthem or flag for at least the next two years," Mukhlis said.
Like others, Mukhlis thought of the battle against ISIS as more of a "pressing issue that is a disaster.
"The politicians until now are in disagreement about the laws regarding the National Guard which is the most important decision to be made," he said.
In early February, the Iraqi cabinet approved a draft law to create a national guard, which Sunni political figures have described as a necessary step to achieving national reconciliation. However, Sunni ministers boycotted the second draft law because they said it did not go far enough.
While Damulji said there is no "political disagreement" as the issue "is not up for debate" at the moment, in the last round of discussions, there was talk about choosing a new national anthem, and three famous poems by iconic Iraqi poets were proposed.
One proposal was titled "My salutes to the hills of Iraq," by Muhammad Mahdi Al-Jawahiri, 1899 -1997.
Another by Badr Shakir Al-Sayab, 1926 – 1964, was his poem titled "Strange to the Gulf," which was made into a song by Iraqi singer Fouad Salem.
The third choice was by Mohammad Mahd al-Baseer, 1895-1974, titled "Justice supports my country."
"There were no disagreements about the contents of the poems," said Damulji, "but on the issue of translating them into other languages, including Kurdish, Turkmen and Syriac.
"That is what broke down the decision making, it was not an issue of the script itself," she said.
But in Iraq, there are new flags that are sprouting, including a flag made by people who want to see all of the oil-rich southern city of Basra and western province of Anbar as federations.
"We of course, wish like other nations that Iraq will be stable and have a national anthem and flag that unites all Iraqis with all their diverse backgrounds," concluded Mokhlis, "but I think that this very issue will be resolved when Iraqis reach stability, maybe after 10 years."
(Additional reporting by Tameem Shayya)